Have you tried any of Yum dishes in Thailand? If you are traveling around Thailand and haven't had any chance to try some of them it will be your great mistake. 
The word 'yum' means delicious in English. On the other (Thai) hand, it means to toss a spicy sauce/ dressing into your salad/ noodle bowl. Today, I'm going to give you a list of the most common Yum dishes in Thailand to try. They are spicy, sour, and a little sweet, and they are a bit challenging for those who love spiciness.
1. Som Tum ส้มตำ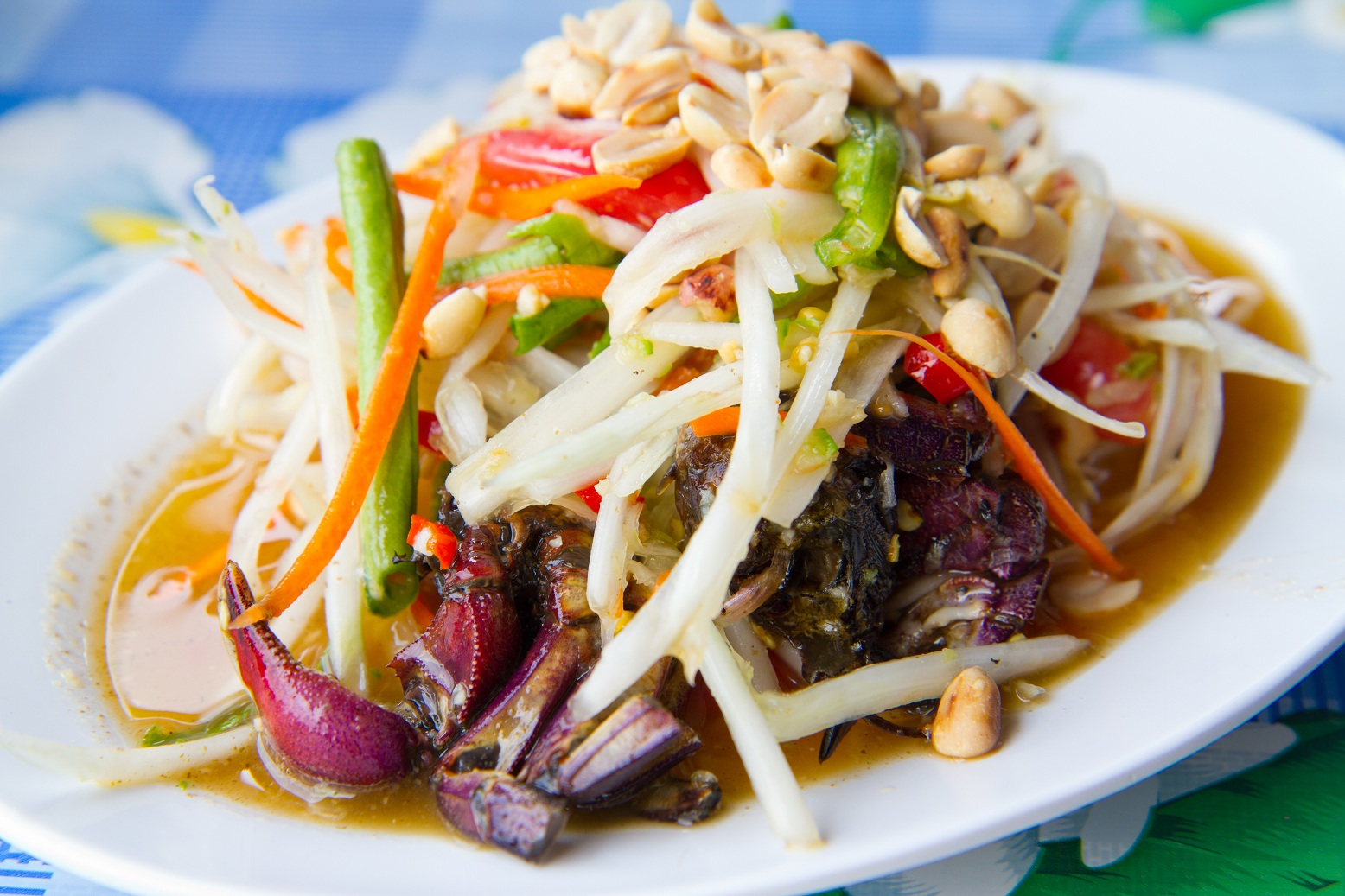 SPICY LEVEL 3-4/5
Som Tum is basically a green papaya salad. Originally from the north-eastern region of Thailand, this dish is very popular for its taste and the varieties of it. Thai people often add extra ingredients and call them according to that meats/ seasonings for example, salted egg (Khai Kem) and I-san fermented fish (Plaa Raa) are one of the most popular ingredients Thais love. If you want to order them you can simply tell the waiter 'Som Tum Khai Kem' or 'Som Tum Plaa Raa'.
2. Yum Mama/ Woonsen ยำมาม่า/วุ้นเส้น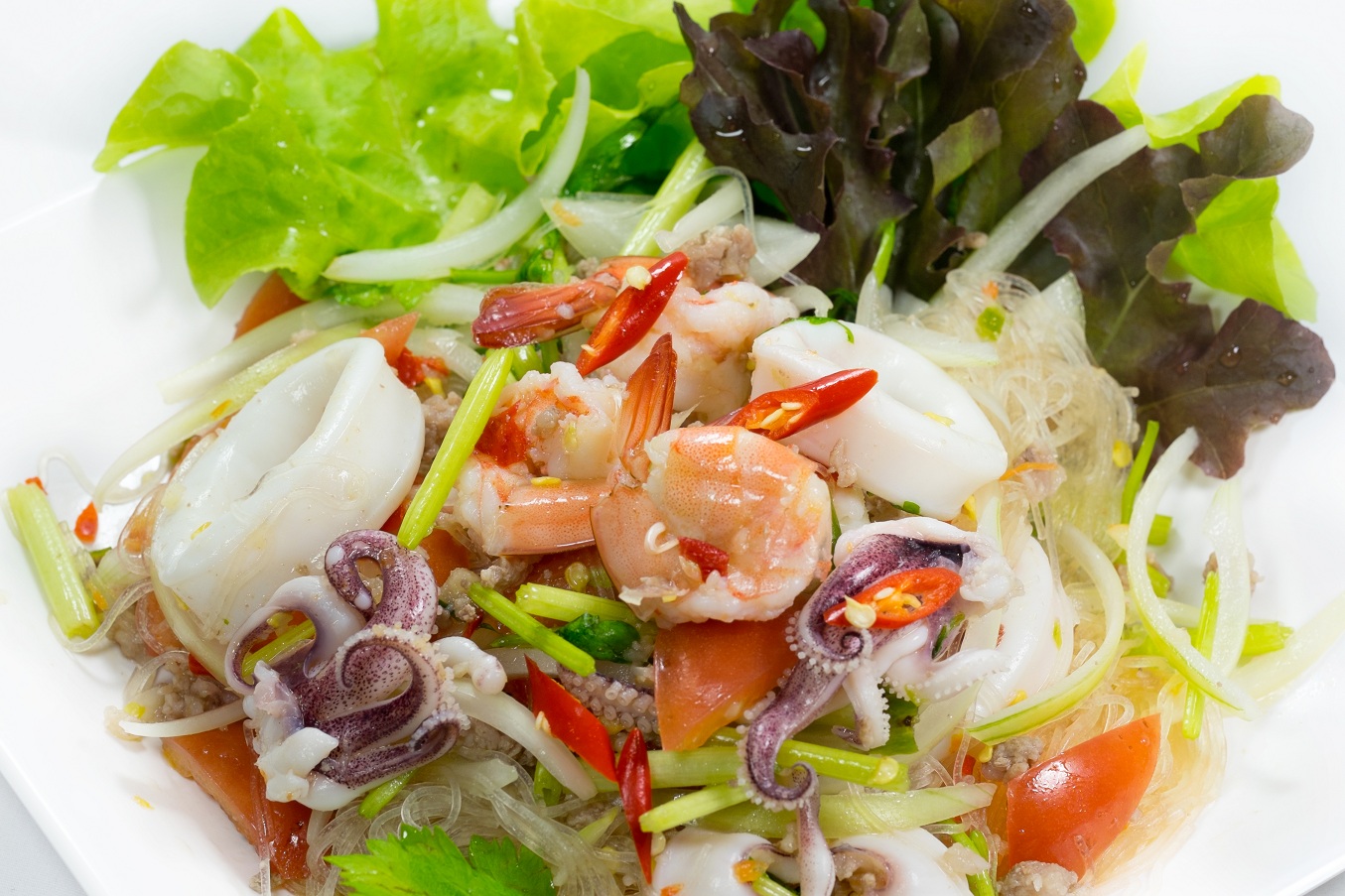 SPICY LEVEL 4/5
Thare Yum dishes are very common in Thailand since you can order these two dishes at a local cooked-to-order restaurant. Glass noodle and instant noodle are also popular choices for local folks. However, Thai cuisine has its own variety and can be adjustable. Sometimes, you will see this type of Yum, but with green rolled noodle and different meats.
3. Yum Mhoo Yor ยำหมูยอ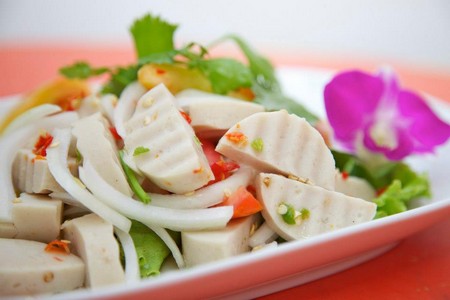 source image from naihunginterfood.com
SPICY LEVEL 3-4/5
Yum Mhoo Yor has a very same base spicy dressing with #3, but instead of having that many ingredients this Yum dish is focused on the only the main ingredient which is 'Mhoo Yor,' a Veitnamese-inspired pork sausage. A much simpler dish and a very scrumptious one indeed!
4. Naam Tok/ Laab น้ำตก/ลาบ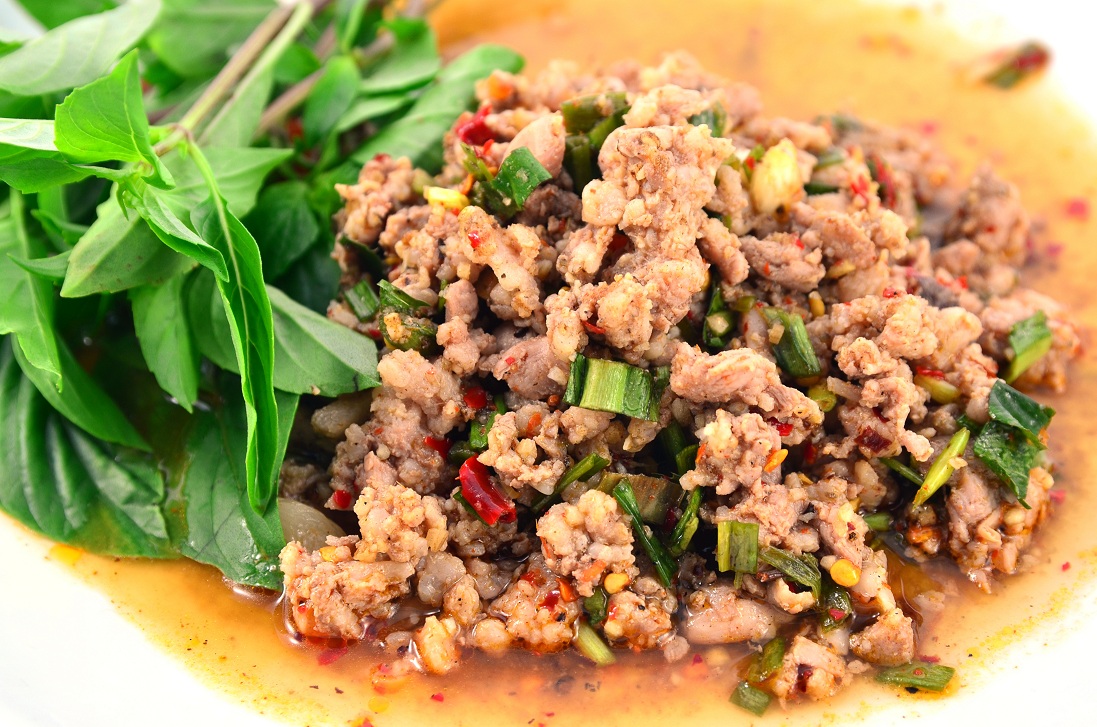 SPICY LEVEL 3/5
Naam Tok and Laab are popular Isan yum dishes in Thailand. These two dishes are very similar. But, instead of minced pork like the picture above, a Yum chef will grill pork loins and cut them into bite-sized pieces before tossing them with a spicy roasted rice dressing.
 5. Yum Nhame Sod ยำแหนมสด
source image from archeep.smeleader.com
SPICY LEVEL 3/5
This one dish can be very curios or a nay nay for foreign travelers because of its look. But, Yum Nhame Sod is very tasty and contains all the crunchiness and chewy texture from roasted peanuts, cooked pork rind, and crumbled crispy rice ball. Plus the spiciness and sour from all the herbs and lime juices balance very well.
6. Yum Plaa Kra Phong ยำปลากระป๋อง
source image from jarnprod.blogspot.com
SPICY LEVEL 2-3/5
One of the most simple Yum dishes in Thailand ever. Yum Plaa Kra Phong is basically made from a canned sardine (in tomato sauce) with a good spicy dressing. Thai people often store canned sardines at home. Whenever they are hungry and too lazy to go out, this dish will always save their day from their hungry little belly. This dish goes really well with freshly cooked white rice too.
7. Yum Plaa Sa Lhid ยำปลาสลิด
source image from wongnai.com
SPICY LEVEL 3/5
Dried salted damsel fish is a common ingredient among the locals. Before tossing it with all the herbs and veggies, the fish is fried, deboned, and broken into bite-sized piece. Very yummy and crunchy dish indeed!
8. Yum Khai Dao ยำไข่ดาว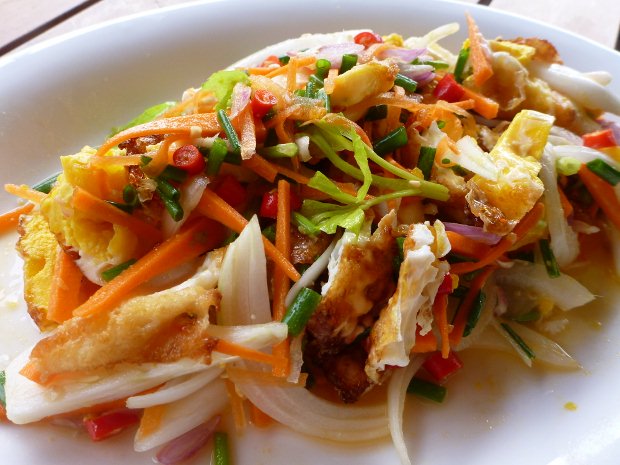 source image from topicstock.pantip.com
SPICY LEVEL 3/5
Another quick & easy home recipe Thai people often make. You only need to prep the veggies and spicy and sour dressing and fry a couple eggs. A sunny side up isn't recommended for the dish as the egg yolk will get mixed up with the other ingredients. How easy that is?
9. Yum Sam Krob ยำสามกรอบ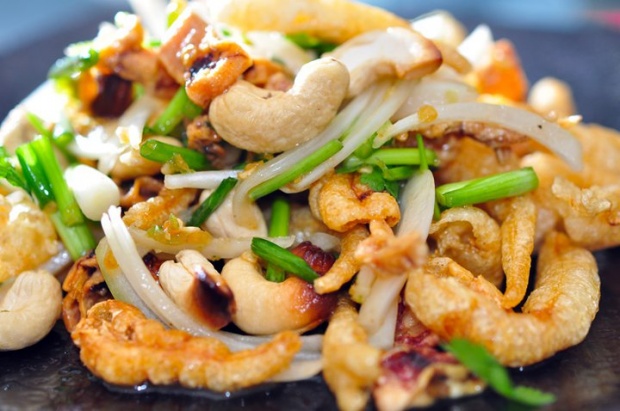 source image from cooking.teenee.com
SPICY LEVEL 3/5
Yum Sam Grob is one of the most crunchy Yum dishes in Thailand ever. This crispy & spicy salad consists of three crunchy ingredients which are fish maw, cashew nuts, and dried squid. And, of course all the main ingredients are deep fried and mixed with the spicy sauce along with onions, cilantro, and celery.
10. Yum Tua Plu ยำถั่วพลู
source image from halalinthailand.com
SPICY LEVEL 3/5
From this point, you might feel a little hungry reading as same as me writing this article. lol Compared to the other Yum dished I've mentioned above, this winged bean dish has more ingredients with a more complicated cooking process. Most of Yum dishes in Thailand have only few seasonings and use (mostly) basic ingredients Thai people always have them in their kitchen. Roasted coconut, coconut milk, shredded dried shrimp, Thai chili paste, spicy sauce are the keys of the delightful Yum Thua Plu.
11. Yum Phak Boong Krob ยำผักบุ้งกรอบ
source image from pstip.com
SPICY LEVEL 3/5
Along with #11, this deep fried morning glory with spicy dressing.is another popular Yum dish Thai people often order at a Thai restaurant. The most important keys of a scrumptious Yum Phak Boong Krob lie upon the cruchinees of the fried veggie and the spicy sauce.
12. Yum Khai Maeng Daa ยำไข่แมงดา
source image from payunbud.com
SPICY LEVEL 4/5
Last but not least, one of the must-order when you are eating out at a seafood restaurant, especially by beach. This Spicy Horseshoe Crab Egg Salad is also one of the most weird foods Thai people like to eat. The rich-in-taste eggs pair very well with the sourness of spicy mango salad….. *I'm drooling now* :9
*Note that you can always ask the chef for less or no chilies at all, if you have a sensitive stomach or can't stand with the spice very well.*
Have you tried these Yum dishes in Thailand yet? Which one(s) of them is your favorite? Share us your local food experience and thoughts by leaving us your comments down below and stay tuned!
Comments
comments