Been wondering about what are the most common Thai street foods you should try? Check out these nom nom foods and what they are made of, so now you can go ahead and try them all with no worries.
1. Pork Skewers (Mhoo Ping/ หมูปิ้ง) and BBQ Chicken Entrails on Skewer (Kruang Nai Ping/ เครื่องในปิ้ง)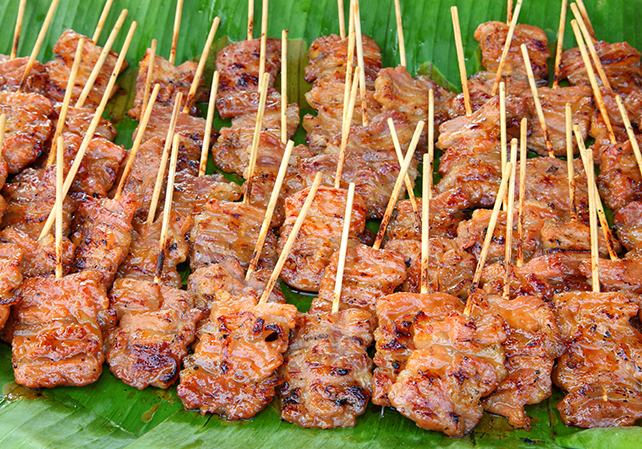 Firstly…. Who need a nice meal, when you can have these yummy pork skewers and grilled chicken entrails (livers/ ตับ, hearts/ หัวใจ, and gizzards/ กึ๋น). Pairing them with a pack of freshly cooked sticky rice, your tummy will be filled with happiness. You can also ask them to add their spicy sauce to spice up the deliciousness to a next level or say no to the sauce for those who can't handle spiciness well. These are actually one of my favorite Thai street food on the go ever. :9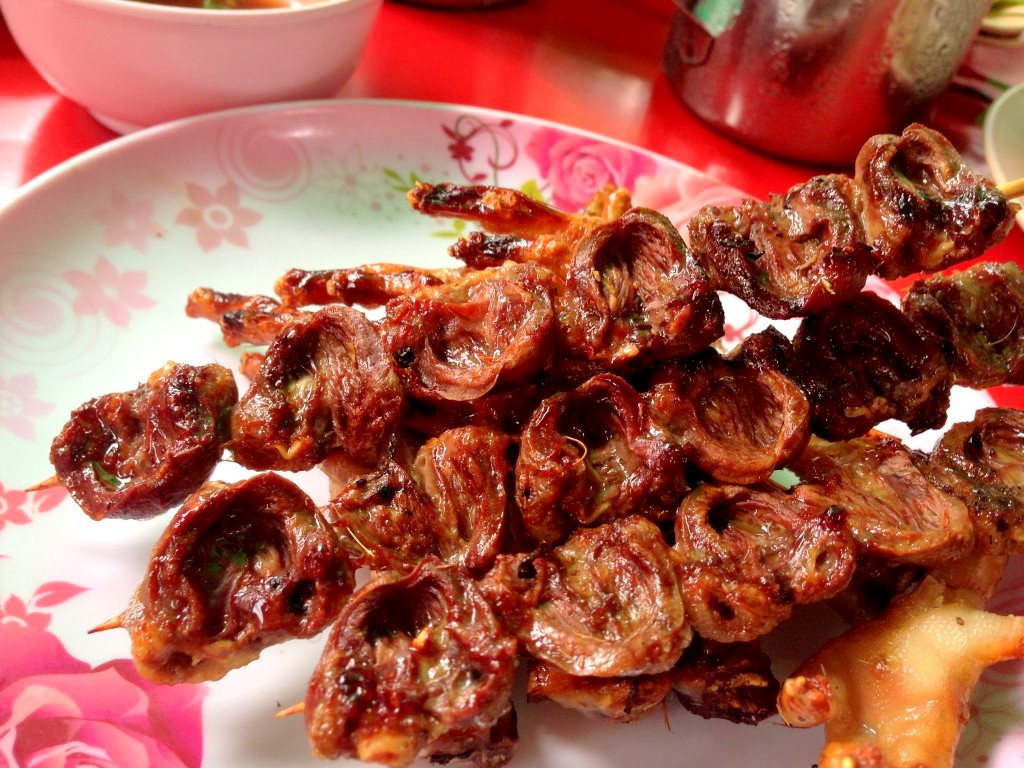 source image from pantip.com
2. Isan-style sausage (Sai Krok Ee San/ ไส้กรอกอีสาน)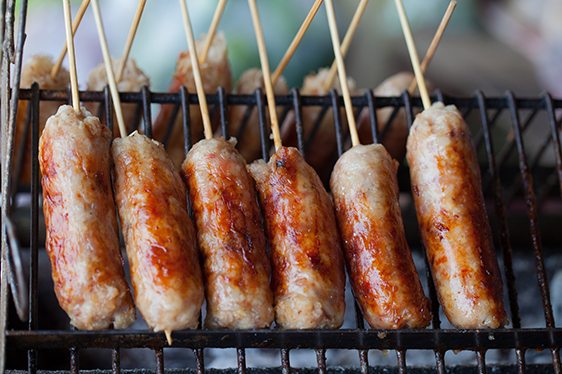 When you guys are walking down any Thai streets, you would probably be curious about these sausage thingy, I believe. These are called Isan sausage (Thai north-eastern style of sausage). It's basically a sausage that are made from a combination of rice (or glass noodle) and pork fatty. There are 2 kinds of them; regular one or sour one.
source image from wikipedia.com
3. Spicy Instant Noodle Salad (Yum Ma Ma/ ยำมาม่า)
source image from wongnai.com
One of the most popular Thai salad on the go. Thai ramen noodle and meat/ seafood are cooked and tossed in a chef's special spicy and sour sauce. You can also adjust the menu by adding or skipping meat or spice. Yummy!
4. Grilled Squid (Plaa Mhuk Yang/ ปลาหมึกย่าง)/ Fried Squid Eggs (Kai Plaa Mhuk Tod/ไข่ปลาหมึกทอด)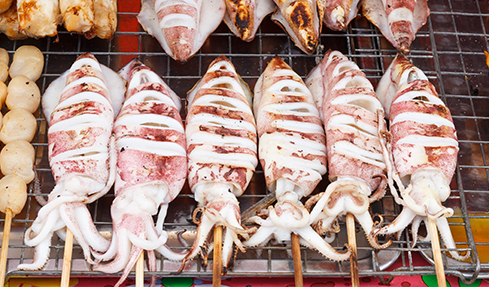 If you guys have been to Chatuchuk weekend market you probably find these two buddies almost everywhere around the area. Grilled squid and fried squid eggs are very popular among both the locals and foreign visitors (especially Asian). Not only the quid are squishy and chewy, but the seafood sauce is also the key that made the squid become even more delightful. Again, please ask the vendors to add less or no sauce add all for those who have sensitive tummy or can't handle spiciness well.
5. Spicy Papaya Salad (Som Tum/ส้มตำ)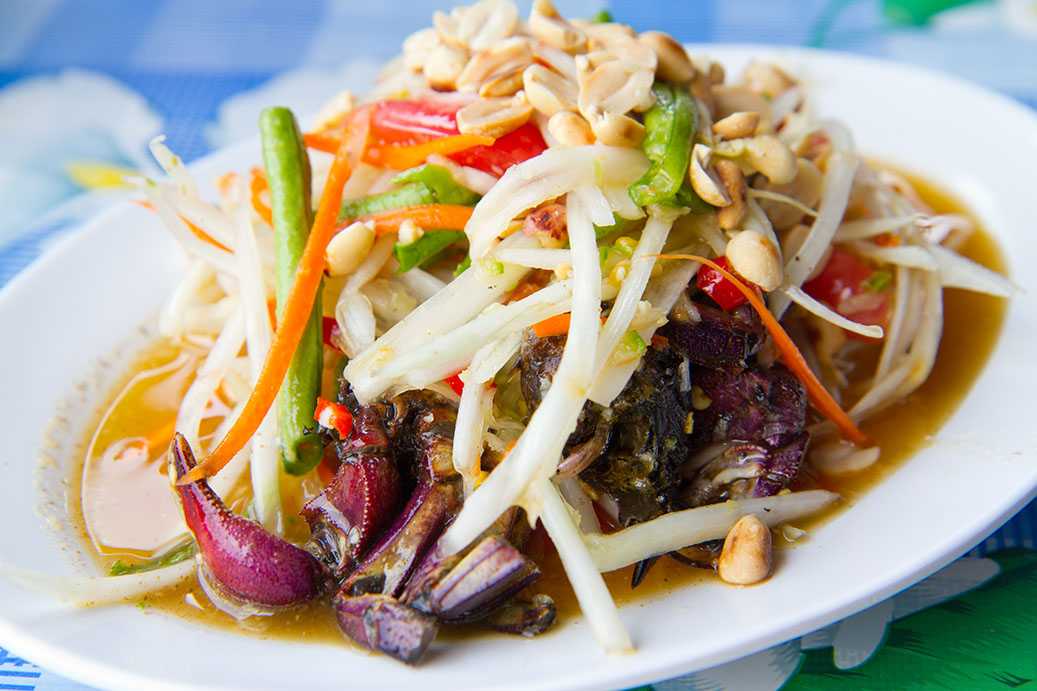 One of the most common Thai dishes that locals always have. Shreded green papaya with Thai style spicy and sour dressing. There are several versions of this scrumptious salad also; Thai style/ Isan style/ Thai style with salted egg/ Isan style with fermented fish, many more). As we might already know, ordering Thai foods can be very detailed as we can adjust the menu to our taste. Never forget to ask for less spicy (Ped Noi/ เผ็ดน้อย) or no spicy (Mai Ped/ ไม่เผ็ด). Try to avoid all the fermented/ pickled ingredients, if you have a sensitive stomach. And, ask for no peanut 'Mai Sai Thua Li Song/ ไม่ใส่ถั่วลิสง,' if you're allergic to peanut.
source image from edtguide.com
6. Fried Quell Eggs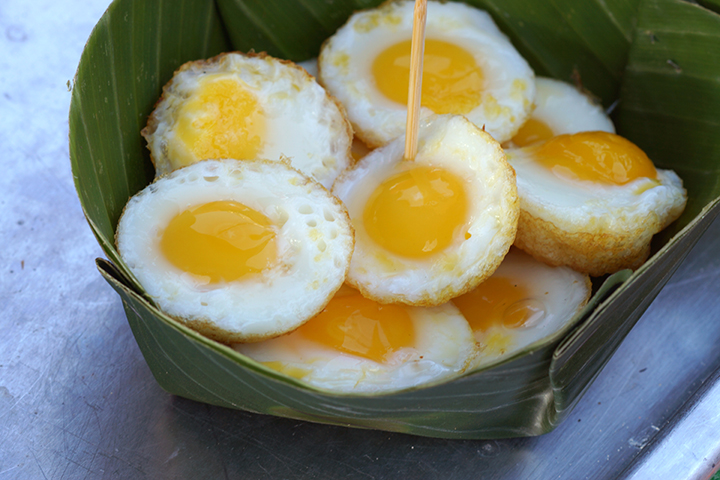 This is my favorite fried eggs from my childhood. Why isn't it my favorite now? Because I'm getting older and only realize a few years ago that quell eggs are rich in taste and high in calories. lol So…yeah they are still one of my favorites, but I just can't have them all the time like when I was young. :'(
7. Chinese Fish Maw Soup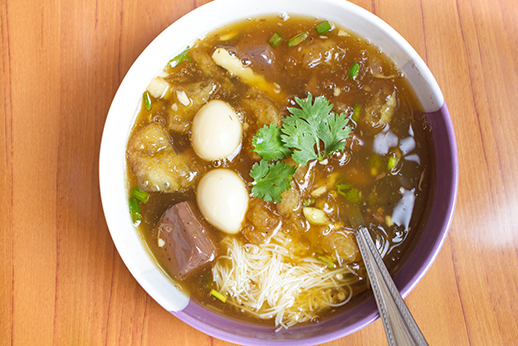 This Chinese soup is consist of fish maws, hard-boiled quell eggs, bamboo shoot, chicken jelly, and shiitake mushroom. It can be found anywhere especially Chinatown or in Thai-Chinese neighbourhood. A very nice and quick soup to have throughout the day. Some hawkers would pour the soup to the bowl and add chicken wings and rice vermicelli too.
source image from maechoice.com
8. Spicy Crispy Rice & Fermented Pork Salad (Yum Nhaem Sod/ ยำแหนมสด)
I often took my foreign friends out to explore all the local Thai street foods, and this dish always hits their curiosity triggers. lol 'What's that?' 'What's that brown orbs?' 'How do I eat this?' To answer all their questions, this dish is called Yum Nhaem Sod. It's a spicy crispy rice salad. The brown orbs are made from rice. As you watch the chef cook, he will grab one or two crispy rice balls, break them apart, and toss them along with fermented pork in the bowl of his spicy and sour sauce.
source image from wongnai.com
9. Deep Fried/ Grilled sausage on skewer (Sai Krok Tod/ไส้กรอกทอด)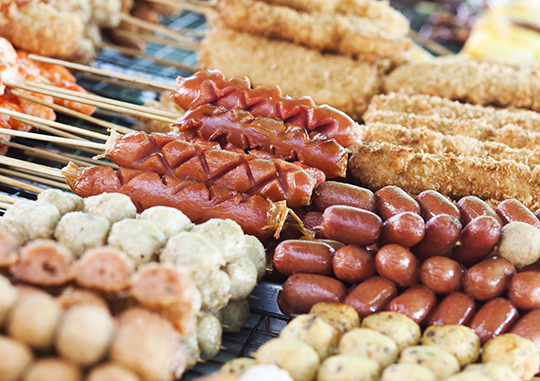 A quick chomp chomp from any Thai street ('cause you probable find this sausage vendor almost every corner in Bangkok and every walking street across the country). There are many types of sausages and balls: chicken sausage, beef ball, fish ball, shrimp ball, etc. My trick when buying these sausages? You just have to take a closer look at the oil in the wok. If you see clear and yellow just like a regular oil then it's good to buy some. If it's darken and cloudy that means the oil is old.
10. Spicy Fish Cake (Tod Mun/ ทอดมัน)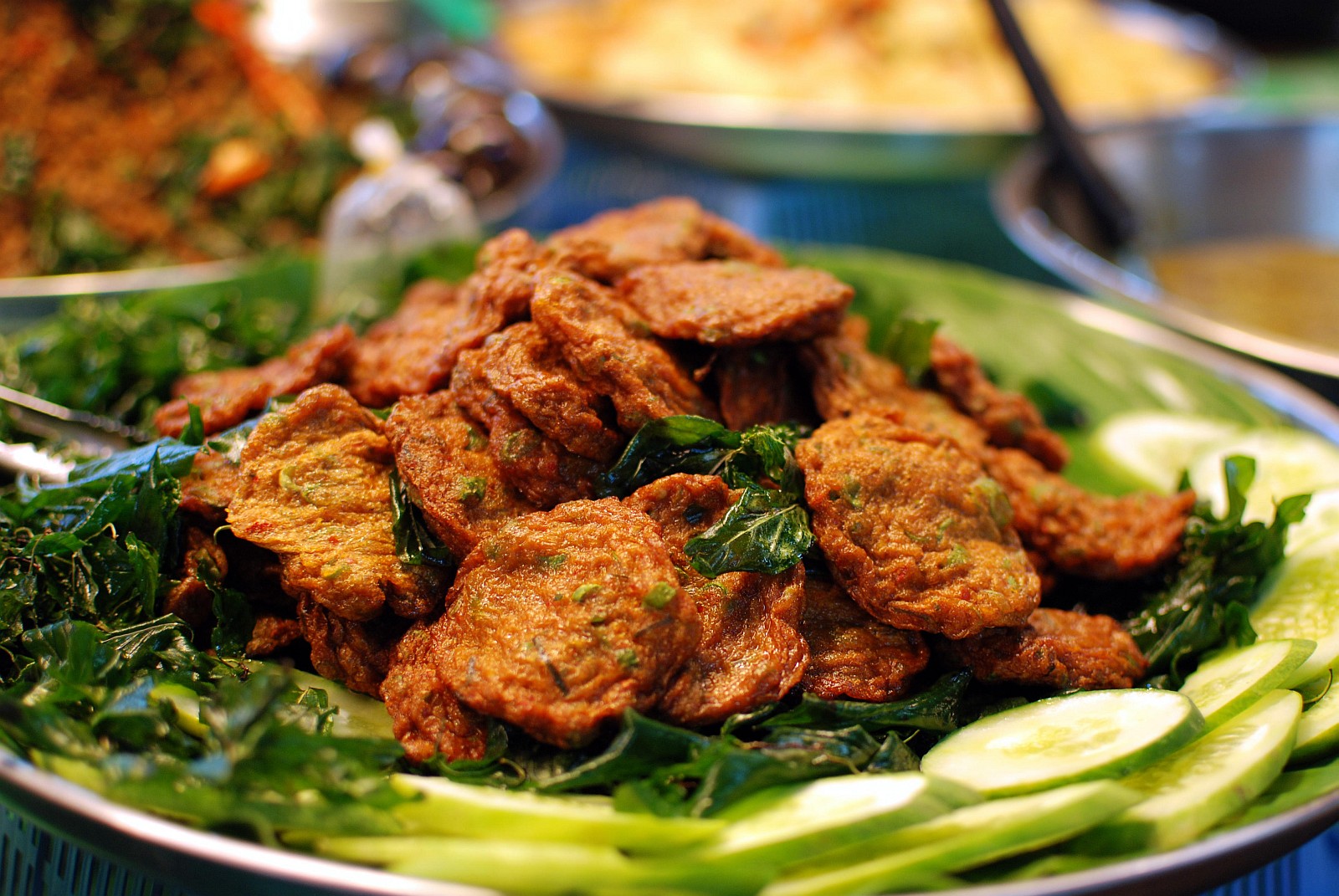 source image from pantip.com
Last but not least, the famous spicy fish cake is my recommended Thai street food to try. Tod Mun is basically a deep fried spicy fish with Thai herbs. The vendors will mix red curry paste with fish and some herbs together, knead it until smooth, then deep fried them by tossing bite sized pieces into the hot oil one by one.
source image from smeleader.com
What is your favourite Thai street foods or snacks? Please share us about your Thai street food tasting by giving us a comment down below and stay tuned for my next articles ?
Happy Travels
Please check out my previous article about 15 common Thai foods that are weird in the foreigners' eyes here.
Comments
comments