Have you wondered about the most common Thai street foods you should try? Check out these delicious options and their ingredients, so you can go ahead and try them all without any worries.
1. Pork Skewers (Moo Ping) and BBQ Chicken Entrails on Skewer (Kruang Nai Ping)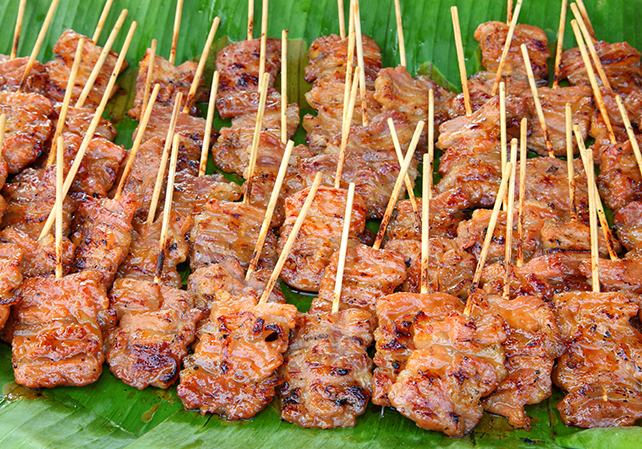 Firstly, who needs a fancy meal when you can enjoy these scrumptious pork skewers and grilled chicken entrails (livers, hearts, and gizzards)? Pair them with a packet of freshly cooked sticky rice, and you'll fill your tummy with happiness. Request to add the spicy sauce for an extra kick, or skip the sauce if you don't handle spiciness well. These dishes are actually some of my all-time favorite Thai street foods to grab on the go.
2. Isan-style sausage (Sai Krok Ee San)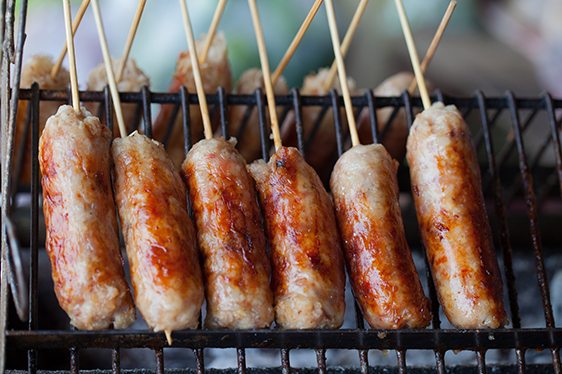 While strolling down any Thai street food, you might be curious about these sausage-like items. They are called Isan sausages, a northeastern Thai style of sausage. Essentially, these sausages are made from a combination of rice (or glass noodles) and pork fat. There are two varieties available: regular or sour.
3. Spicy Instant Noodle Salad (Yum Ma Ma)
source image from wongnai.com
One of the most popular Thai salads on the go. Thai ramen noodles and meat/ seafood are cooked and tossed in a chef's special spicy and sour sauce. You can also adjust the menu by adding or skipping meat or spice.
4. Grilled Squid (Plaa Mhuk Yang)/ Fried Squid Eggs (Kai Plaa Mhuk Tod)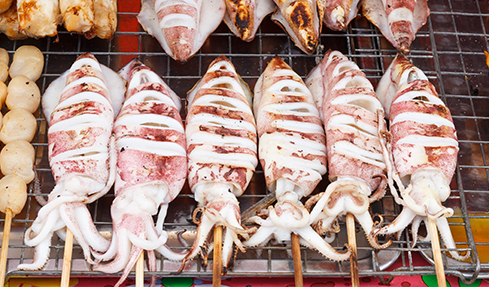 When visiting Phuket Town Market, you'll likely encounter two popular Thai street foods throughout the area: grilled squid and fried squid eggs. Both locals and foreigners, especially Asians, enjoy these dishes. The squid is squishy and chewy, and the seafood sauce adds a delightful flavor. If you have a sensitive stomach or can't handle spiciness well, ask the vendors to add less or no sauce.
5. Spicy Papaya Salad (Som Tum)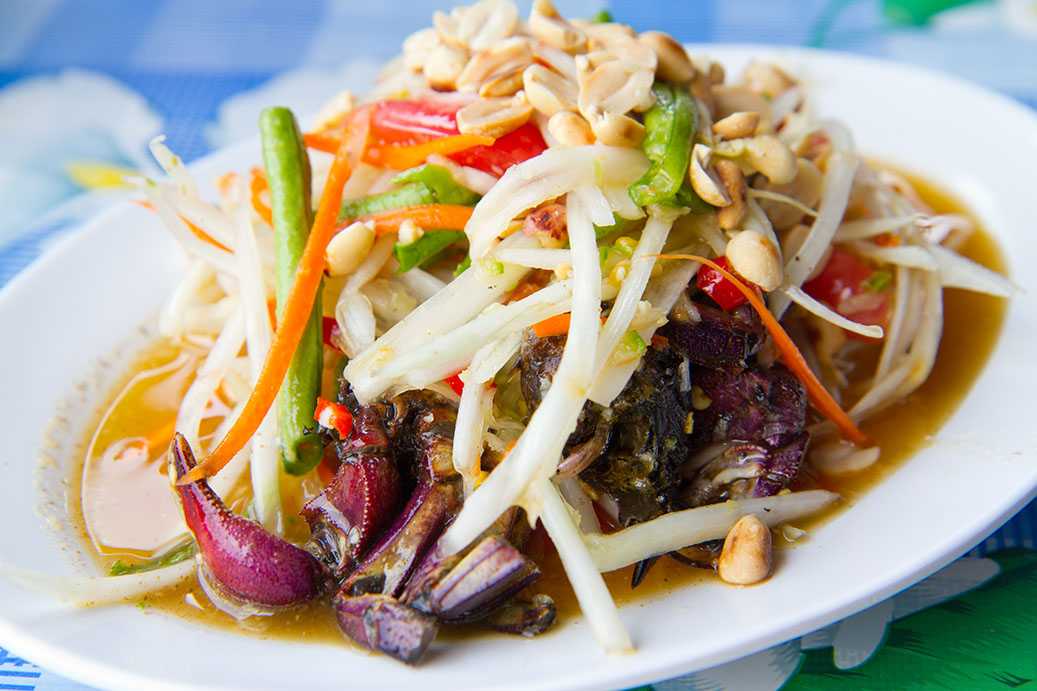 One of the most common Thai street foods that locals always enjoy is shredded green papaya with a Thai-style spicy and sour dressing. There are several versions of this scrumptious salad, including Thai style, Isan style, Thai style with salted egg, Isan style with fermented fish, as well as a vegetarian option. As you might already know, ordering Thai food can be very detailed, as you can adjust the menu to suit your taste. Don't forget to ask for less spicy (Ped Noi/เผ็ดน้อย) or no spicy (Mai Ped/ไม่เผ็ด) if needed. Try to avoid all fermented or pickled ingredients if you have a sensitive stomach, and request no peanuts ('Mai Sai Thua Li Song/ไม่ใส่ถั่วลิสง') if you're allergic to them.
6. Fried Quail Eggs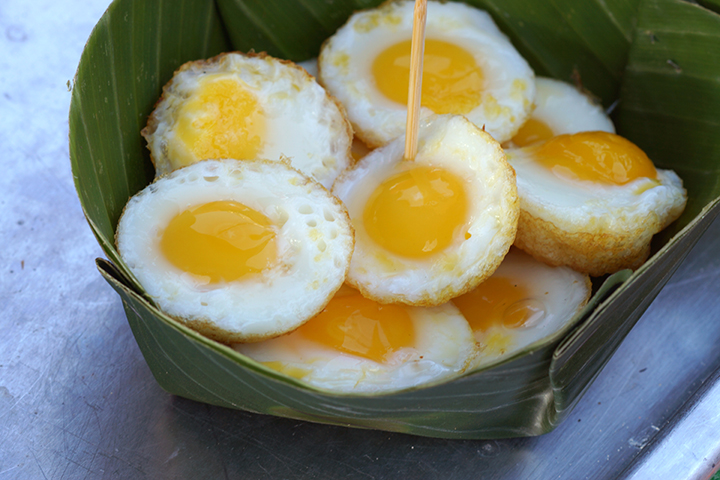 Although Thai street foods may be simple yet delicious, fried quail eggs are a good example, as they are popular among Thai people. You can find them at many night markets throughout Thailand. Vendors typically serve them on banana leaves for cost savings and eco-friendliness. You can choose to add some spice with pepper or savor them with soy sauce for a touch of saltiness.
7. Chinese Fish Maw Soup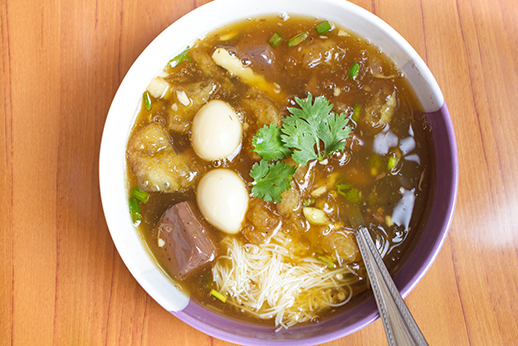 This Chinese soup features fish maw, hard-boiled quail eggs, bamboo shoots, chicken jelly, and shiitake mushrooms. It can be found especially in Chinatown or Thai-Chinese neighborhoods. A delicious and quick soup to enjoy throughout the day, some hawkers also serve it with added chicken wings and rice vermicelli.
8. Spicy Crispy Rice & Fermented Pork Salad (Yum Nhaem Sod)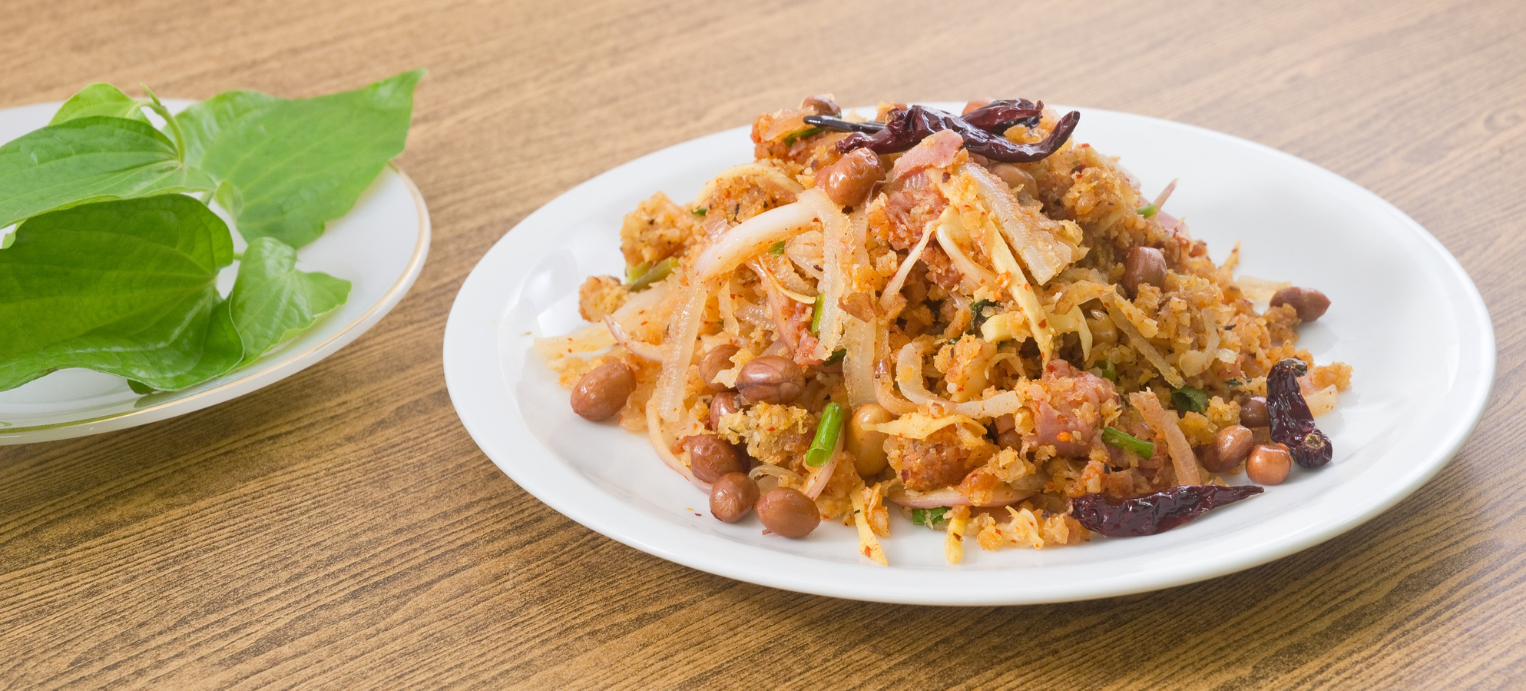 Many foreigners enjoy exploring local Thai street foods, and this dish often piques their curiosity. They might ask, "What's that?" "What are those brown orbs?" and "How do I eat this?" In response to their questions, this dish is called Yum Nhaem Sod, a spicy crispy rice salad. The brown orbs are made from rice. As you watch the chef cook, they will take one or two crispy rice balls, break them apart, and toss them along with fermented pork in a spicy and sour sauce.
9. Deep Fried/ Grilled sausage on the skewer (Sai Krok Tod/ไส้กรอกทอด)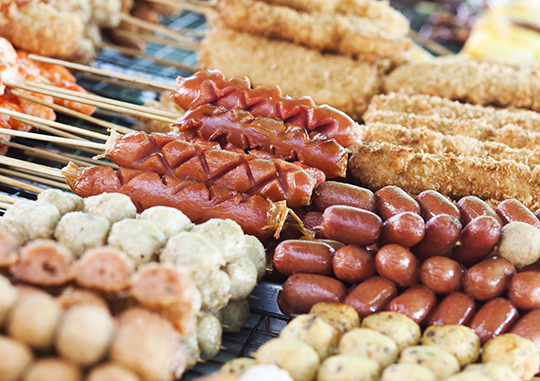 You can easily find a quick bite from any Thai street, as sausage vendors likely occupy almost every corner in Bangkok and along walking streets across the country. They offer many types of sausages and balls, such as chicken sausage, beef balls, fish balls, shrimp balls, and more. When buying these sausages, examine the oil in the wok closely. If it appears clear and yellow like regular oil, feel confident to make a purchase. However, if you notice the oil is dark and cloudy, avoid buying it since the oil is old.
10. Spicy Fish Cake (Tod Mun/ ทอดมัน)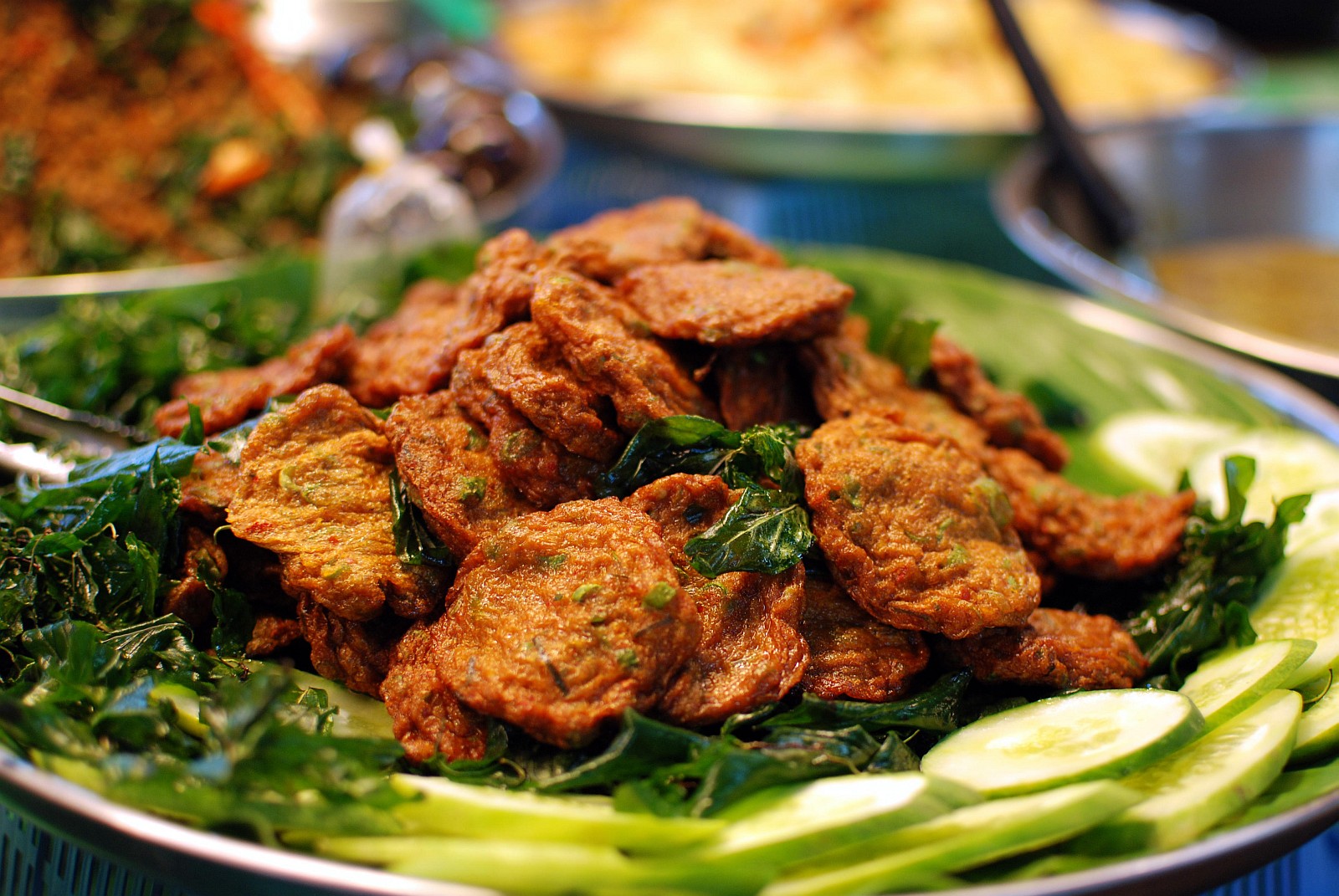 source image from pantip.com
Finally, I highly recommend trying the famous spicy fish cake, known as Tod Mun, which is a Thai street food staple. Tod Mun consists of deep-fried spicy fish mixed with Thai herbs. To make this dish, the vendors blend red curry paste, fish, and herbs, knead the mixture until smooth, and then deep-fry bite-sized pieces by individually dropping them into the hot oil.
source image from smeleader.com
What are your favorite Thai street foods or snacks? Please share your Thai street food experiences with us by leaving a comment below, and stay tuned for our upcoming articles!
Happy Travels
If you are interested in Thai street food, be sure to explore the other article on 15 unique Thai foods that may seem unusual to foreign visitors. Enjoy discovering new dishes!
Comments
comments