TakeMeTour's Tip:
As of December 6, 2017, the first-ever Michelin Guide Thailand (Michelin Guide Bangkok 2018) has been launched! Check out the list of Michelin Guide Bangkok restaurants and our local tips for the best dining experience.
While we are waiting for the result of Michelin Guide Bangkok 2018 to come out, do you know that right now, it's actually possible for you to try Michelin Star Restaurants in Thais' Opinions voted by Thai people through Wongnai User's Award?
Wongnai application and website is Thailand's most popular restaurant-finding platform. It has over 2.5 million users nationwide with more than 800,000 food reviews. It can be seen as Thailand version of Michelin Guide Bangkok for local Thai people. Wongnai crew came up with Wongnai User's Choice Award to allow users's most favorite restaurants from different categories from street food to fine dining to be nominated. Wongnai User's Choice Award combines users's popular votes, users's popular reviews, and Wongnai food gurus's votes to award the best restaurants of the year. Are you ready to find out more about local Michelin Guide Bangkok? Time to dig in and dine into Wongnai User's Choice Award 2016-2017 right now!
Local Michelin Guide Bangkok (Based on Wongnai User's Choice Award 2016-2017):
1. Best Street Food: Braised Pork Leg On Rice
(Charoen Saeng Silom (ร้านเจริญแสง สีลม))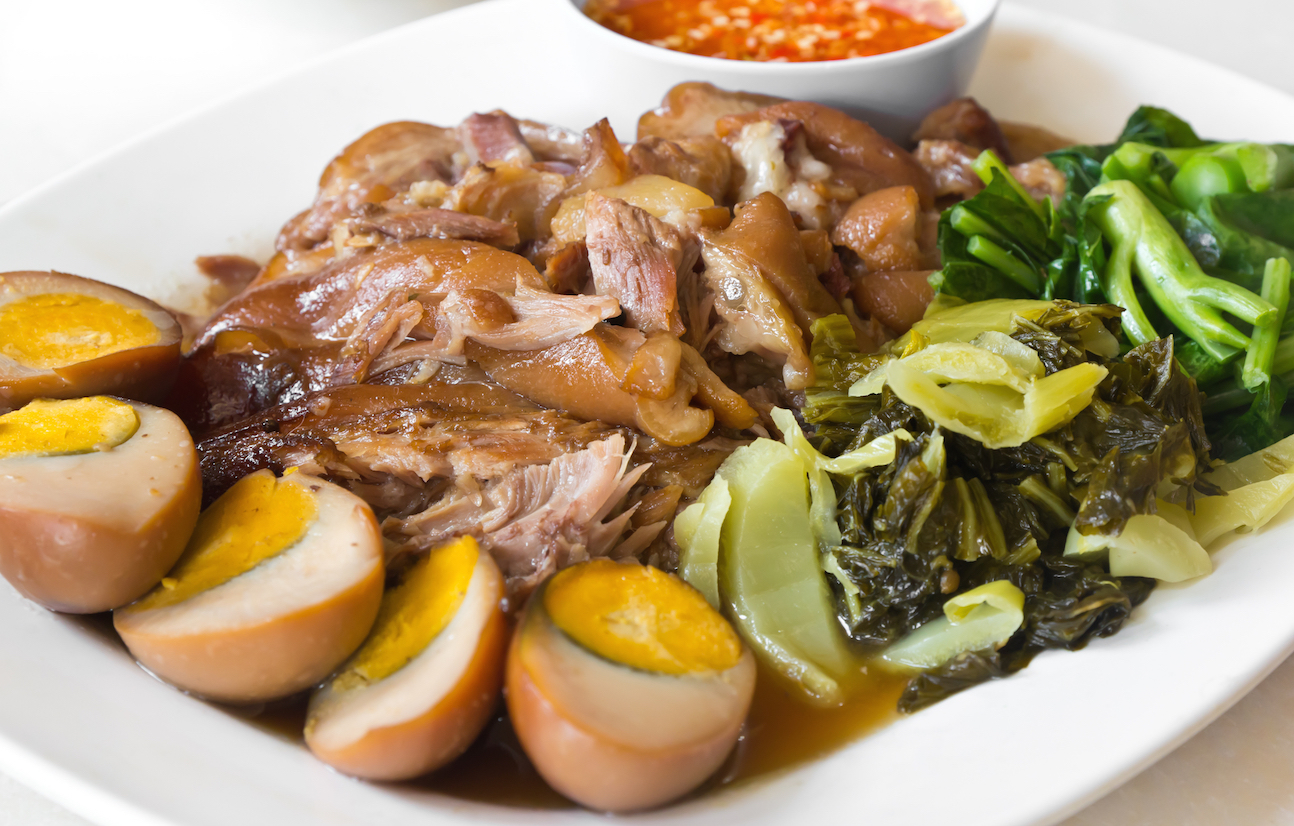 This braised pork leg on rice restaurant started off as a small restaurant but it has always been crowded by visitors for more than 50 years. What makes this restaurant unique is how they cooked their special braised pork leg. First they grilled the pork leg with charcoal. Then they cooked it in Chinese herbs and spices for two hours until the meat is so tender and the aroma is already inside the juicy meat. When you eat this, don't forget to dip it in the homemade signature sauce and eat it with the pickled braised mustard greens. It could be considered as one of the earliest and most delicious braised pork leg on rice in Bangkok. Always crowded by local Thai, this restaurant is meant to be one of the Michelin Guide Bangkok restaurant indeed!
2. Best Beef Noodle Restaurant: วัฒนาพานิช ก๋วยเตี๋ยวเนื้อ (Wattana Phanich)
This beef noodle restaurant is well known for Thai people as it has been around for more than 40 years. If you have a chance to make a visit here, you can't miss the chance to try their signature beef noodle as well as traditional goat stew. The store stewed the meat with herbs and spices until it is soft and tender. The noodle is served in a thick herbs and spices soup that will soothe your throat for sure. During your next trip to Thailand, it is a must to visit this local Michelin Guide restaurant. Maybe you can even get a local expert to show you the way there!
3. Best Thai Restaurant: Osha Thai Restaurant & Bar (โอชา) ร่วมฤดี
Voted as the best Thai restaurant, Osha Thai Restaurant & Bar is actually a famous Thai restaurant from the USA with more than 9 branches. With a street food fine dining concept, chef used a mixture of molecular gastronomy to create new Thai dishes for everyone to enjoy. Finally, Osha Thai Restaurant & Bar opened up a branch in Thailand, which was warmingly welcome by Thai people. At this highly-designed restaurant, you will get a chance to experience Thai food in the way you never imagine before. They served delicious fusion Thai food with extraordinary presentation. While you are dining in this modern Thai style restaurant, the Michelin Guide Bangkok inspector might be sitting next to you, eating those delicious Thai food!
Are you getting hungry? As you can seen, even though the official Michelin Guide Bangkok result is not here yet, there are endless delicious restaurants local Thai people love. This is just an appetizer because on my next blog, I will introduce you to other restaurants worth a visit based on local Thai votes. Stay tuned!
TakeMeTour's Tip:
Still craving more? Our other local eating guides are up.
Michelin Guide Bangkok by Locals Ep. 2
Michelin Guide Bangkok by Locals Ep. 3
Comments
comments