A great perk of working from home is that we don't gotta wake up early anymore. The downside? All the CRAVINGS. No more fancy work lunch (though, usually it's sandwiches). Scrumptious food turns to ready meals and takeaways. But hold on…We'll help you fix this with our delicious menus plus easy recipes!
Here comes your chance to practice your cooking skills. If deliveries ain't interesting anymore, what's preventing your chef soul? If it's the time, plenties require less than 15 minutes, and yes, they might be yummier than the one taking you an hour to cook!
We gather all the delicious Thai dishes, easy-to-cook with easy-to-find ingredients! Here, we are giving you some inspiring ideas for your weekday meals when you get stuck at home. Plus, we'll keep you up to date weekly, cause who eats the same things twice in a month! (Jokes, we do too)
Here are our Top Work-from-Home Lunch Ideas!
---
WEEK 4
#12 Yum Woon Sen (Thai Glass Noodles Salad)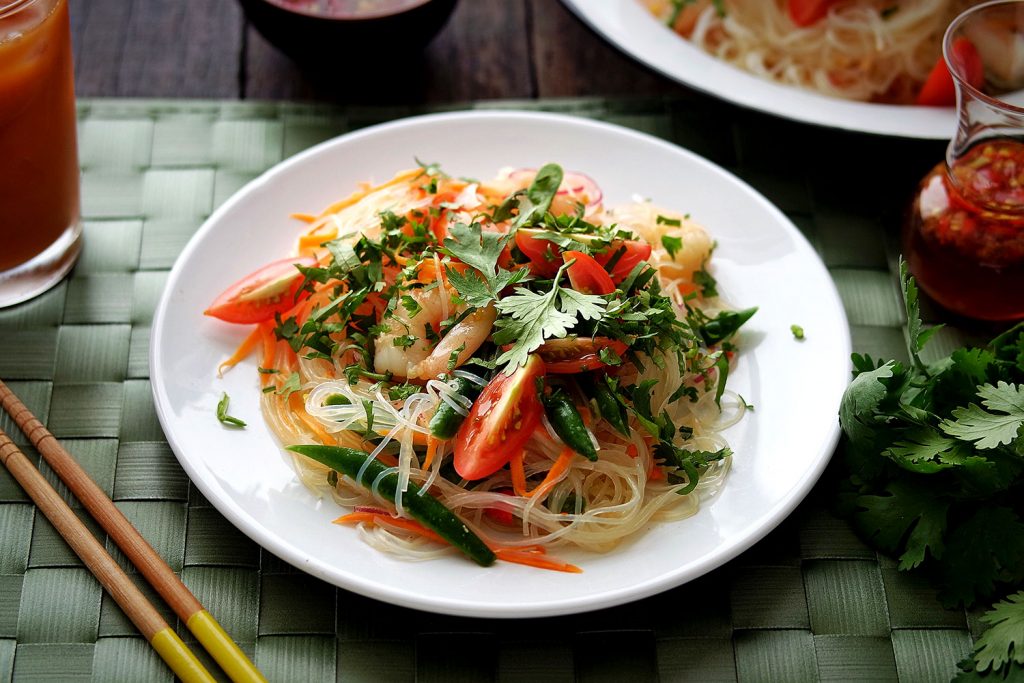 It's Thailand's summer time, so let's get the authentic hot and spicy bites! But believe it or not, our delicious dishes are not just rice menus. Let's try Yum Woon Sen or Thai Glass Noodles Salad. Though this menu is not a commonly cooked dish at home, not so many people know that it only takes you 15 minutes with easy steps to do! So, wash your hands and let's grab your favourite ingredients. It can be pork, shrimp, or just vegetables because this yummy dish is complete up to you. In this how-to, we'll cook our Yum Woon Sen with both pork and shrimp since we're super starving!
Ingredients: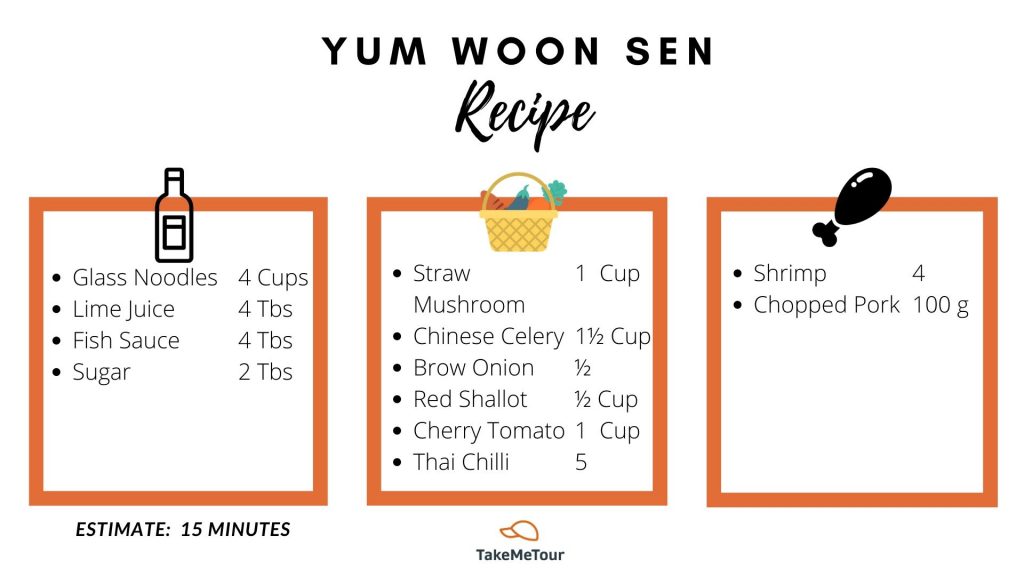 How to cook:
1. Let's start off by preparing the ingredients. Wash the shrimps and vegetables. 
2. Cut straw mushrooms and cherry tomatoes into half pieces, and Chinese celery into ½ inch pieces. Then, thinly slice red shallots and brow onions.
3. Now it's time to start cooking! Add 3 cups of water in the pot and boil. Add the glass noodle, and wait until they are clear and soft.
4. Rinse the hot water off from the pot and add the cold water.
5. Add the shrimps in the boiling water until they turn pink. After that, put them in cold water.
6. Put ground pork and straw mushrooms in the boiling water. Then, drain the water off.
7. We are nearly there! Mix sugar, lime juice, and fish sauce together.
8. Add the drained noodles, and mix with the sauce well. Then add other ingredients, and you're done!
See Full Recipes
Yum Woon Sen is one of Thai hot dishes that is vastly eaten. You can change the ingredients up to your preference. Many Thais go beyond just shrimps, and create an extra dish of Seafood Yum Woon Sen with squid, mussels, or even salmon. If it's too hot, make sure you did not add all the chillies. Or, if it's too late, eating them with rice does help a lot! Loads of people have it with Thai Pink Milk (Nom Yen) to cool themselves down.
---
#11 Kaeng Kiaow Wan (Thai Green Curry)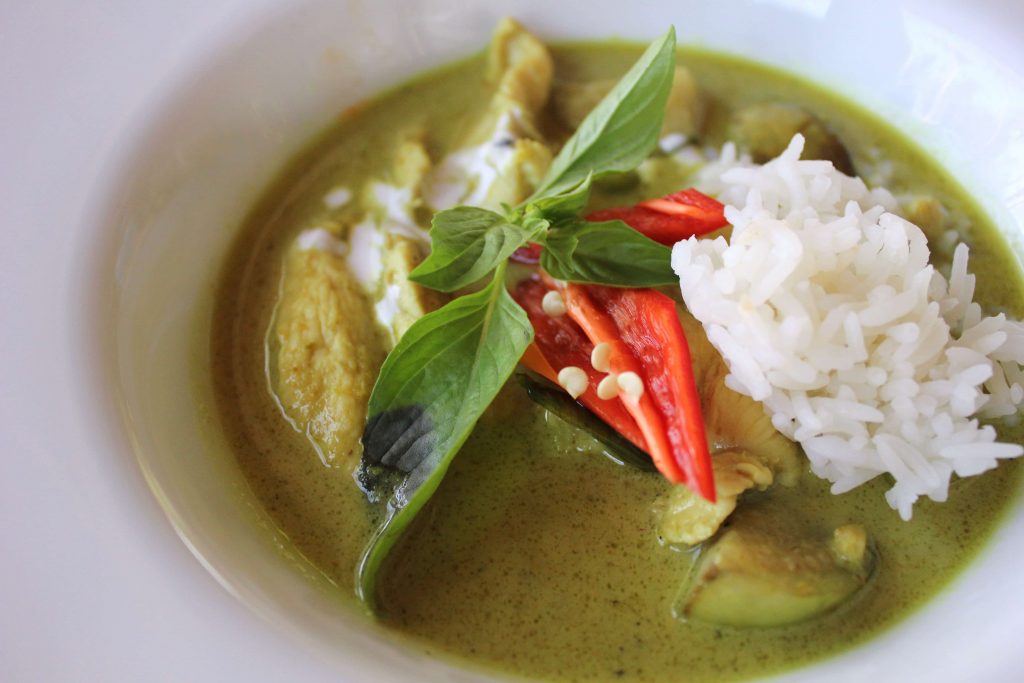 Here we go, one of the most famous Thai dishes. You'd definitely be kidding if you say you've never heard of this. Kaeng Kiaow Wan or Thai Green Curry is another aromatic homely dish found in most restaurant. Dated back since the early 1900s, Kaeng Kiaow Wan becomes a common meal for Thais. However, the number of recipes is endless. Some even use many hours to cook the dish and some take shorter. But in this weekly updates, we'll choose the most convenient recipe for you, shorter time and greater taste!
Ingredients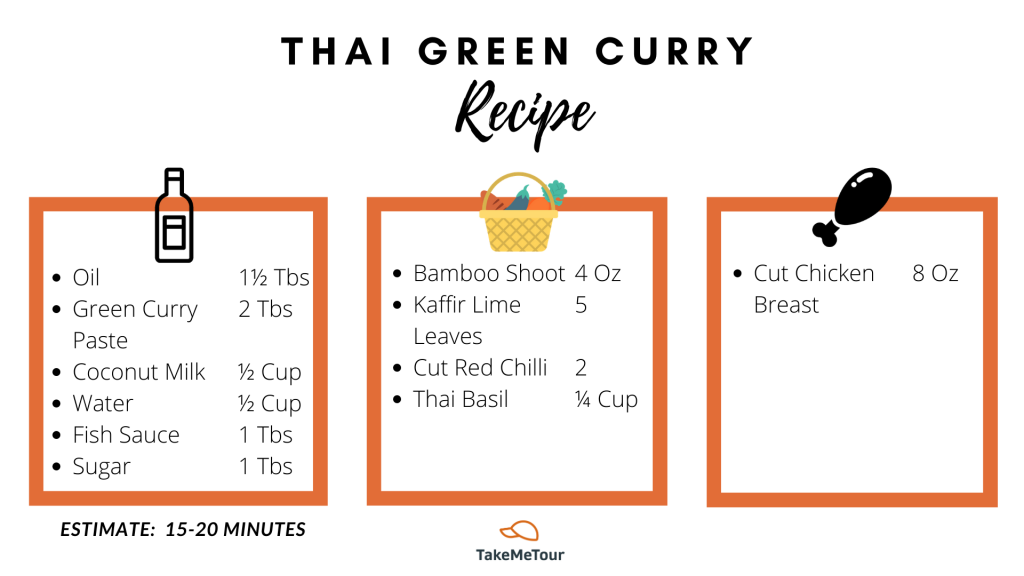 How to Cook
1. Add the oil in to the medium heat pot. Then, add green curry paste and stir it until the scent comes out.
2. Add the chicken in the pot and stir. Following by turning the pot to high heat, then add water and coconut milk.
3. Now it's time for the vegs! Add kaffir lime leaves, chillies, and bamboo shoots. Turn down the heat level, and cover the pot with a lid for 10 minutes.
4. Here comes the last step! Add fish sauce and sugar. Then, put Thai basil leaves on top, and you're good to go!
See Full Recipe
This Gaeng Kiaow Wan is perfect especially for a family dinner time. The locals usually eat it as a main soup sided with other main menu such as omelette and Tod Mun (Thai Fish Cakes), or anything actually. Note that in this recipe, we recommend you to start cooking your other main dishes whilst waiting for your green curry to be done for 10 minutes!
---
#10 Kai Yat Sai (Thai Stuffed Omelette)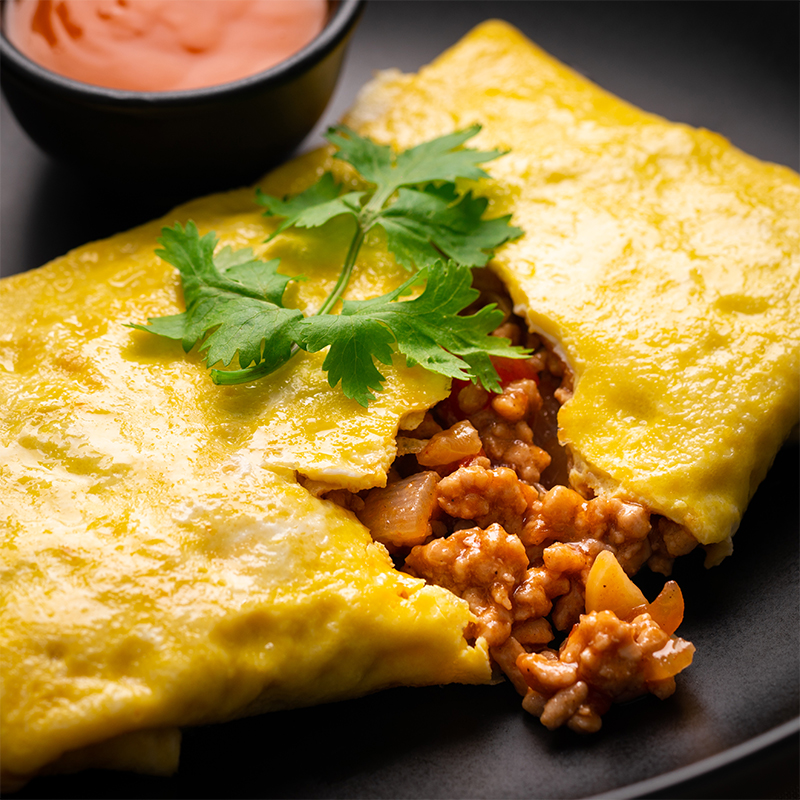 Of course, working from home will probably leave you just an hour for a lunch break. So, an easy egg menu might have already been people's choice at this time. But isn't it a little bit dull having just eggs all the time? Well, today we have a scrumptious way out for you. Let's try cooking "Kai Yat Sai" or Thai Stuffed Omelette! We promise the mixture of the filling, similar to the famous Pad Krapow, and egg is definitely superb. Plus, it will only take you a few more minutes than just cooking the plain egg!
Ingredients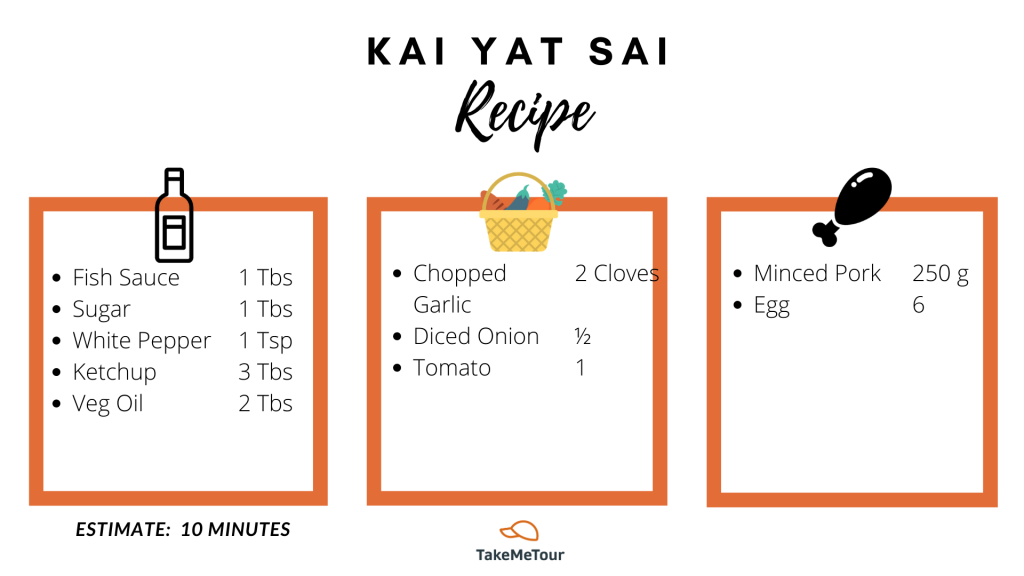 How to Cook
1. Let's begin with the sauce. Mix sugar, fish sauce, pepper, and ketchup together in a bowl.
2. Add vegetable oil in the pan and turn it to medium-high heat. Then add garlic and onion.
3. After that, add the pork until it is nearly cooked. Then, add the sauce you've just mixed and the tomatoes, until they are well mixed.
4. Now it's time for the omelette! Turn the pan to medium heat, whilst you whisk the egg with 4 tbs water.
5. Then, add the oil. After the oil is heated, you can add the egg. Make sure they spread over the pan.
6. When the eggs are firm, add the filling in the middle. Fold the egg and get your Kai Yat Sai on a serving plate!
See Full Recipes
Kai Yat Sai is one great idea to make a simple menu a bit more tastier and livelier. Don't forget to cook your side jasmine rice before starting cooking the eggs. But, if you want to go a little more extra, you can even use the authentic Thai Fried Rice as a filling! Note that our recipe is for a serving of 2 people. So, if you would love to solo the dish, make sure you half up the ingredients portions. You can also mix fish sauce with chopped chillies as a dipping sauce.
---
WEEK 3
#9 Phad Pak Boong (Stir Fried Morning Glory)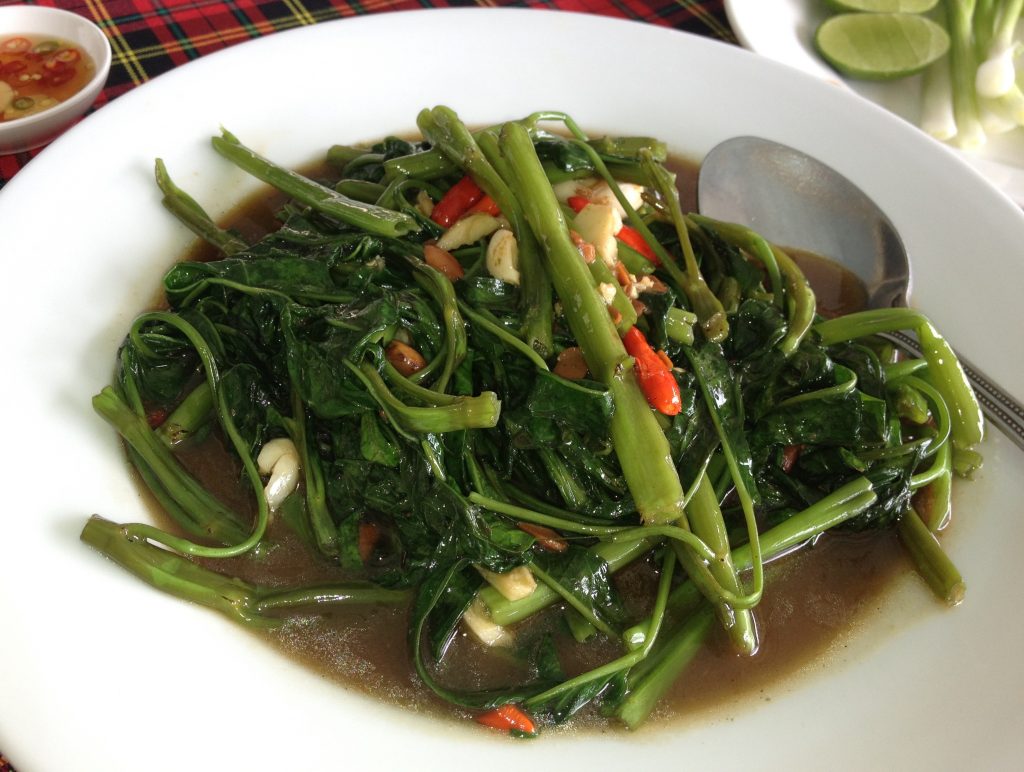 Believe it or not, Thai vegetable dishes are super delicious. This "Phad Pak Boong" or stir-fried morning glory is vastly seen at the local street food stalls. And yes, many have taken it to the next level of hotness by cooking the dish in a red hot flame. But, uh-huh. In this weekly update, let's stick to the simple one first before we keep on with our masterchef skill. What's even more amazing about this dish? Plenty of time left to chill on your work from home lunch break. Because, it can be done in just 8 minutes!
Ingredients:
How to cook:
1. Let's start off with our main ingredients, Pak Boong! Wash them well and cut the morning glory into 4 inches long pieces. Then put them in a bowl.
2. Add all the sauce to the bowl
3. Then, bash the chillies and garlic together (with pestle preferably).
5. Here comes the best part with nicest scents! Turn on the pan to high heat and add all the ingredients. Stir them fast until your Pak Boong is wilted.
6. And yes, you're good to go! Serve them right when it's finished, so you can have it hot and fresh.
See full recipe
Once again, authentic Thai dishes like Phad Pak Boong are normally eaten with cooked rice, so make sure you start preparing that roughly 10 minutes before you start your morning glory menu. Some love to add crispy pork belly or Moo Krob in the menu for a greater mixture. See here if you'd love to do that. If you need some salty taste, side up the dish with soy sauce and chopped chillies!
---
#8 Kaow Pad Goong (Thai Shrimp Fried Rice)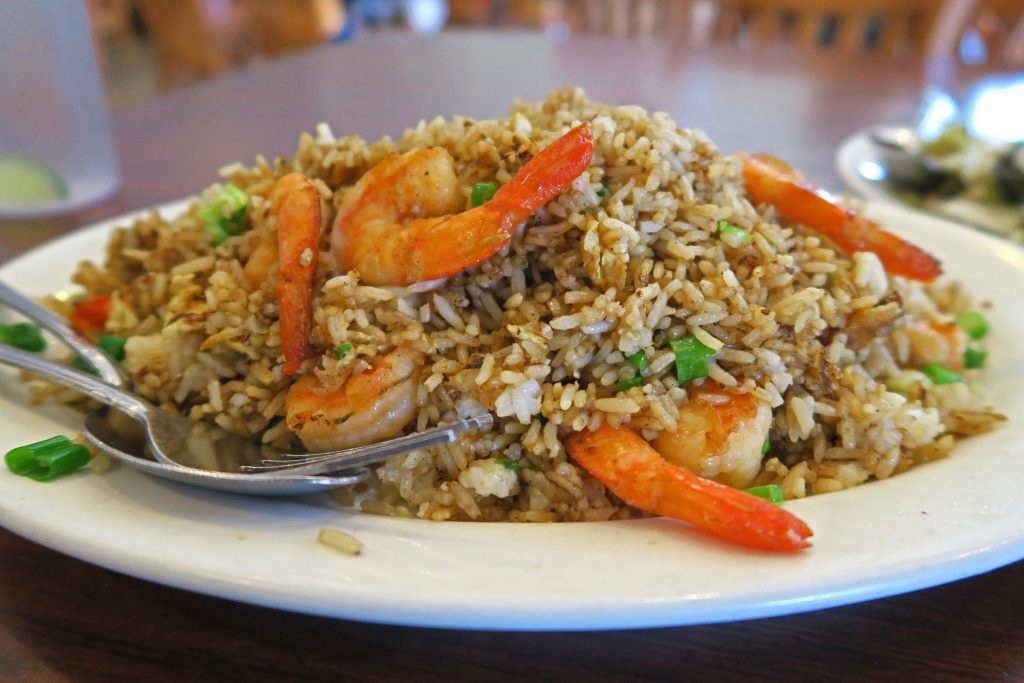 If work from home has put you on the highest level of hungriness, this dish will do. Thai Shrimp Fried rice, or what the locals call "Khao Pad Goong" is the top menu that will fill up your belly well! There are endless kinds of fried rice. But here, we will show you how to cook an authentic one just like what you'll get once you visit Thailand. The dish is very easy to cook. Plus, you can get a large portion and save it to eat later too! We must say that this dish is pretty much up to your preference. You can make it with pork, beef, or chicken, instead of shrimp!
Ingredients: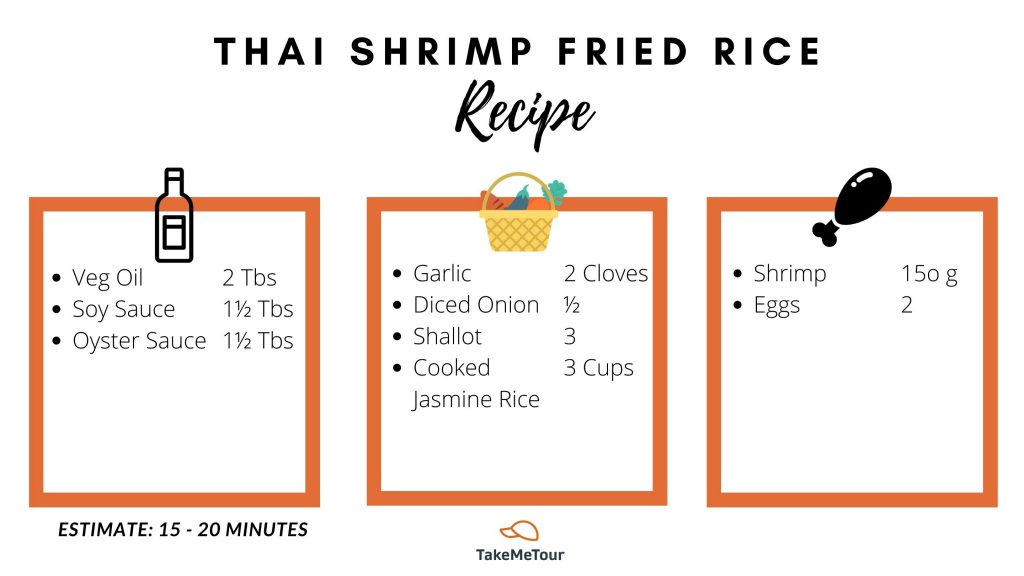 How to cook:
1. Finely chop your garlic, and cut the green onion into 1 inch pieces.
2. Turn on the pan to medium-high heat. Then, add vegetable oil.
3. Wait until the pan gets hot. Then, put in the garlic and onion. Now, stir them only for 30 seconds.
4. Add green onion and shrimp, then, stir for roughly 1 minute.
5. Half up the empty side of the pan, add the eggs in and scramble
6. Here is our last step! You can now add the cooked Jasmine rice and the sauce. Mix until they are cooked and your Kaow Pad Goong should be done!
See full recipe
To make this dish even more fancy, many locals and restaurants usually decorate Kaow Pad Goong with some side vegetables. This can be sliced cucumbers, limes, tomatoes, or spring onions. You can also put coriander leaf on top to make it look more pleasant! Commonly, Thai fried rice can be eaten alone as a main dish, or as a side dish eaten with other menu, just like the cooked Jasmine rice. Having some soy sauce to get a more intense taste is a brilliant idea, too!
---
#7 Gaeng Jued (Thai Vegetable Soup)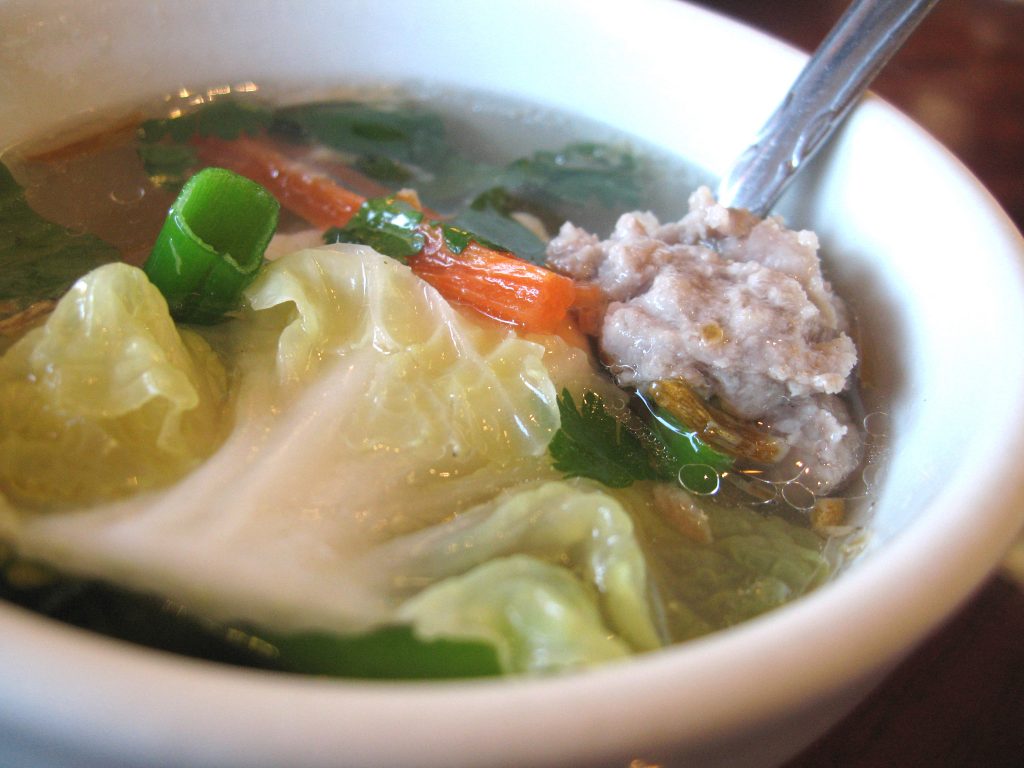 Well, not all Thai dishes are extremely spicy. If you're not too good at coping with hotness, Gaeng Jued is definitely for you. Though, this is a healthy menu, we promise you'd love the taste! It is one of the Thai homely dishes found everywhere from street stalls to Thai fine dining restaurants. The ingredients are also generic and super easy to find. However, Gaeng Jued may take a bit longer to cook than other menus, so be prepared and let's keep this for a no-rush meal!
Ingredients: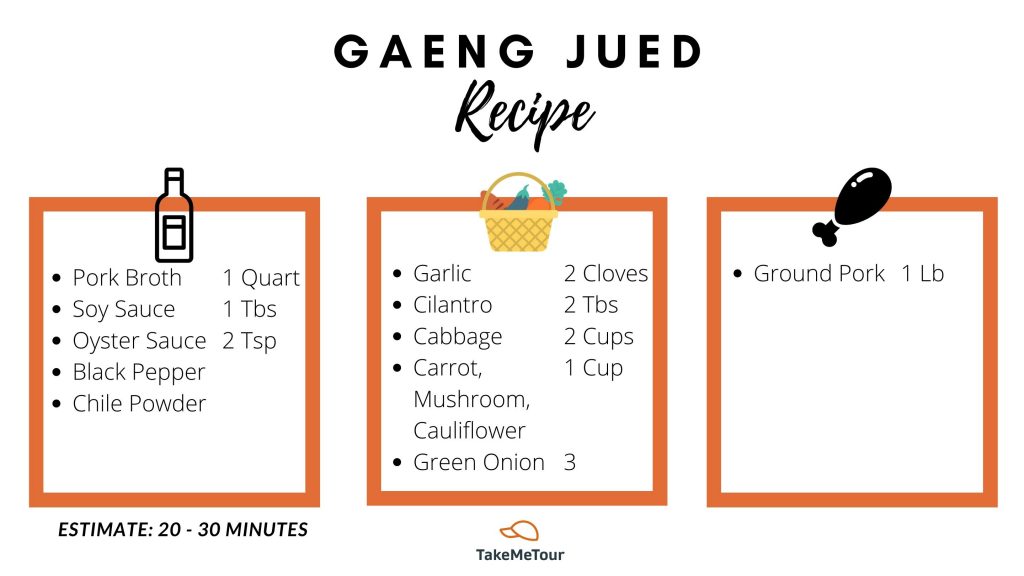 How to cook:
1. First, let's begin with the highlight of this dish "Pork Meatball". Mix ground pork, garlic, soy sauce, and oyster sauce together. Then mold them into small balls.
2. Then, add the broth into the pot. Next, add the meatball and simmer it for approximately 5 minutes.
3. Later, add all the vegetables. Be sure to do this just a bit after the broth is simmered, so they are not overcooked.
4. After everything is cooked, you can add the seasoning as much as you want. Then, it will be ready to serve!
See full recipe
Gaeng Jued is one of the most common menus. For most of the time, it's a family meal which we usually have for sharing (ladle them in a separate bowl though, to prevent transmission!). However, it comes in many styles. Sometimes we Thais add the egg tofu or even grass noodles in. And, trust us, it's a fab idea and it is a good combination of taste. Plus it's fine whether you eat it with cooked rice, or have it as a soupy side dish whilst enjoying other main food.
---
WEEK 2
#6 Moo Gratiem (Thai Garlic Pepper Pork)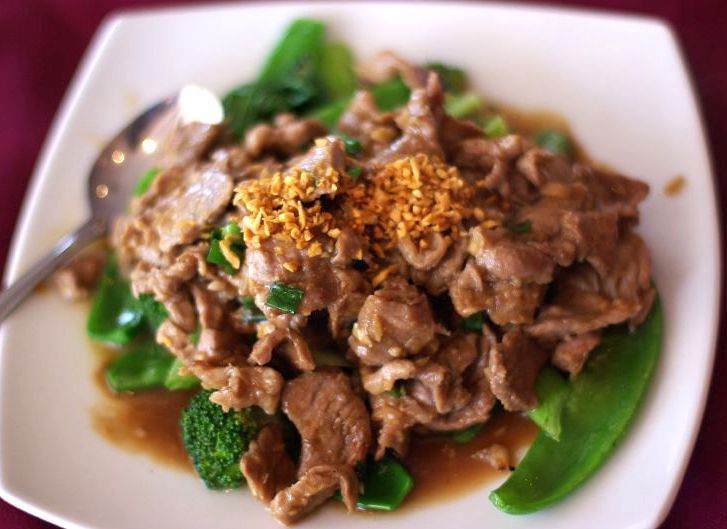 Looking for a simple but tasty lunch menu? Thai Garlic Pepper Pork will definitely do! What we call "Moo Gratiem" is one common menu found from street vendors to proper restaurants. They are quick to make and fill up the belly pretty good. You can either make it a dish for one, or a main for sharing. Moo Gratiem is also perfect for the fam and friends since there is no spice, so nobody gets to suffer this time!
Ingredients: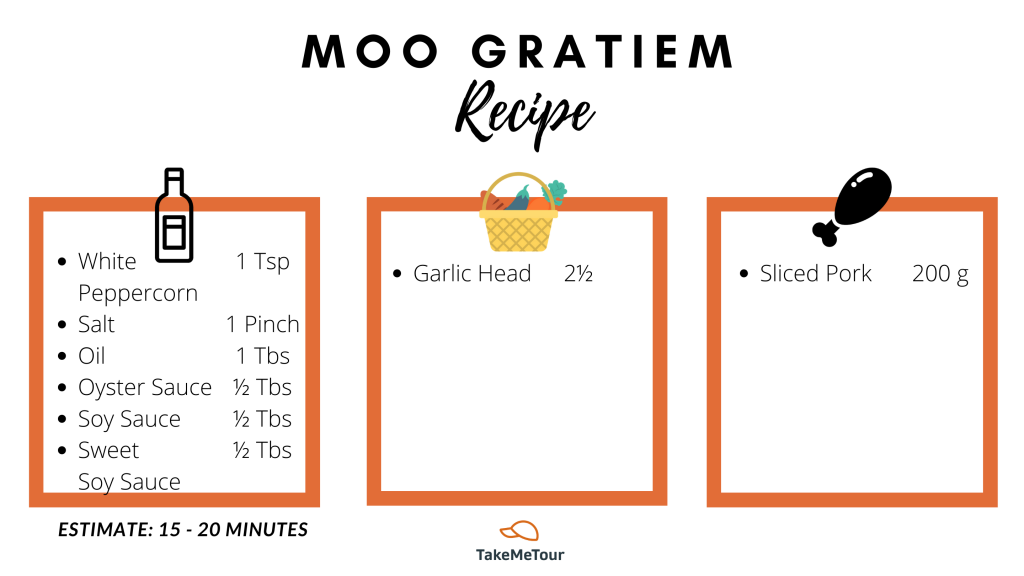 How to cook:
1. Pound the white peppercorn and garlic with a pestle (No need to pound the garlic a lot).
2. Mix peppercorn, garlic, salt, and pork together for a minute.
3. Add the oil and turn the pan to high heat. Then, fry the pork.
4. Add all the sauce and mix them together with the pork. Once everything is cooked, you're done!
Full recipe here
Don't forget to cook your rice before you start cooking Thai Garlic Pepper Pork, so they both finish at the same time. If you have been to Thailand before and have tried this dish, you would see that they often come with a side of sliced cucumber. So, make yourself one or add veggie whilst cooking the dish if you're a vegetable lover. Need some salty bits? Chop some chillies and add them in the fish sauce and dip your pepper pork in!
---
#5 Pad Kee Mao (Thai Drunken Noodles)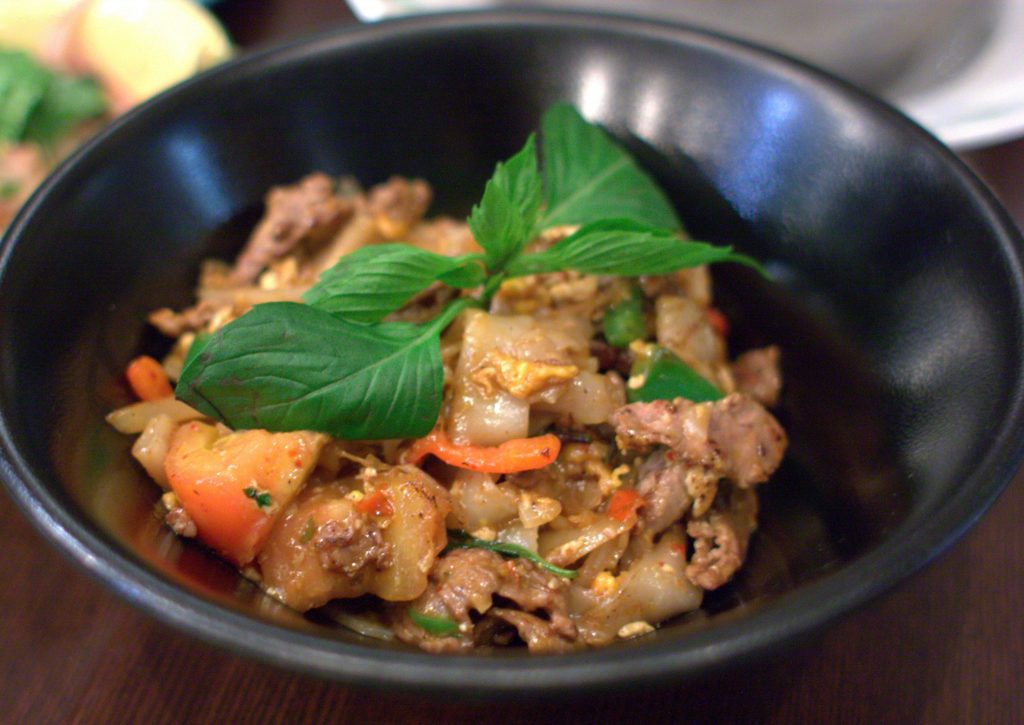 Thailand is well known for its wild nightlife, so let's try the famous Drunken Noodles or "Pad Kee Mao"! This hot and spicy dish will give you the real authentic taste of this tropical country. Well, there's no beer in this noodle unfortunately. But you know, when people are up drinking, some side dishes are needed to fill up the belly a bit. So, it turns out someone grabs things in their fridge and creates this delicious menu that is vastly eaten till these days (no one knows this is true or not, but this is what we've always heard). Now, people have it at any time, not only for when they are drinking. Plus, it'll only take you only 10 minutes apart from boiling your noodles!
Ingredients: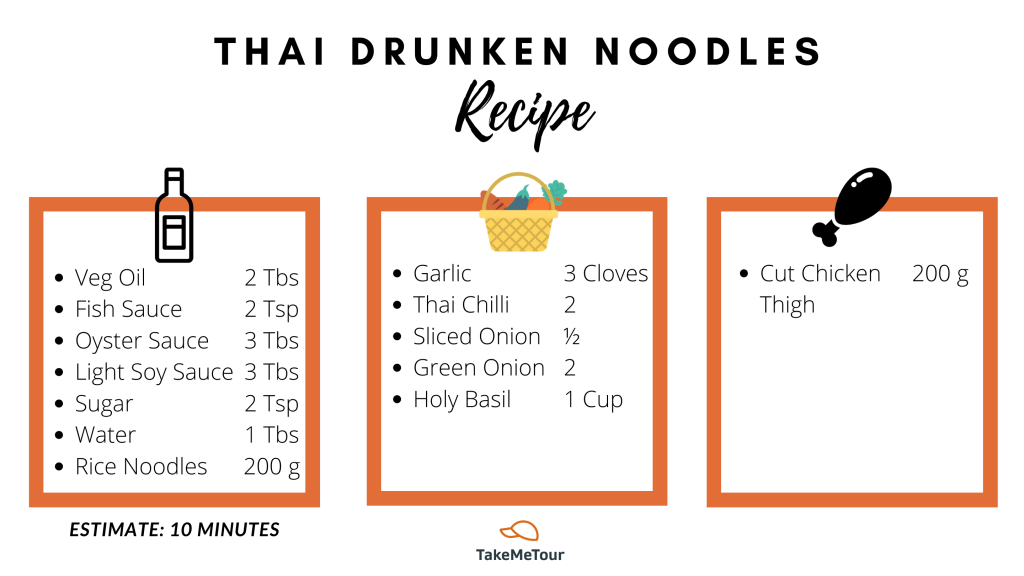 How to cook:
1. Follow your rice noodle packet's how-to, usually the noodles should be boiled for approximately 10 minutes!
2. Mix all the sauce together, then add the oil in your pan and heat it up (Iron pan preferably)
3. Now you can add chilli and garlic, count one to ten!
4. After that add the onion, chicken, and fish sauce. Cook them for about 3 minutes.
5. Then, add green onion, the noodles and sauce. Mix the sauce and noodles thoroughly till they are all cooked.
6. Add Holy Basil on top, and your Drunken Noodles is ready to be served!
Full recipe here
Eating it when you're not drunk is definitely gonna get you a spicy taste, so feel free to reduce the amount of chilli. Some people like it crunchy, so you can even add baby corn, carrot, or broccoli. It's a good idea to enjoy this hot noodle with a sweet iced Thai drink like Lemon Iced Tea or Red Lime Soda. You can check out a list of traditional drinks easily made here.
---
#4 Tom Kha Gai (Thai Chicken Coconut Soup)
If you are getting weary from drinking a full gallon of water because of Thai food's hotness. Tom Kha Gai is a perfect choice for you. This homely dish has a silky combination of sweetness and saltiness. You will vastly find the menu done authentically in a local's home, giving some nostalgic feelings like your grandma-made meal! However, there are a great length of different ingredients people use. Let's see the easier way to get an amazing taste!
Ingredients: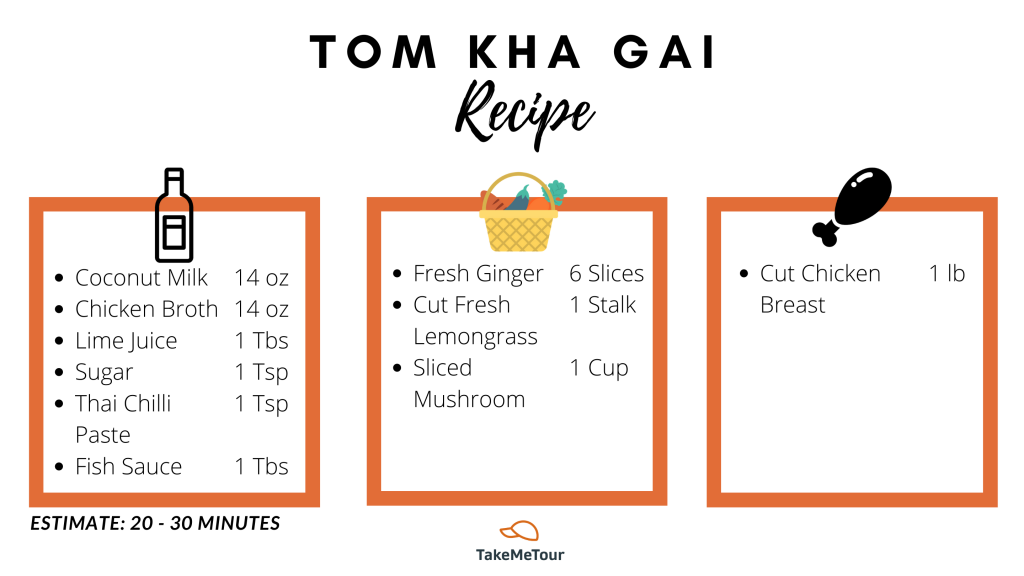 How to cook:
1. Add coconut milk, chicken broth, ginger, and lemon glass in a middle size sauce pan, Them, boil up with high heat.
2. After the ingredients start boiling, you can add chicken breast, followed by fish sausage, fresh lime juice, sugar and chili. Feel free to add more or less than the recipe!
3. Reduce the heat and wait up to 10 minutes until the chicken is cooked.
4. Now, take the lemongrass out, and serve your Tom Kha Gai with Cilantro and Basil Leaves on Top!
Full recipe here
Though it seems like it takes quite a longer time than the other menu, the steps are super easy. Most of the time is for you to wait for those tastes to absorb one another, no need for plenty of duties! Normally, Thai eats Tom Kha Gai with cooked jasmine rice, but having the soup alone is not a bad idea. You can also try mixing shrimps instead of chicken breast as well! Plus, the ingredients we gave you is for sharing, so don't forget to get the mixture with less portion if you're having it for one!

---
WEEK 1
#3 Pad Krapow Kai (Spicy Thai Basil Chicken)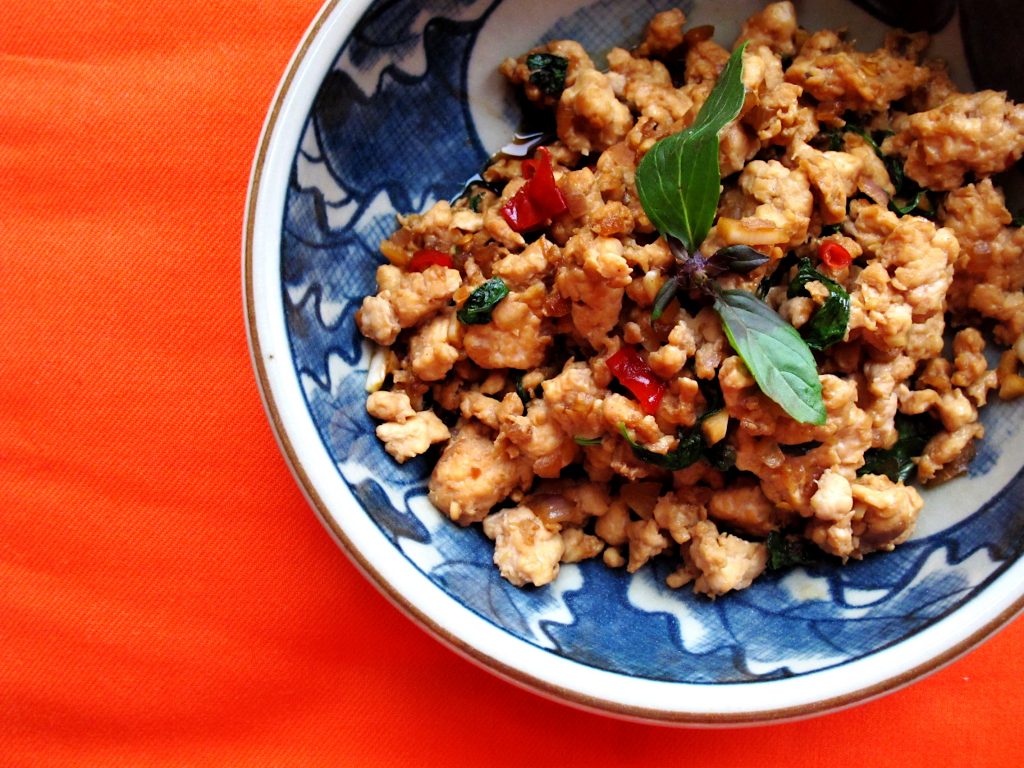 You might haven't heard about this menu before, but we need to mention that Pad Krapow is actually the most common dish the local Thais eat! Especially when we are in a rush, or are taking a short lunch break as 9-5 officemen. We could say that Pad Krapow is just like a sandwich (well, a little more extra). Something to grab every single week, when we can't think of anything else. Now let's see how easy it is to cook!
Ingredients: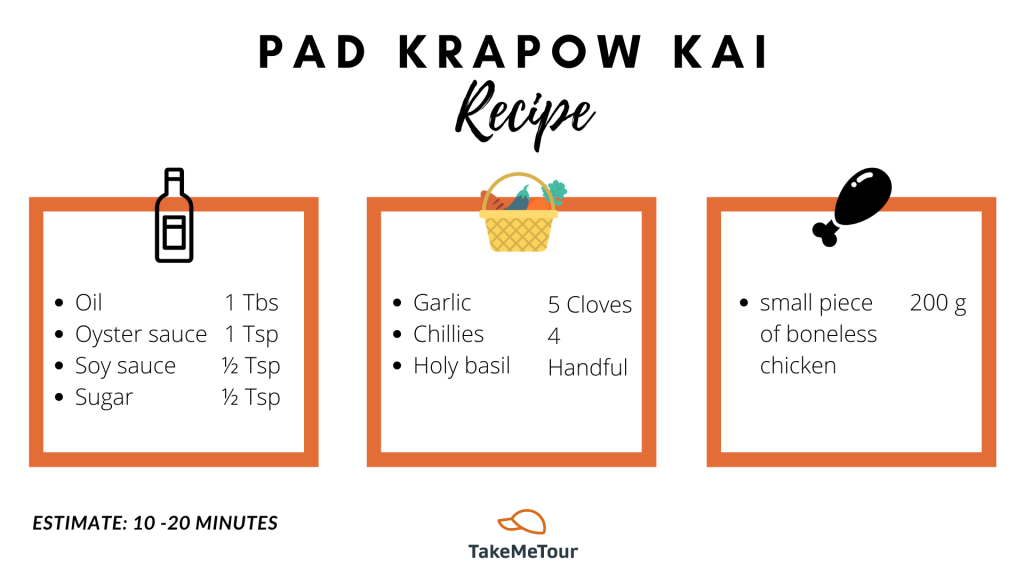 How to cook:
1. Peel the garlic and chop the chillies, then minced them with a knife (This is just to bring the taste out from the ingredients)
2. Get a handful amount of holy basil and chop the stem off
3. Here comes the main bit! Turn your pan up to high heat and and add 1 teaspoon of oil
4. When the pan is heated, add chillies and garlic. Keep stirring until they smell nice, but don't let them burn
5. Now add all the small pieces of chicken and keep stirring till they are cooked. This shouldn't take more than a few minutes. Be sure to add a little bit of water so they aren't too dry!
6. Let's add soy sauce, oyster sauce and sugar
7.Lastly, add a handful of holy basil, mix them with the chicken. Wait for only seconds, and our Pad Krapow Kai is done!
Full recipe here
See how easy it is to cook this Thai Basil Chicken. Note that most Pad Krapow is eaten with cooked jasmine rice. So, be sure to prepare your rice. Some go a bit further and make Pad Krapow Fried rice by putting the cooked rice and mix with all the ingredients in the pan. Plus, it's a fancy idea to eat with an omelette!
---
#2 Pad Thai
Oops! This seems like a cliche but it's so tasty we need to drop it here. Anyone who knows Thailand will prolly know Pad Thai super well. One of the most famous dishes amongst tourists (and locals). If you have been here before, you might have a chance to witness the queue snaking down the street waiting for this amazing dish. But, if you still haven't got a chance to visit Thailand, let's try here at home first and see whether they taste the same when you get to come to Thailand!
Ingredients: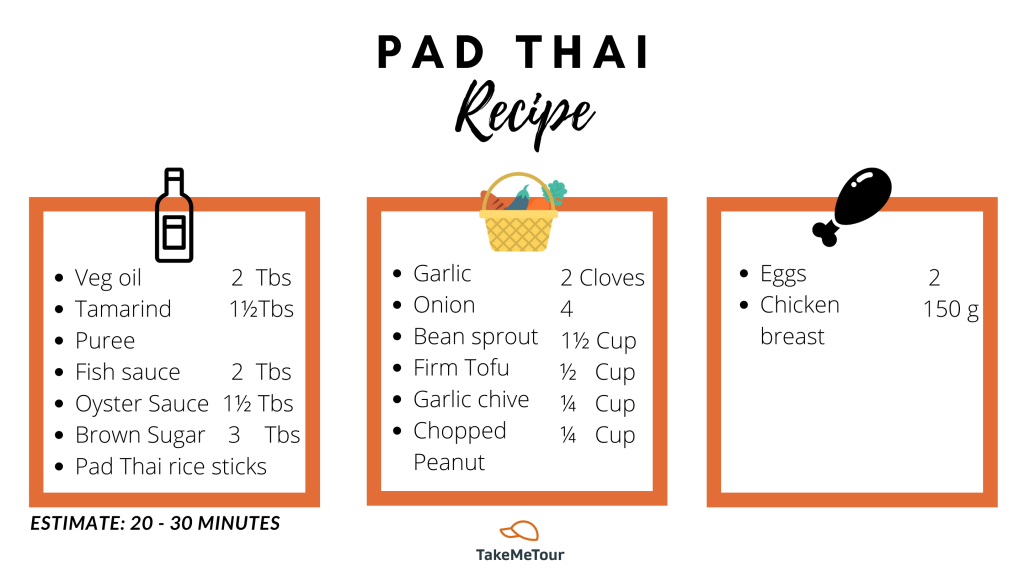 How to cook:
1. Boil Pad Thai rice sticks in hot water. After that soak them for 5 minutes and rinse with cold water.
2. While resting the rice sticks, mix all the sauce together. Note that don't rest the noodle more than 10 minutes!
3. Turn on the pan to high heat and add 2 tablespoons of oil.
4. Add garlic and onion for 30 secs. Then, add sliced chicken breast and cook for 2 minutes. It should be nearly cooked by then.
5. Divide the pan to be half empty. Scramble 2 eggs on the empty side. When they are starting to be cooked, mix them with the chicken
6. Now add tofu, bean sprouts, and rice noodle. Add the sauce afterwards!
7. Nearly finish! Add peanuts and garlic chives. Make sure things are all cooked and we're good to go!
Full recipe here
Though there's a number of ingredient, they can be easily found in the supermarket (and grocery delivery). Plus, the cooking steps are very easy to follow. If you do not have tamarind puree, you can also use ketchup instead. On the last step, you can actually save half of the peanuts and bean sprouts, then sprinkle them later when your Pad Thai is served. Squeezing some lemons or limes also makes the dish tastier! 🙂
---
#1 Larb Beef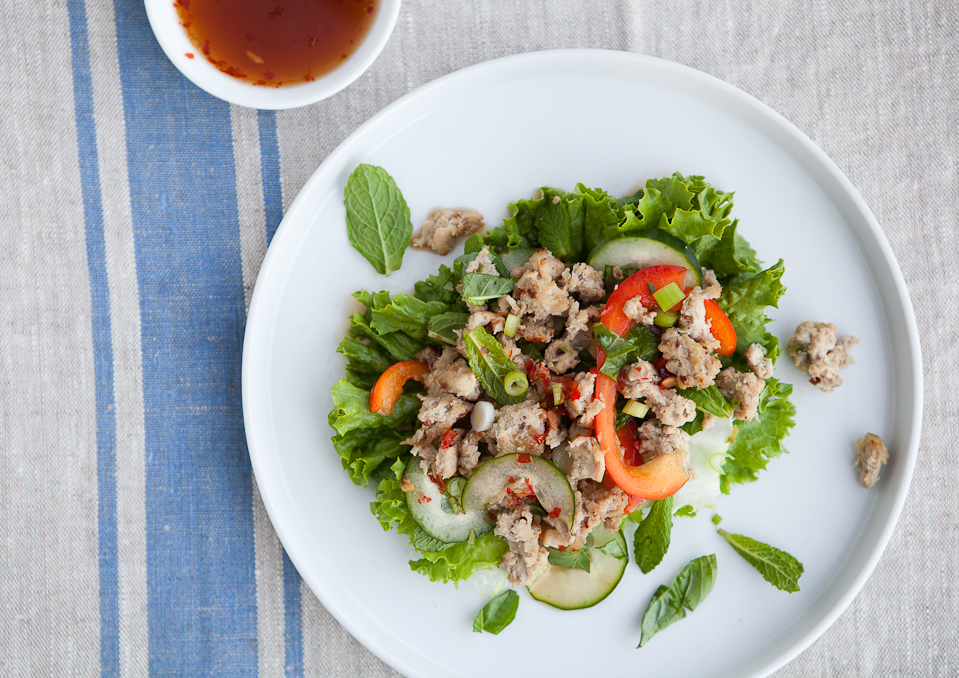 Let's spice up your day with some hot and spicy menu. Well, if you are so done with working at home, and don't wanna put too much effort in your cooking, Larb is the perfect dish. 2 main steps, done! A little fact, Larb is an authentic menu of Northeastern Thailand and it comes with different ingredients. You can do Larb Moo (Pork), Larb Gai (Chicken), or anything you like. Today, we'll introduce you to how-to-make Larb Neua or Larb beef instead, since it's our favourite!
Ingredients: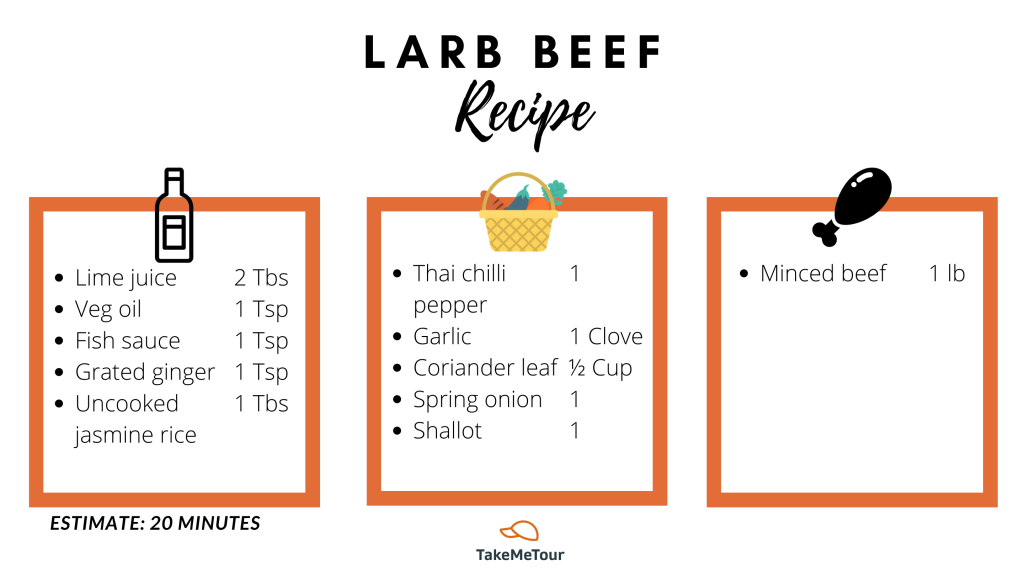 How to cook:
Prepare Khao Khua (Crispy Jasmine Rice)
1. Turn on the pan to medium heat, add 1 Tablespoon of uncooked Jasmine rice
2. Wait until the rice turn brown and gold. Then, grind them in the mortar
Prepare Your Larb!
1. Chop garlic, chillies, and shallot.
2. Now put your pan on high heat and add vegetable oil. Then add garlic, grated ginger, and shallot
3. Once the pan is hot, add the minced beef for a few secs. Then, add fish sauce, lime juice, and chillies. Follow with Khao Khua.
4. Once the beef turns grey, it should be ready to go! Don't forget to add some coriander leaves and sliced spring onion on top when serving!
Full recipe here
Larb is literally very easy to do. It is basically just throw all your ingredients in the pan. You can eat the menu with cooked jasmine rice. However, authentically Thai usually eat Larb with sticky rice, but that would take few hours until it is actually ready. But if you'd love to try the sticky rice for weekends or dinner, here's the how-to link 🙂
Comments
comments