What else can we do besides partying?
Though Bangkok is known as the sleepless city, there seems to be nothing much to do in Bangkok at night beside drinking the night away and clubbing? Well, that's not necessarily true. Here are some awesome ideas from things all foreign travellers love to do to the new trends you definitely should give them a try. 🙂
1. Working (duh!) with style
Still have some extra work to do? That's too bad, but let's not let you spirit down and working your a_ _ off at your office or at home. Working offsite at some awesome co-working spaces, like Hubba, would be just a perfect idea to change your grumpy mood. Don't forget to check out the newest Hubba branch nearby BTS On Nut station, called HUBBA-TO though… since they will always be by your side and be your new inspirations for 24 hours a day.
Open – 24/7
2. Checking out the highest rooftop bar
One of the most cliche things you just have to do at least once when you are visiting Bangkok. Enjoy the gorgeous panoramic view of Bangkok starting from the sunset 'til late night at one fabulous rooftop bars, like Octave at Marriot hotel. It's a very nice ambient place with affordable prices. But, if you're looking for a more high-end place Vertigo and Sirocco are your calls.
Open – 5pm. – 2am.
3. Exploring local street deliciousness
Another one thing you just can't miss, when you are visiting Thailand (especially for the first-time visitors). There are many areas in town that are very popular for their yummy street dishes such as, Chinatown, Samyan, Ratchada, etc. Want to check out all the local street foods? Need someone to show you around and take you to the must-eat? Go ahead and visit our site for some good street food tours here.
Open – Always open/ Recommended at night starting from 7pm – Midnight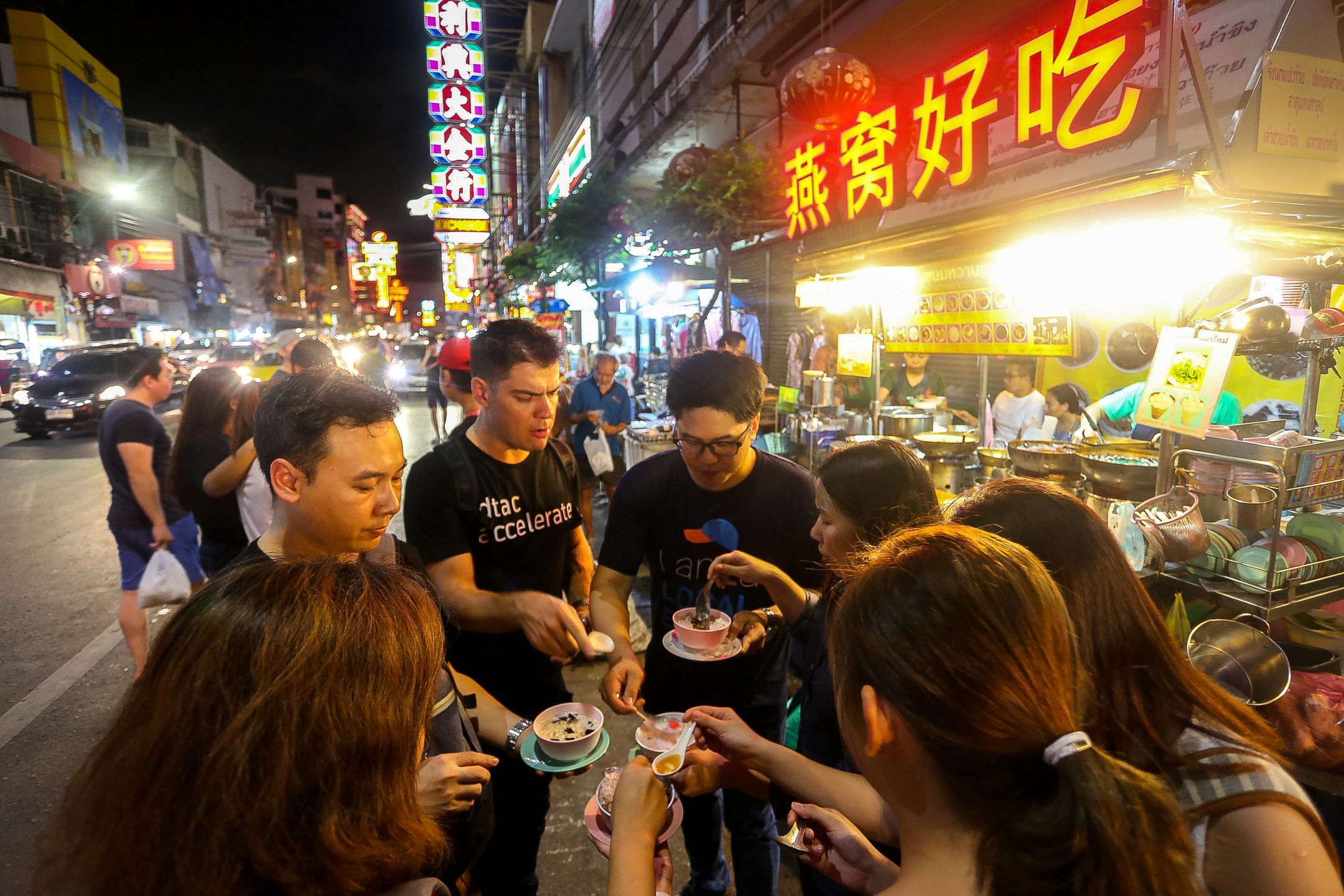 4. Chilling out at a night market
Wander where local youngsters like to hangout in Bangkok at night? Train markets are ones of the most popular night markets. Not only they sell good (and very cheap) stuff you can shop, but they have some delightful foods, desserts, and drinks also. Ratchada Train market is the closet one in town and very easy to travel to.
Open – Tue-Sunday from 6pm 'til late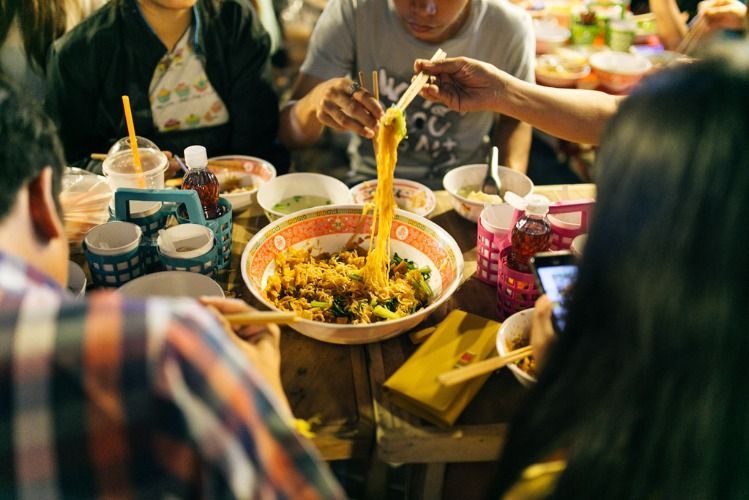 5. Cruising along Chao Phraya river
The second most popular things to do in Bangkok at night, for the first-time visitors, that we still insist on doing. Taking a boat ride to explore Bangkok and its spectacular view, no matter how touristy it gets, is worth to see and experience. Enjoy the night scenery and the Bangkok's breeze.
Open – Everyday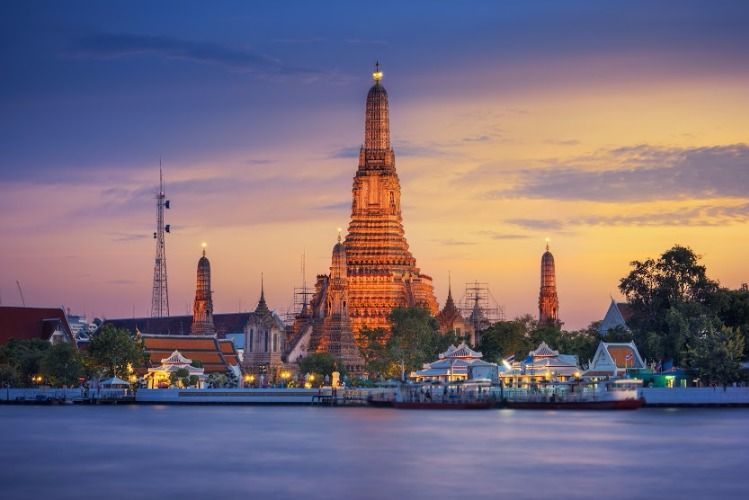 6. Painting and Sipping
Feel the artistic energy within you? Unleash the power of creation for the night with Paintbar. Just simply book a date with your favorite canvas and enjoy the night; chilling, drawing, painting, and drinking with new friends. No skills necessary 'cause there will be an instructor who will always guide you through.
Open – The night session starts from 7pm until 11pm.
7. Jumpin' around
If you've been sitting at the office for all day long and wanted to play around like a kid for the night how about trampoline park? At Bounce, you can enjoy hopping and flipping back and forth as much as you want. What I love about this place is that they often hold an event where DJs play EDM music while you jump around and have with your homies.
Open – Everyday from 10am. – 10pm.
8. Rave-cycling at the same time
One of the most popular things to do in Bangkok at night for the fitness lover. There are now many fitnesses that offer cycling class with EDM music, but one place you shouldn't miss is OMMO studios. Not only you can cycle in a backlight room, but also enjoy EDM live music from DJs.
Open – Mon-Fri 7am. – 10pm./ Sat-Sun 8am. – 4pm.

9. Relaxing at an onsen
Not only traditional Thai massage, but you can also go to a bathhouse or an onsen (just like in Japan) in Bangkok as well. Take a dip in different onsen tubs and get a healthy and relaxing massage for your beautiful skin.
Open – Everyday from 9am. – midnight
10. Playing games with new friends
One of my most favorite things to do in Bangkok at night with my bffs when you're tired of clubbing and dancing. A gamer by heart definitely can't miss this one place. Game Over lounge is a fun place where you can grab your delicious grills and beers play different games with your besties; board games, beer  pong, arcades, and many more.
Open – Tuesday to Sunday from 11am. – 2pm
11. Joining in Laser game battle
Another place for a big gamer, but this one take it into another level and keep it (more) real. Lazgame is the first laser tag battle in Thailand that offer awesome futuristic labyrinths to venture in different levels and themes. Each game will last around 15 minutes and cost from 350 baht. Whether you are playing as individual or group, you can always be sure that this sci-fi game is definitely going to be challenging.
Open – Monday to Thursday from noon to midnight, Friday 12pm – 2 am, and Saturday – Sunday from 10am to 2 am.
12. Surviving in District 13
'May the odd be forever in your favor' A little further away from the heart of Bangkok, there is an archery field where you can test your reflexive skills and accuracy. Let's do some archery battles just like we are in Hunger Game at District 13. Is it me or you who will be the last man standing?
Open – Monday, Thursday – Friday 2pm – 9pm. Saturday – Sunday from 10am – 9pm.
Comments
comments