The weather in Thailand in July is near identical to what most of Thailand has already seen in June. Even though June marks the start of the rainy season for most parts of Thailand, it's usually in July when rainfall begins to increase steadily, especially near the end of the month. However, that certainly doesn't mean your trip is going to be spoiled by the weather. July can definitely be a great month to visit especially if you are exploring Thailand's inland areas.
If you're planning for a vacation in Thailand in July, you're just in luck!. Let's have a look at our useful guide on what to expect in Thailand in July!
Weather
With light showers across the country, the weather is cooler than in June but can still be humid.
As July progresses, rainfall gradually increases in certain parts, especially during the latter part of the month. On the few days with no rain, the landscape is pleasantly lush, full of green and thriving, so you can enjoy Thailand's nature at its finest. July is the perfect time for you to enjoy the lovely rivers, green valleys, and verdant mountains, as well as a good mix of sun and rain.
Minimum temperature: 25-33 degrees C
Average rainfall: 161mm, 17 rainy days
Minimum temperature: 24-32 degrees C
Average rainfall: 158mm, 19 rainy days
Minimum temperature: 25-33 degrees C
Average rainfall: 100mm, 16 rainy days
Minimum temperature: 25-32 degrees C
Average rainfall: 123mm, 14 rainy days
Minimum temperature: 25-31 degrees C
Average rainfall: 289mm, 20 rainy days

Where to go?
Now that you know how the weather will be like, let's look at our recommended places you must check out in Thailand in July!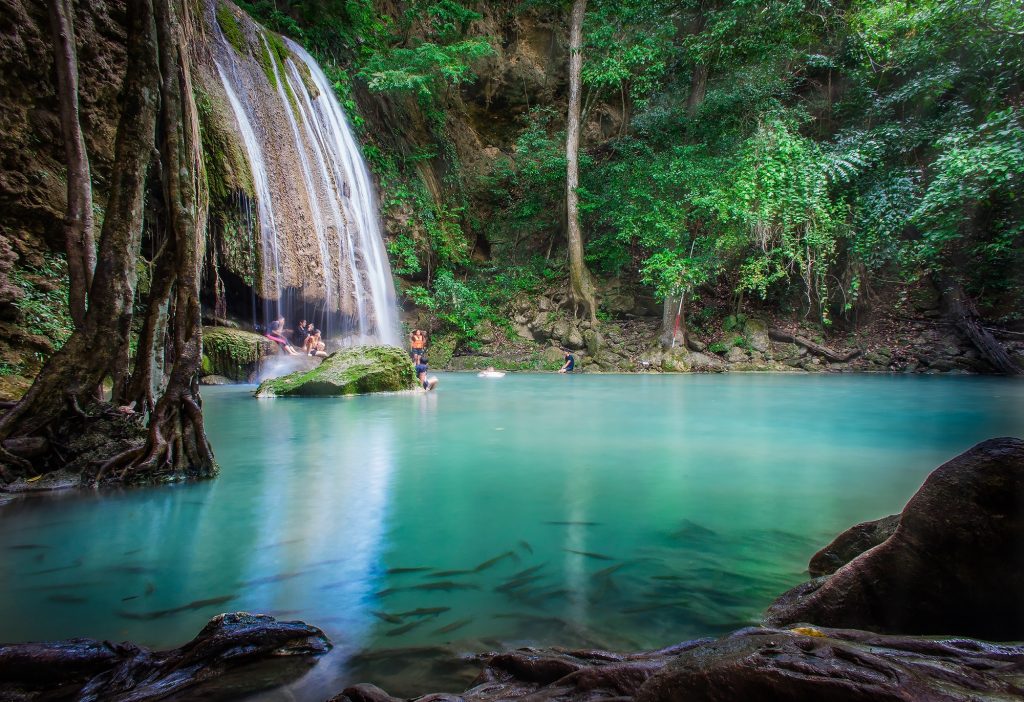 As long as you don't mind the rain, Kanchanaburi is quite good this time of the year. Stunning waterfalls such as the Erawan Waterfall are definitely worth your visit. Moreover, national parks such as Sai Yok National Park in Kanchanaburi are just as good as the waterfalls. Nature lovers, this is your haven!
Southern Thailand/Southern Islands: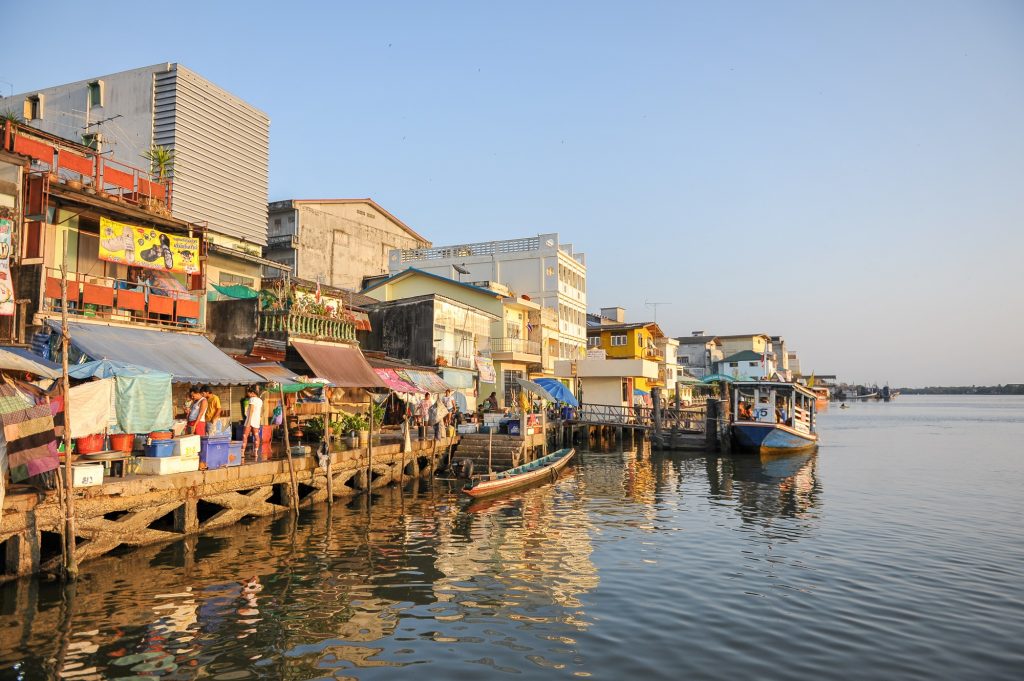 If you're looking to go to the beach down south, avoid the Andaman Coasts, as the weather conditions can certainly prove to be quite hazardous.
The Gulf Coast part of Southern Thailand is usually the driest, including small towns and islands. If you're a beach bum, the lower Gulf islands are relatively dry, but always keep an eye out for the warnings that disallow swimming at particular times of the day.
So which southern Thai Islands should you visit, then? Well, we've got 3 that we'd like to recommend to you!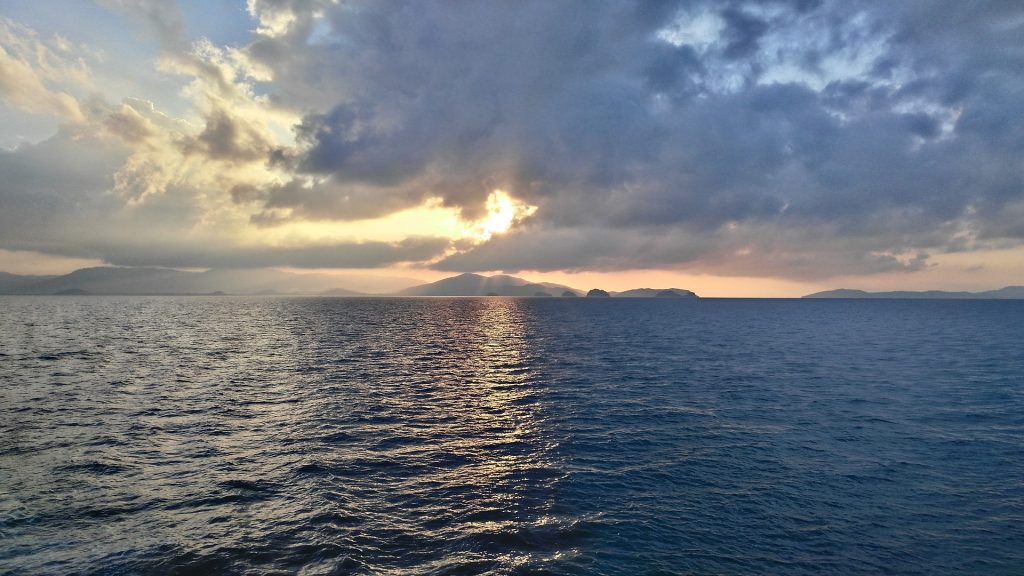 The average temperatures remain at a marginally comfortable 29 degrees Celsius in Koh Samui in July. Thus, there's enough sunshine for you to spend your time here at one of Thailand's most popular tourist destinations. A mix of great accommodation, eateries, beach clubs, spas and of course, beaches are the things that make Koh Samui so well-known all over the world.
Koh Phangan
Koh Pha Ngan is always going to be a busy island all year round, although it'll be pretty wet in July. However, since the nightlife here is very popular, the rain has never stopped party-goers from flocking to the island. No island in Thailand certainly comes close to hosting a party like Koh Phangan!
Koh Tao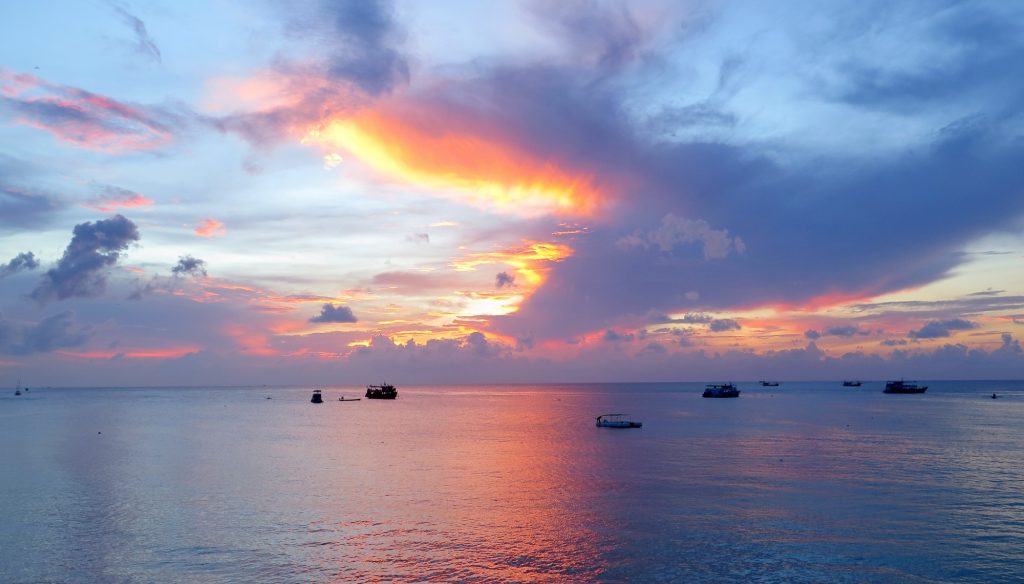 The sun shines brightly over Koh Tao in July, which indeed makes it perfect for diving. July is right in the middle of the diving season in Koh Tao, which is known to be the best island in Thailand for diving.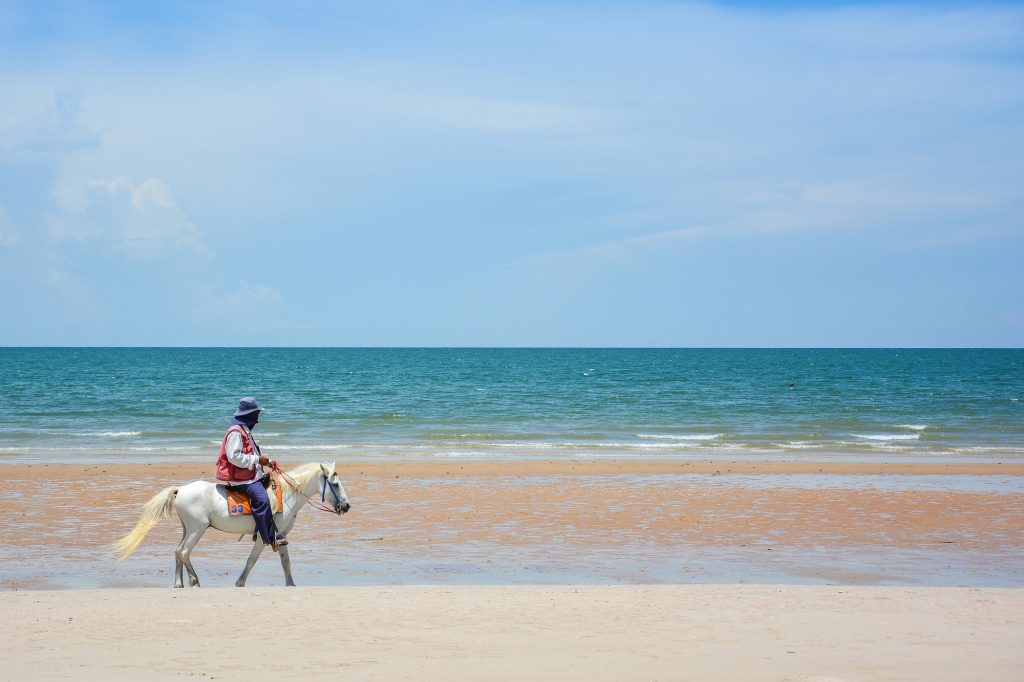 Hua Hin sits quite centrally in Thailand, so it's located at one of the places which have the lowest rainfall. Additionally, the weather remains quite pleasant this month, giving you a chance to explore its shoreline and explore its food scene. Be sure to visit Hua Hin Night Market for the best street eats, and trek up to Kao Takiab to get the best view in town.
Festivals You Can't Miss
Asanha Bucha Day (July 16, 2019)
This is a public holiday in Thailand which celebrates the day that the Lord Buddha delivered his first sermon over 2,500 years ago. Ceremonies are held at large temples, where numerous monks gather to be ordained. Furthermore, peaceful candle-lit processions are held in different parts of the country, and food and candles are donated to local temples.
Wan Khao Phansa (July 17, 2019)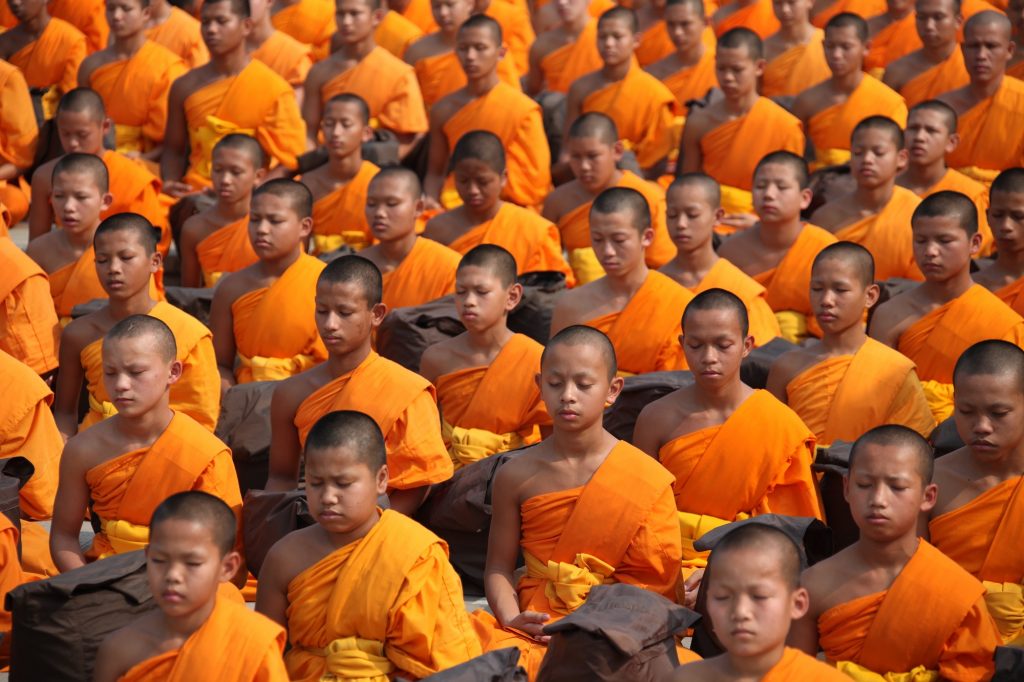 The day after Asanha Bucha marks the start of Wan Khao Phansa, a three-month-long Buddhist period of Lent. This is when monks retreat to temples to study and meditate. Moreover, It is also a sign of the commencement of the monsoon season. The retreat period ends in October with Wan Ok Phansa (October 13, 2019).
Ubon Ratchathani Candle Festival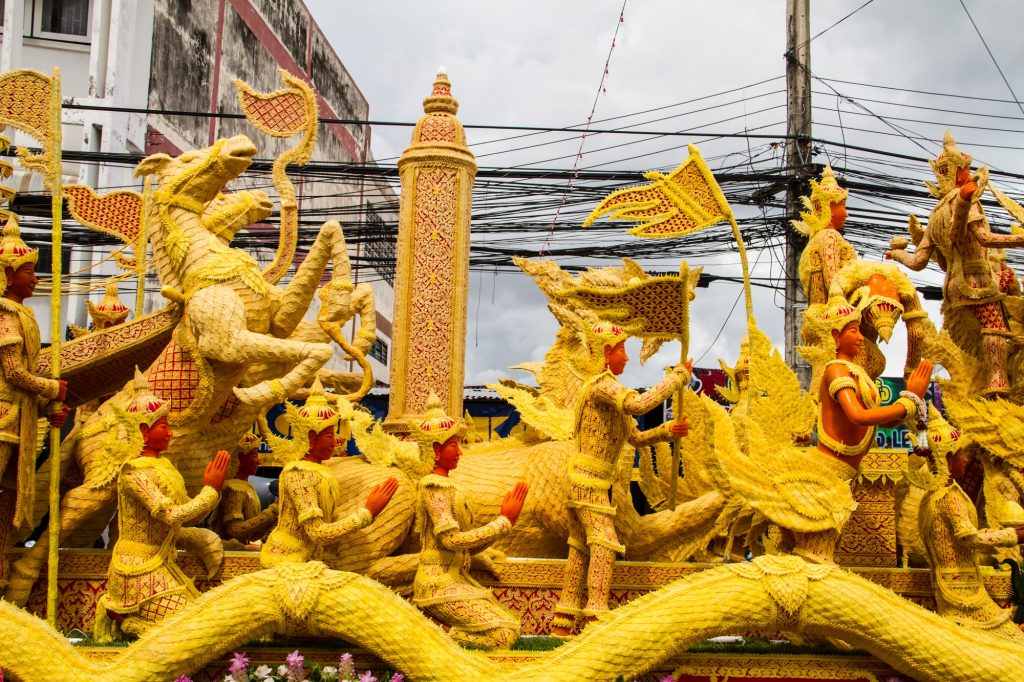 Associated with Asanha Bucha and Buddhist Lent, This festival shows the people's devotion to Buddhist tradition as well as their skills in carving magnificent candles. Originally, a bundle of small candles was presented to the monks, but over time, people started to carve the candles into beautiful shapes.
TakeMeTour's Top Tips
-Carry an umbrella or raincoat, and checking the weather forecast before heading outside is always a good idea.
-For footwear, carry walking shoes or boots for treks and walks in the rain, and belted sandals or flip-flops for the walks on the beach.
-Bring along sunscreen, a hat, and sunglasses if you want to hit the beach, or if the day is looking sunny.
-Carry insect and mosquito repellent to fight off bugs that come out in the evenings.
-Eating at street food stalls is quite common here, but don't just stop anywhere for a meal, especially in the monsoon. Ask around for recommendations, or eat at sit-down restaurants for large meals. And, of course, avoid eating raw food!
Comments
comments