Hello, fellow travelers. This week, I've created a quick how-to order a noodle dish from a cooked-to-order restaurant in Thailand. Let's check it out!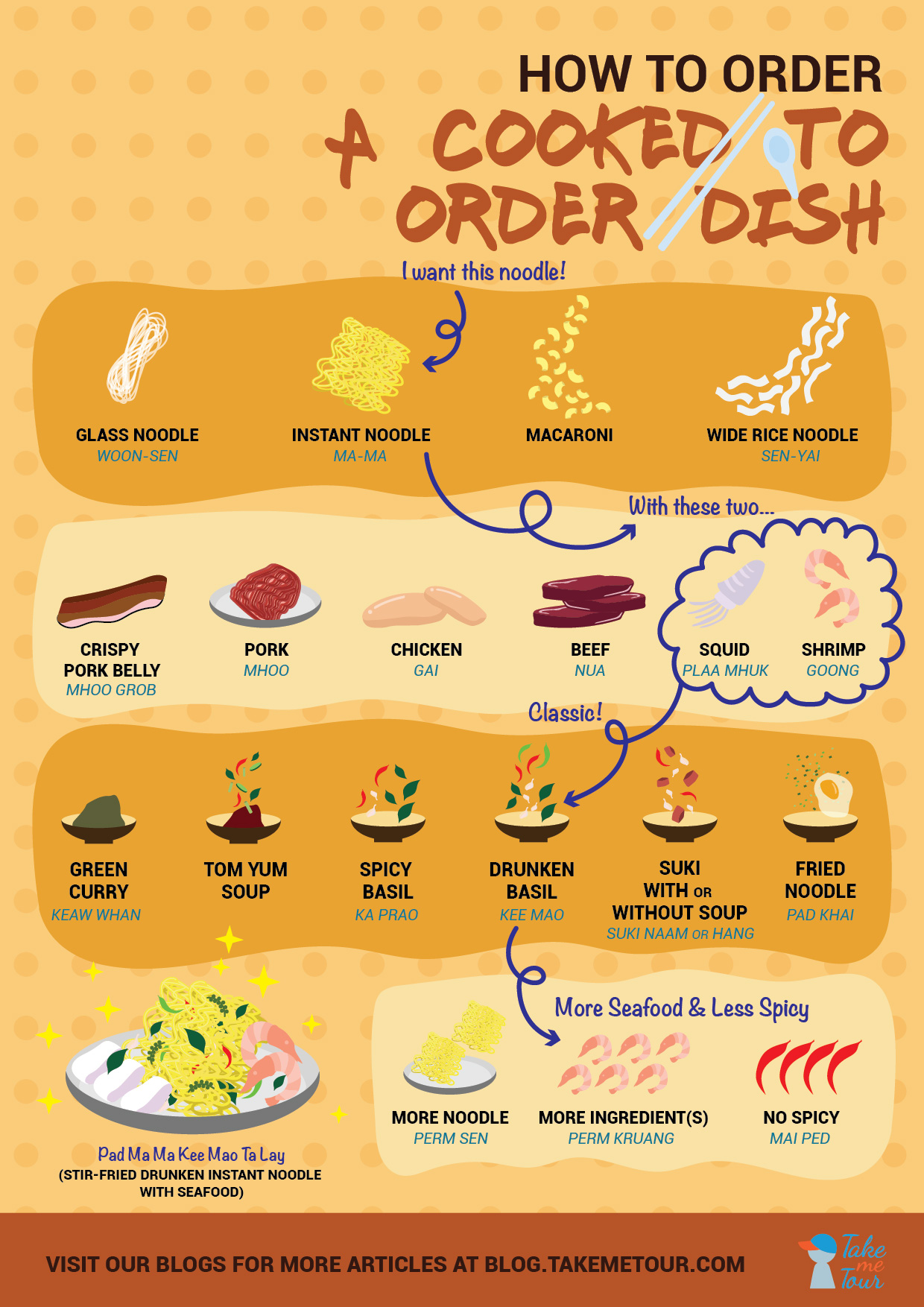 4 simple steps of how to order a noodle dish at a cooked-to-order restaurant in Thailand
'Be creative, but not too creative, alright?'
1. Choose your noodle
Glass noodle = Woon Sen (วุ้นเส้น)
Instant noodle = Ma Ma (มาม่า)
'Ma Ma' is not the real meaning of the instant noodle, rather the biggest instant noodle company in Thailand. The local folks tends to call any instant noodle brand 'Ma Ma,' even you have a Korean ramen noodle. Thais will automatically call it Korean Ma Ma.
Macaroni = มักกะโรนี
Macaroni is pretty common here in Thailand. The one favorite macaroni dish Thai people love (but westerners don't) is stir-fried macaroni with shrimp and ketchup.
Wide rice noodle = Sen Yai (เส้นใหญ่)
When decribing all noodle types in Thailand to my foreign peeps, I often call Sen Yai 'Rice pappardelle,' since it's much easier that way. But, if you don't know what pappardelle is it's a half-inch-wide flat pasta
Different places have different noodle types. The most common are glass noodle and ma ma. Some places might have spaghetti and Sen Lek (rice linguini). Be sure to ask the chef/ waiter first before ordering though
2.  What meats am I going to have today?
Crispy pork belly = Mhoo Grob (หมูกรอบ)
Ground Pork = Mhoo Sub (หมูสับ)
Beef = Nua Wua (เนื้อวัว)
Pork =  Nua Mhoo (เนื้อหมู)
Chicken = Nua Gai (เนื้อไก่)
Squid = Plaa Mhuk (ปลาหมึก)
Shrimp = Goong (กุ้ง)
The same as when you are ordering a rice dish. Well…you can order the noodle dish and the rice dish at the same cooked-to-order restaurant, right? lol
These are the most common meats they have. As I've already mentioned, each restaurant might have their special meats/ vegetables. You can also ask the chef or the waitress, if there anything special such as, preserved egg, egg tofu, duck meat, sausage, salted fish, etc. There's no limitation/ rule when ordering. As long as they have the ingredients, they are willing to cook you any Thai dishes any way you like.
3. How would you like your seasonings?
Green curry (Gaeng Keaw Whan แกงเขียวหวาน)
Tom Yum Soup (ต้มยำ)
Spicy basil (Ka Prao กะเพรา)
Drunken basil (Khee Mao ขี้เมา)
Suki with or without soup (Suki Naam or Haeng สุกี้น้ำ หรือ แห้ง)
Fried noodle with egg (Ma Ma Pad Khai มาม่าผัดไข่)
The options for noodle dish are slightly different. Fried noodle with egg, Drunken noodle, and Suki are the most popular/ common. Tom Yum comes with soup…unless you order spicy Ma Ma salad (Yum Ma Ma)…the chef might add Tom Yum powder from Ma Ma package to the salad. lol
4. Extra/ Add-on
More noodle (Perm Sen เพิ่มข้าว)
More ingredients (Perm Kruang เพิ่มเเครื่อง)
Extra spicy/ Less spicy/ No spicy (Ped Mak เผ็ดมาก/ Ped Noi เผ็ดน้อย/ Mai Ped ไม่เผ็ด)
As I've already mentioned from my previous article about cooked-to-order food, you can also tell them to add/ not to add any veggies available at the restaurant. As for me, I'm a meatatarian, I don't add any vegetable (Mai Sai Paak/ ไม่ใส่ผัก) on my dish. lol
What is your experience ordering a cooked-to-order dish in Thailand? Share us your story and stay tune for my next article about the most common noodle dishes Thai people order at a cooked-to-order restaurant.
Want to learn some home-cooked meals with locals while traveling in Thailand? Please check out this link for local 1-day tours in Thailand here
Comments
comments