Waking up early for a morning run is far from extraordinary. It might be something you would want to do when at home instead of when you're on vacation. But what if you get to run with a local runner who has not only a homey vegan café but also amazing but true stories to tell?
Khun Pawannarat or Khun Nueng is a new Local Expert, but she is no stranger to running and cooking vegan dishes. The Bangkok local is looking forward to taking you on a morning jog at Lumphini Park, making you a hearty plant-based breakfast, and sharing her adventures along Route 66 with you.
Lush and local
"I was born and grew up near Lumphini Park," Khun Nueng told me as we sat at one of the old wooden tables inside Bonita Café and Social Club. Run by Khun Nueng and her Japanese husband (also assisted by other members in their family sometimes), the cozy vintage-style café opened six years ago and it is the first vegan eatery in the neighborhood.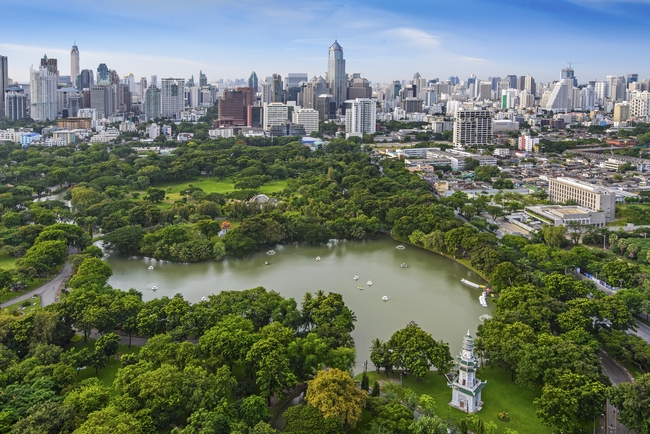 Khun Nueng's life seems to be intertwined with Lumphini Park. After living for about two years in America, she moved back to the area and opened her own café close by. Khun Nueng and her husband who goes by the name Mr. K have been running for years and Lumphini Park is their favorite place to run.
"The park is like an oasis in the heart of Bangkok," The Local Expert told us why she likes the place. Situated in the busy and building-packed Silom area, Bangkok's first park is a surprisingly tranquil and huge green space. If you want to explore Bangkok through a unique perspective, Lumphini Park makes for a nice destination.
And what better way to explore it than jogging? The park is where many locals and expats gather for a morning run or exercise, so by jogging with Khun Nueng, you'll get to enjoy Lumphini Park the way locals do.
วิ่ง FOR YOUR DREAM 夢はかなう
Thai. English. Japanese. These three languages were written on Khun Nueng's t-shirt. Together they translate to "Run for your dream" and "Dreams come true".
Khun Nueng is a fun run type of person, but Mr. K takes it to the next level. Having participated in over 100 marathons throughout his 30 years of running, Mr. K runs 10 kilometers daily and on their day off (The café closes on Tuesdays), he runs 40 kilometers. That's almost the official distance of marathon or 42.195 kilometers.
Ten years ago, Khun Nueng moved to Bonita City in California and she and Mr. K were members of the Bonita Road Runners running club (hence the café name). After living there for about two years, the couple returned to Bangkok, but Mr. K still had a dream.
"Look around our café and you'll see many Route 66-themed decorations." Khun Nueng began. Route 66 or the Main Street of America was Mr. K's dream. He wanted to run across America using the historic road. According to the current record, Mr. K is one of the 500 or so people who ran from the west to the east of the USA or vice versa. To date, there are only about 300 runners who achieved.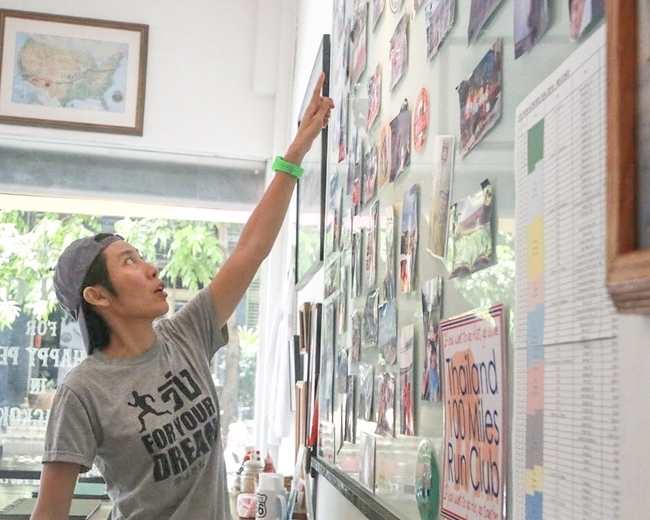 Khun Nueng continued the story of the relationship between Bonita Café and Social Club and Route 66: "K wanted to know how far he could run. In 2015, we closed our café for four months and flew to America for this. Our Hawaiian friend Greg and I were his support team. We traveled on a caravan, providing K food and assisting him as he ran all the way from Los Angeles to New York City. That was his longest run to date." Mr. K was determined to run 5,000 kilometers in 80 days and he reached his goal in New York City on the 79th day.
Route 66 is a dream of many people, but many parts of it are abandoned. You have to brace yourself for the lack of infrastructure… and people in general. In the areas that have been turned into freeways, cars and trucks come at high speed and fatal accidents can happen anytime. Not to mention large hail, tornadoes, and many other obstacles that Mr. K, Khun Nueng, and Greg faced along the way. They fought. There were times when giving up sounded like a better idea. But they talked out their issues. Looking back, Khun Nueng was glad she met a lot of kind people from beginning to end, from their runner friends in Thailand and sponsors (including Thai Health Promotion Foundation) to strangers in the USA.
Though Khun Nueng and Greg didn't run across the country with Mr. K, they were there throughout "his project" that eventually turned into "their project". The Thai, the Japanese, and the American made it and they live to tell the tale.
Vegan delights with a side of unforgettable stories
After running around Lumphini Park and from the park to Bonita Café and Social Club, Khun Nueng will serve you freshly cooked plant-based breakfast along with stories from Mr. K and her journeys.
"One of the reasons why I opened a café is that I like to listen to others' stories and also share mine." Khun Nueng talked about her happiness from meeting people from all over the world. The café is a favorite among runners—locals and expats alike, but you don't have to be a professional runner to enjoy the vegan food and the vintage ambience there.
All the food and drinks at Bonita Café and Social Club are homemade. As runners, Khun Nueng and Mr. K put a lot of thoughts into not only the taste but also factors like the amount of energy and nutrients. Some recipes were created for their run across America and are now available for both runners and non-runners.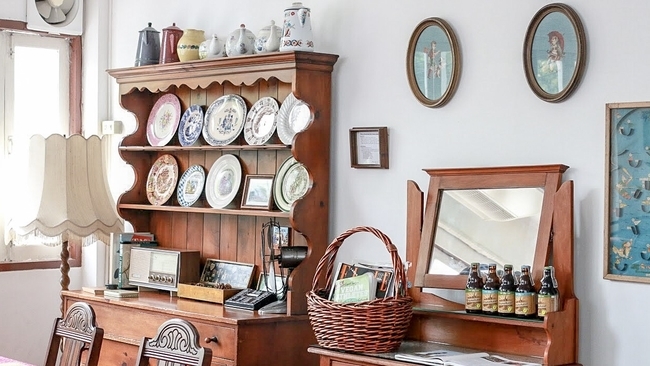 The decor is very homey. "K and I love to collect vintage stuff, but we collect different things. K likes wooden cabinets and shelves and I like tableware. We bought them when we lived in America." The Thai-Japanese couple ended up using them all at their café. The second floor of the café feels especially intimate and cozy with all these furniture. It feels like home.
But the first floor also has a lot of stories to tell. The wall is adorned with photos and memorabilia from Khun Nueng and Mr. K's running trips.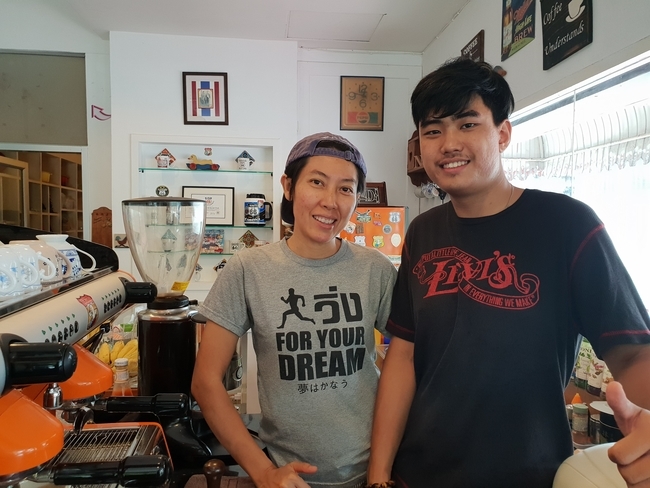 A morning run in Bangkok's green oasis and a homemade vegan breakfast plus time well spent with a friendly runner who has many stories to share, the start of the day couldn't get greener and happier than this.
---
Meet the Local Expert is a series focusing on TakeMeTour Local Experts and their uniquely local trips. Every month we meet and interview a Local Expert for their inspiring stories while shedding light on Thailand's local sides that are still unknown to most travelers.
This month's Meet the Local Expert features Khun Pawannarat (khun is a Thai honorific added before a name). Meet and discover a local side of Thailand with her here.
Comments
comments