Sandy beaches and cerulean sea, towering mountains and lush forests that hide powerful waterfalls, these aren't the only landscapes that represent Thailand's nature. Between the urban and the wild lie idyllic farmlands that many travelers get to see and few get to actually experience.
While country life isn't to be romanticized, there's something undeniably beautiful about it. Many travelers yearn to be part of it, even just for a little while, and learn more about the farmers' simple yet admirable way of life. Born in Chiang Mai's countryside called Mae Taeng, our Local Expert, Khun Pat, wants travelers to actually immerse themselves in the local lifestyle. Not only in her neighborhood but also at her home.
Pedal into the pastoral
Cycling is a popular activity in Thailand, but it's not everyday you get to cycling with a local family.
"Cycling is what we do together as a family," Khun Pat shared how she came up with her uniquely local trip. Throughout the bike ride, Khun Pat as well as her father and mother will be by your side.
Apart from your cycling company, the cycling route is unlike anything you'll find in Thailand. While Mae Taeng is a lovely place, it has yet to be popularized among cyclists. The raw beauty of local farms and homes, the fresh air, the villagers' sincere smiles… What you'll see along the way has never been described in any guidebooks.
There's so much to see and do in Mae Taeng and Khun Pat will be happy to help you customize the cycling route based on your preferences and your physical strength. There are easy straight roads, but if you're feeling adventurous, Khun Pat can also accompany you to a mountain temple.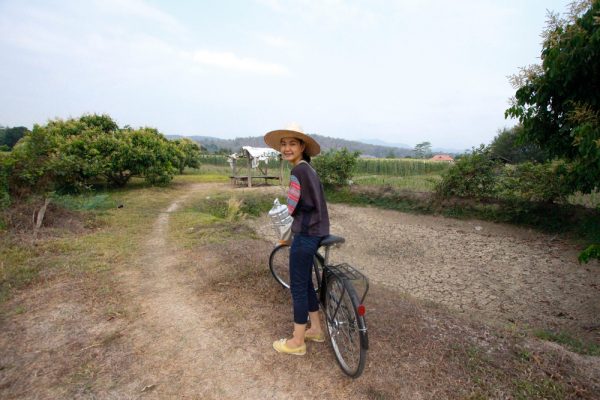 There are no fixed stops; it's up to you. That's the beauty of cycling in Khun Pat's opinion: "The best thing is that you can stop anywhere. When something grabs your attention, you can just stop and see what's up. Bicycles let you access most places and discover how locals really live." The Mae Taeng native also added: "No journeys are the same. Everyone has a different experience, depending on what they see or encounter that day."
Local lens, global perspective
While no journeys are alike, one thing remains the same: the locals are warm and welcoming.
More than seeing, you'll get to actually meet the Mae Taeng locals. Khun Pat and her family are part of a close-knitted community and through cycling, they have become friends with even more people.
Rice isn't the only crop grown there. Depending on the season, you can learn about various other agricultural products such as tapioca, bamboo shoot, grape and mulberry. Khun Pat and her parents will, for example, take you to their friend's vineyard, where you can learn about his sustainable agricultural techniques, taste freshly picked fruits and experience the simple country life.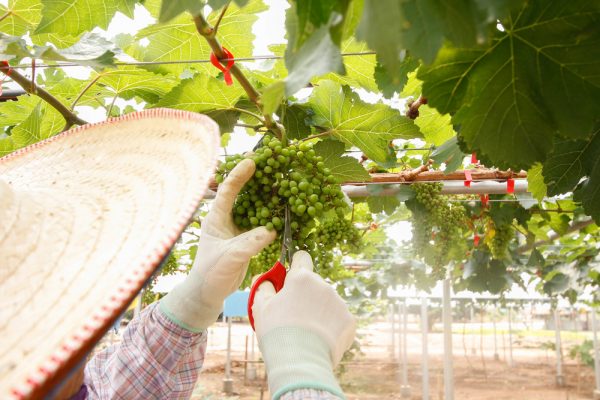 The Mae Taeng Local Expert was once an AFS exchange student in Norway while she was in high school, so she knows how one feels when they're in a foreign land.
"We can see how the locals live, but we still wonder why they do this or that," Khun Pat explained. "Having locals explain how the local culture works is helpful." Her exchange year was a valuable experience and she does her best to think from different points of view.
Feel like family
After working in the marketing field in Bangkok for 8 years, Khun Pat moved back to Chiang Mai. To her home. To her family. Mae Taeng has been their home since grandparents' generation.
The Local Expert still works in marketing in Chiang Mai, but on weekends, she enjoys a bike ride with her family and other travelers.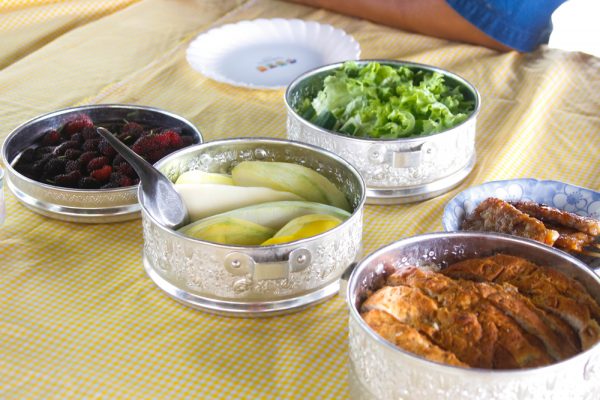 "My parents and grandma are very happy when travelers visit us." The family also runs a homestay and they welcome travelers into their home and garden. They share everything local with their guests, from Thai wisdom to home-cooked meals. Khun Pat's mother prepares Northern-style cuisine (customizable) for picnic using their homegrown produce.
Khun Pat's family grows their own vegetables, fruits and herbs. They cook their own food and make their own medicine. Their everyday thing is fascinating. They look forward to telling the local stories and genuinely want travelers to live local and feel at home.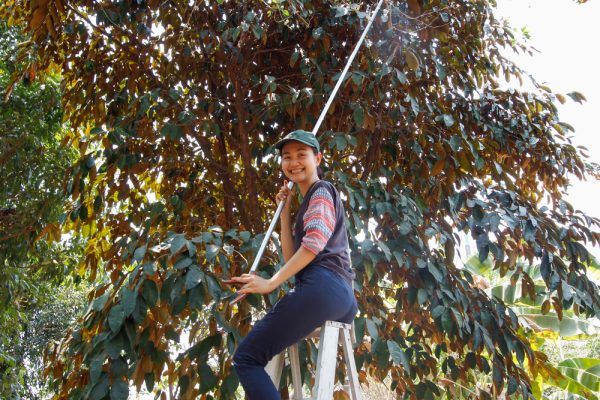 From cycling as family to sharing home-cooked lunch on a picnic, family warmth lies at the heart of Khun Pat's local experience. From the first moment, you'll feel family love and at the end of the journey, you won't leave Mae Taeng as a stranger.
---
Meet the Local Expert is a series focusing on TakeMeTour Local Experts and their uniquely local trips. Every month we meet and interview a Local Expert for their inspiring stories while shedding light on Thailand's local sides that are still unknown to most travelers.
This month's Meet the Local Expert features Khun Pat (khun is a Thai honorific added before a name). Meet and discover a local side of Thailand with her here.
Comments
comments