"I want to go somewhere without tourists." That's what more and more travelers say these days. Even in a bustling metropolis like Bangkok or in a popular destination like Chiang Mai, there are always less crowded, more local corners. Somewhere you can slow down, appreciate the details that often go unnoticed when rushing from place to place, and really experience how Thais really live.
This is what our Super Local Expert Khun Panphailin (nicknamed Khun Aoy) believes in. Born and living in Chiang Mai all her life, Khun Aoy plans and hosts a variety of tours in this northern city, but one thing is for sure. Authentic local experience is an indispensable ingredient of all her homemade tours.
Lanna delights
When talking about Chiang Mai with Thais, the word "Lanna" will definitely come up. Lanna was the most powerful northern kingdom until the 18th century and Chiang Mai was the capital. Although now the kingdom is history, Chiang Mai has inherited many Lanna legacies, including cuisine.
Chiang Mai is famous for food. We bet food tasting is on your list of things to do, but how about you go behind the scenes and cook it up yourself? Having started a cooking school right in her own home, Khun Aoy wants her guests to not only taste the northern Thai food but also learn more about it by doing.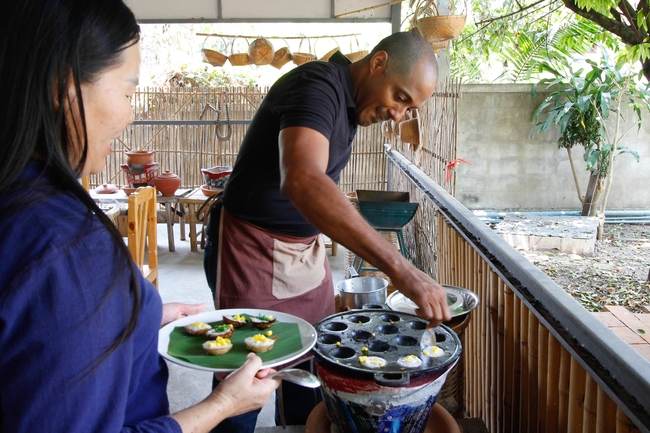 "Cooking is my family's thing and I've been cooking ever since I was young. We lived in Mae Chaem, a very rural area in Chiang Mai," Khun Aoy shared her childhood. "My parents were farmers. When they sent my brothers and me to study in the city area, my mom also started making Thai desserts and selling them at a local market in order to earn more."
Back then, there was no electricity, which means no fridges either. Her parents also cooked to preserve food, especially meat, and Khun Aoy would always help them. Her mom's northern-style recipes aren't written, but Khun Aoy keeps them all alive in her daily life as well as her cooking school.
Now you can learn to cook these local delights with the family's recipes. Khun Aoy will be more than happy to let you choose what to cook (vegetarian and vegan recipes available) and you'll get to cook 3 main dishes and 1 dessert. All in a traditional way since Khun Aoy stays true to the traditional ingredients and traditional utensils.
Your chef friend in Chiang Mai
What's unforgettable about the cooking school isn't just cooking itself but also the whole process and the atmosphere. It's intimate from start to finish. Khun Aoy will take you to a local market to buy ingredients and observe the local way of life. Then you'll head to her home and pick the vegetables straight from her organic garden.
"At our cooking school, we treat our guests as friends. They are friends who visit us at home and then we have a good time cooking and eating together. We'll be by their side throughout the cooking experience."
Everyone who joins Khun Aoy's Lanna kitchen will get to prepare all the ingredients and cook by themselves. Even preparing coconut milk and pounding chilies in mortar… You'll need some stamina!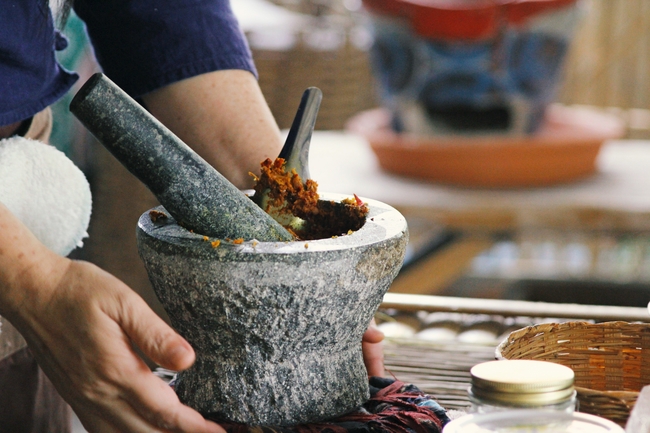 "Sometimes our guests are tired from this. We can help them while they're taking a break before letting them get back in action," Khun Aoy laughed. "We take turn tasting while cooking. After we're done cooking, we eat with them and share stories about Northern food culture."
And the friendship goes on after the end of the cooking class. "I give everyone our homemade cookbook, so they can cook Lanna food after going home. Many send me photos of their creations. Though they can't find the exact ingredients in their own countries, they tried to adapt," The Local Expert happily shared.
The essence of local life
Apart from the Lanna cooking experience, Khun Aoy has a lot of other things to show you on her Chiang Mai tours.
"Since I'm a local, I've seen and experienced many changes in Chiang Mai. Some things remain, though, and one of them is Kaad Ngua (The Cattle Market)," The Chiang Mai local then told me more about this 100-year-old market. "Kaad Ngua is the largest flea market. Since the old days, villagers have been coming to barter for cows and buffaloes. As the world changes, people start trading the cattle for other things like bicycles and motorbikes, but the cattle exchange never dies."
Now Kaad Nguo has expanded beyond the cattle barter. You can also find local food you won't find at Warorot Market, villager-made farming tools, locally grown produce, and more.
Another local secret Khun Aoy can show you is Muang Kung Pottery Village, which is one of the stops on her another off-the-beaten-path Chiang Mai tour. The villagers are Tai people whose ancestors settled in the area 200 years ago and you can learn how to make your own pottery from them.
"I hope travelers get to immerse themselves in the local ways of life as much as they can since opportunities like these are few and far between. I want them to meet the locals and talk to them, not just walking past them."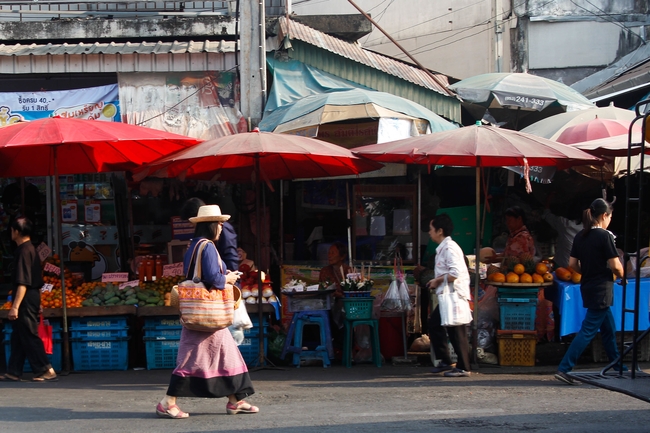 Like a Lanna local, this is how you're going to see Chiang Mai with Khun Aoy. It's beyond going somewhere without tourists. You'll get to interact with the locals and experience their ways of life for real for a day.
---
Meet the Local Expert is a series focusing on TakeMeTour Local Experts and their uniquely local trips. Every month we meet and interview a Local Expert for their inspiring stories while shedding light on Thailand's local sides that are still unknown to most travelers.
This month's Meet the Local Expert features Khun Panphailin (khun is a Thai honorific added before a name). Meet and discover a local side of Thailand with her here.
Comments
comments