When planning a trip to Bangkok, you will definitely think of temples, street food and maybe a day trip to one of the floating markets nearby… You know, the iconic Thai stuff. While all these are the staples of Bangkok travel, I'd like to suggest one more thing: coffee.
Now you might doubt it. Thailand's capital and coffee don't seem to blend well, but that has changed. Bangkok has been brewing its own coffee scene in the past few years, but this new development still remains a secret among Bangkokians. Where do Bangkok residents go for the best coffee? Khun Nattawoot or Khun Natan, food blogger and one of TakeMeTour Best Local Experts of 2017, will be happy to show you the local coffee culture and much more.
Confessions of a Coffee Lover
"I used to not like coffee," confessed Khun Natan. "I had this perception that all kinds of coffee were strong and I didn't like how it affected heart rate."
But not anymore. Three years ago, Khun Natan heard the term 'specialty coffee' for the first time and was intrigued. He decided to give a cup of specialty coffee a try and it changed his view of coffee forever.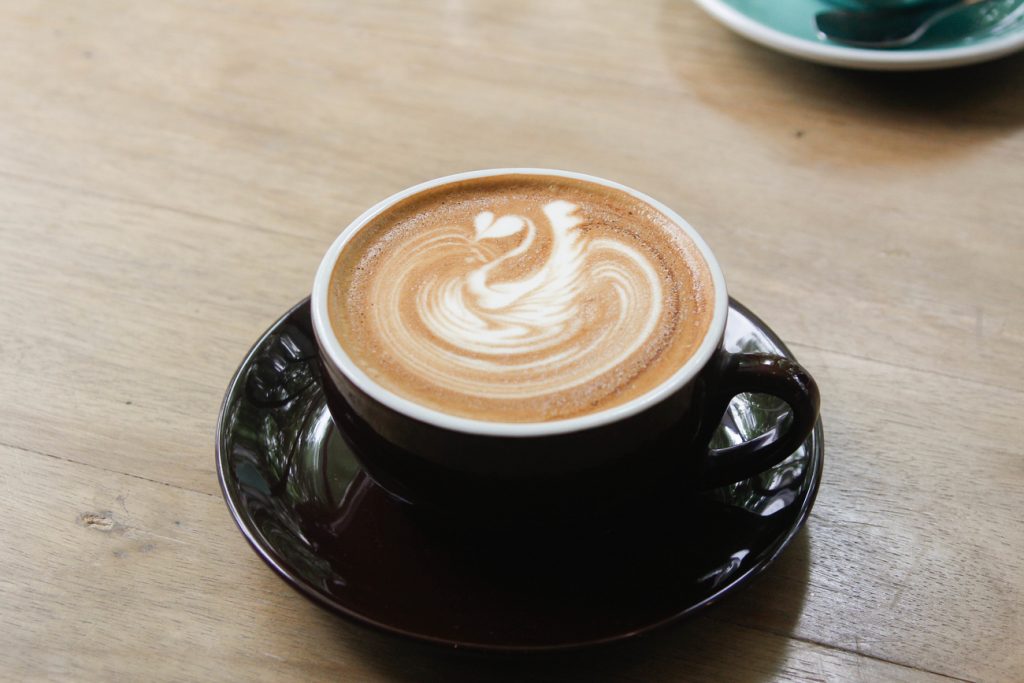 "It tasted really good. The aroma was also nice. Then I visited more cafés and realized that each specialty coffee tastes different. There are many ways to roast: light roast, medium roast and dark roast. There are a lot of brewing methods like espresso, drip, cold brew and nitro cold brew." The diversity of specialty coffee fascinates him. "I don't need coffee to function, but I love the different tastes and I try to try more specialty coffee as often as I can."
Since then Khun Natan has been digging and drinking deeper into the world of coffee. He reads books and online articles on the whole process—from planting to brewing—and also learns from baristas and his coffee-loving friends. The Local Expert manages his own jewelry business, but he takes his hobby seriously. As a foodie and café hopper, Khun Natan has been running his own Facebook page for about two years. There he shares his delicious finds in Thailand and abroad as well as fresh coffee news like the recent Thailand Coffee Fest 2018. Yes, Thailand now organizes its own coffee event, and a big one at that.
"I love to try new cafés, ones with great coffee and great atmosphere. I also enjoy chatting with the owners and baristas. Some of the cafés are hole-in-the-walls, so I want more people to know about them," the café hopper shared.
Passionate about Passion
It's obvious that for Khun Natan, coffee isn't an addiction but passion. As the coffee lover enthusiastically explained how specialty coffee comes to be, I discovered there's more to coffee than taste and aroma.
Each specialty coffee has its own note and once you've become familiarized with it, you'll be able to tell where each one comes from. For example, nutty and chocolate-y notes are characteristic of Latin American coffee, such as Colombian and Brazilian. African coffee (like Ethiopian and Kenyan), on the other hand, tastes berry-ish. In fact, it's not just about the country of origin but also the plantation—the environment where it's grown. Baristas can tell which plantation each kind comes from.
Khun Natan himself has always loved traveling and after becoming a coffee expert, he goes on a hunt for specialty coffee shops whenever he travels. The food blogger has tried specialty coffee in other countries. "I love Japanese coffee culture," he answered right away when asked which country he likes the most. "Japan has so many specialty coffee shops and the shops themselves look super cool." The Local Expert keeps returning to Japan. Each time he explores a different zone and watches a different kind of specialty coffee being roasted.
The specialty coffee scene in Thailand is also flourishing. Chiang Mai and Bangkok are the places to be and Bangkok Old Town areas like Charoenkrung and Yaowarat Chinatown have been seeing more new cafés.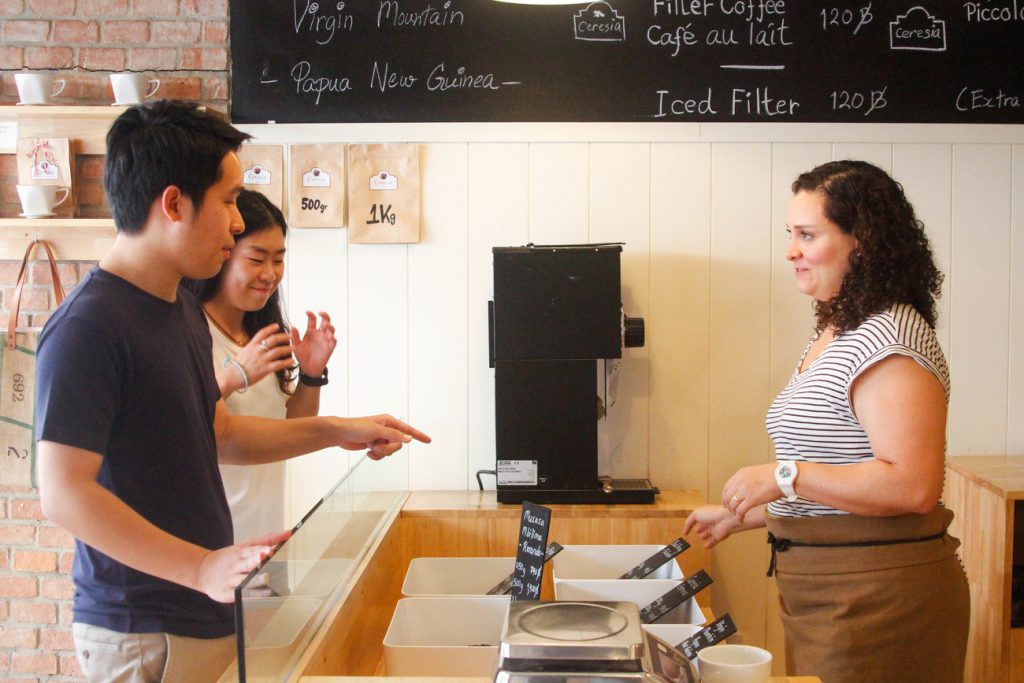 Sukhumvit area, however, is still the best. The café hopper talked about the owner of his most favorite café in Bangkok: "While studying abroad in England, he became a part-time barista and has become passionate about coffee. Back then specialty coffee wasn't yet a thing in Thailand and that inspired him to open his own coffee shop after returning." The owner import specialty coffees from all over the world and in search of the best, he travels overseas and visits the plantations when he can. Of course, the café has its own roastery.
Five or six years ago, when Khun Natan was a non-coffee drinker, he only knew the dark roast coffee with a lot of sugar added. Actually, that was the most common kind of coffee in Thailand and there weren't that many choices. But with the arrival of specialty coffee came a lot of changes.
"Specialty coffee doesn't need sugar. It tastes great on its own and baristas know how to bring out its best. Milk steaming techniques are also important." The Local Expert believes details matter and there's a story behind each kind of coffee. And of course, passion. "I can feel the meticulous care put into each cup of coffee."
Tastes of Thailand: The Local Cups
For Khun Natan, diversity and preference are both important. Before hosting each trip, he always asks his guests about their expectations and their preferences and customizes their café hopping plan accordingly.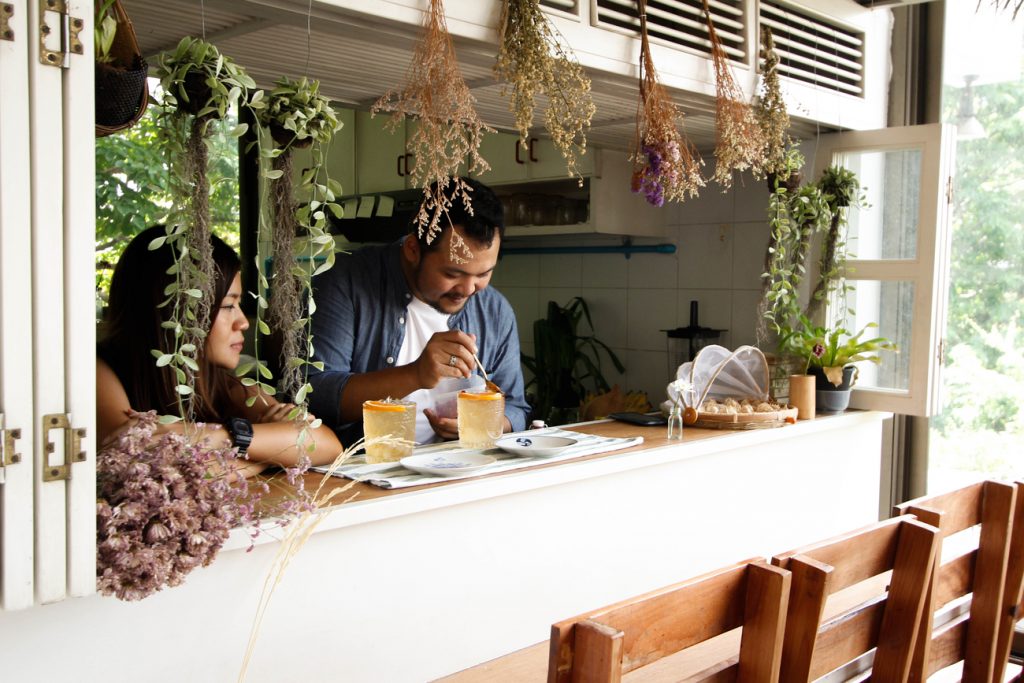 But whatever they like, Khun Natan makes sure they get to taste a variety of specialty coffee as well as tea, juice and other drinks in Bangkok. While many are imported, Thai baristas work their own twists into them, including inventing the Thai-inspired ones. With his wealth of knowledge, he knows where the most unique coffee and drinks are.
"There is this café that serves coffee mixed with kanom piak poon (black coconut sweet pudding) ingredients." Not only Thai desserts but also Thai food and fruits have led to surprisingly tasty coffee creations. Durians. Papayas. Thailand's famous Chaiya salted eggs. Amazing Thailand indeed.
Khun Natan sees potential in Thai specialty coffee. "Thai coffee has been getting better. Coffee makers have been sharing their knowledge with farmers and now many kinds of specialty coffees are being developed and grown in the north." It's exciting that there's more and more diversity in Thai coffee scene and that one day people will be able to tell which Thai plantation each coffee comes from.
Khun Natan also believes friendly people and casual atmosphere make the whole experience even better. Khun Natan enjoys introducing his traveler friends to Thai café owners and baristas, who gladly share coffee stories in Thailand.
More than specialty coffee, another unmissable thing in Thailand is the people. As you share a good conversation over a good cup of coffee with Khun Natan, you'll get to taste not only the coffee but also local stories. About Thai coffee, Thai food, Thai culture and more. As a keen traveler himself, Khun Natan will be more than happy to learn your local stories as well.
---
Meet the Local Expert is a series focusing on TakeMeTour Local Experts and their uniquely local trips. Every month we meet and interview a Local Expert for their inspiring stories while shedding light on Thailand's local sides that are still unknown to most travelers.
This month's Meet the Local Expert features Khun Nattawoot (khun is a Thai honorific added before a name). Meet and discover a local side of Thailand with him here.
Comments
comments