Travel across Thailand can be troublesome sometimes as for many reasons.
Today, we would like to talk about better and safer ways of using Thai transportations to get around or outside Bangkok. There are other public transportations too, but we would like to encourage you to try these services because they're so convenient, affordable, and safe. Just like a pro.
---
TAXI
Thai taxi is known for one of the cheapest fares in the world, however, Thai cabs are also notoriously known for rejecting and overcharging passengers, especially foreign travelers.
Have you ever stood on the sidewalk over 30 minutes just to catch a cab that would actually take you to your destination? It happens to Thai people often too, but don't worry… Today, Thai people start to use mobile applications that will help them get a taxi easily right at their fingertips. Here are 2 of the apps, we would like to recommend you to use during your stay in Thailand.
Uber
is an international mobile application which has users from 60 countries across the globe.
Uber
offers you a ride on demand where you can be picked up anywhere and anytime with only a few taps.
GrabTaxi offers a safe and fast ride to passengers in Thailand with the believe of better taxi service industry. They are currently expanding their network throughout the country. GrabTaxi service is also available in some cities in Malaysia, Philippine, Singapore, Vietnam, and Indonesia.
---
Traveling by boats is one of the best choices for travellers who seek to explore and observe the beautiful surrounding around Bangkok and the way of life along Chao Phra Ya river. You may buy tickets for ferries and boats at Saphan Taksin pier (BTS Saphan Taksin Station) or you can also visit 
Travel across Thailand by van or tour bus is the best idea since the fares are very affordable for travelers on budget.
Vans (minibuses) are 
mainly located at Victory Monument roundabout. Tons of vans from different companies can be found there to offer you almost every province you would like to go in Thailand. Thai people usually ask a ticket guy (basically any guy who is holding his tour banner or say "Name of any province" loudly lol) to suggest where/which is the right ticket boots you have to go. Some prefers to search on the internet to have an idea of which/where agency is the right one, so they don't have waste time.
Recently, a group of students, 
worked on their thesis project, proposed and solved this confusing problem of the vans by creating a mobile app called ThaiVans and placing infographic van maps around Victory Monument area. The app is currently available for android user via PlayStore.
There are a couple terminals for buses/coaches; northern/ north-eastern destination (Mo Chit), eastern destination (Ekamai), and southern destination (Sai Tai Mai and Mo Chit 2). Mo Chit is the largest and busiest hub. Any long-distance trip via coaches during the long weekend/holidays is super crowded and ticket sold-out very fast, so make sure you plan your trip carefully and buy tickets beforehand.
Check out the links below to learn more about these bus terminals and purchase your online ticket.
---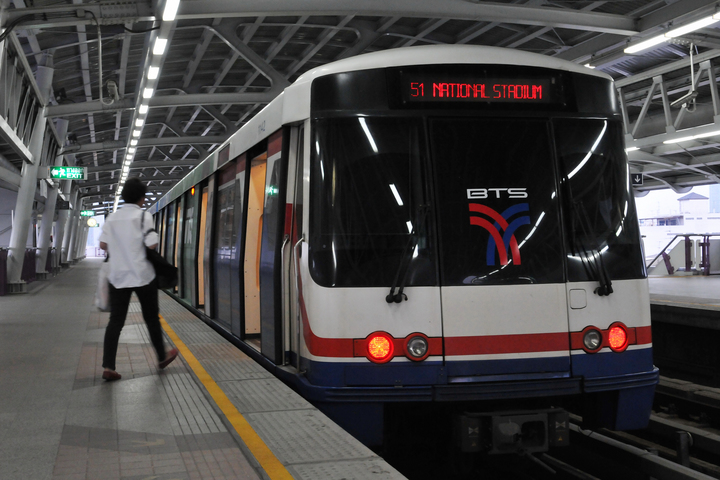 BTS/ MRT/ ARL
As you all know, Bangkok is a very busy city. Many workers from suburbs or provinces nearby commute here and there through Bangkok all day and traffic jam during rush hours ughhhh! couldn't be any worst. Trust me, it's not like Bangkokians are fine with it, but sometimes it couldn't be help.
So as we, travelers, visit Bangkok. We don't want to stuck in traffic and waste hours on the road, right? Let's get to know these words; BTS, MRT, and ARL, today, so you won't be sorry while you are stuck in Tuk Tuk for hours on the road and inhale all the air pollution….I know you guys want to explore the town riding the three-wheelers, but please do that at nighttime, otherwise not only the pollution and the traffic would get you, but also the heat during the day would make you sweaty and sticky and smelly, and you don't want that to happen the minute you step in Tuk Tuk, and there are so many places/things on your day plan.
What are BTS/ MRT/ ARL?
BTS skytrain currently offer 2 main routes, Silom line and Sukhumvit line, through Bangkok's CBD. Siam station is the intersection of these 2 lines. BTS fare starts starts at 15 baht – up to 42 Baht per journey for a regular one-trip.
MRT, stands for Mass Rapid Transit route, is Bangkok's subway offers a route from Hua Lam Phong – Bang Sue with 3 BTS interchange stations and 2 ARL interchange stations. The subway is much less crowded, but the in-transit duration is little longer comparing with BTS. MRT fares start from 16 baht – 42 baht per a single trip.
ARL (Airport Rail Link) provides a ride from Phyathai Station to Suvarnabhumi Airport with 2 option lines, the normal city one and the express one (currently unavailable). With only 6 stops, the in-transit duration of ARL city line takes no longer than 30 minutes with the fare from 15 baht – 45 baht. It's a faster and very affordable choice for all airport passengers.
The service hours start from 6am. – midnight everyday.
Visit their sites for more information
ARL
Comments
comments