Is there any other way to book a cheap flight to Thailand? 
As we might already know, there are millions of travelers make trips to Thailand each year. Many youngsters from around the world love to visit this land of smiles as a result of its culture, places, and people. Everything here is much affordable when compared to other countries. The biggest expense when traveling to Thailand would probably be the airfare which could cost you approximately over 1,500 dollars.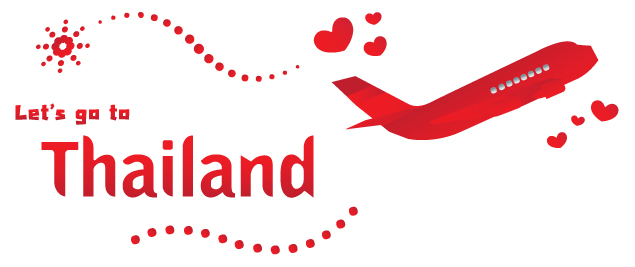 Today, I would like to show you how/ where to book a cheap flight to Thailand. I will also mention some airlines that offer domestic flights with a good deal.
FYI, If you are interested in traveling throughout Thailand via ground or water transportation, please check out this link, which I talked about different types of public transportations that you can take and hop around Bangkok and other provinces of Thailand.
Alrighty, let's have a look of what I have here…
---
A cheap flight to Thailand? Here is a to-do list…
1. Plan your trip
Book your trip either early or last-minute
You need to carefully plan your trip and book at least 6 weeks prior to your departure, but that's not always the case. Airlines usually cut down the price to fill up each flight, so I would say check out last-minute deals from each airlines too (just don't forget to get your passport/visa done/ready in time)
Weekdays or Weekends/ Day or Night
Timing is the key. Tuesday to Thursday are said to be the best days to fly and weekends are best for booking flights for cheaper fares, even cheaper if you book for a super early or late night flight, and cheapest if your trips aren't during international/ national holidays. My suggestion? I would say there is no consistency on the fares, just keep in mind that Tuesday, Saturday, are Sunday are better than any day to get tickets.
Allowing yourself a couple days off before your flight might be another chance to dump down your fare. You can check on a lower fare on each day and also last-minute deals. If you found a better or cheaper flight, cancel and rebook right away when you see better deals.
2. Do your research
If you don't have any airlines in mind or don't know where to start I suggest you check out Skyscanner.com/ Cheaptickets.co.th/ Expedia.com/ Kayak.com/ FareCompare.com and many more. These flight search engine sites offer flight comparison where you can actually see different airfares from different airlines. Buying tickets from them isn't a bad idea though (if it's cheaper than booking on airlines' sites, of course)
Check airlines' social network channels
Whether Facebook, Twiiter, Line, or any media that you can subscribe and get the fastest and latest news or promotions of airlines. For Thai people, Facebook, Line and Instagram are the most popular channels airlines use to connect them with customers.
3. Buy your ticket
Book 2 or more flights from different airlines
Time management skills required lol…If your flight has 2 or more transitions you can try booking each transition with different airlines, just look out for a time gap between each flight. The reason behind this is because usually you can get a much cheaper flight from a low-budget airline like AirAsia (check out other airlines mentioned at the end of this content). You can save at least 50 bucks by doing so….I know it's not much, but, trust me, you can eat at local Thai food restaurants or food stalls for a week or hop onto a domestic flight to Chiangmai with that much money. All this and that I've said is still a part of your plan and research though.
Another choice for your consideration here, sometimes you could not find matched flights because the time gap between flights is either too short or too long, so why don't you give yourself a special trip? Let's say…you are going to travel from Chicago to Bangkok. During your plan and research, you see that you have to transfer your flight at Narita International airport, Japan. The waiting duration until the departure from Japan to Bangkok is either only 20 mins or 6 hours. You, then, check and found that there's a cheaper flight from Japan to Bangkok in 4 days later. Would it be nice if you can explore Japanese towns and enjoy your stay for a couple days, before leaving for Bangkok? Heck Yes!
Try local travel agencies
From this point, if you think this flight booking is too complicated for you, then, you can try a travel agency and let them do the job. There is a chance that they deal with certain airlines for cheaper offers, but then again, which travel agencies are good for you?
E-points/ Premium members
Sticking with your favorite airlines is a good choice too. You can collect points and redeem a special deal, i.e. a discount or a free trip from your airline. Becoming an elite member of airlines or banks is another interesting choice. Different deals are offered when you use/make a credit card with them such as, installment plans with special interest rates, credit card's points in exchange for a special discounted fare, and etc.
---

AIRLINES
A cheap flight to Thailand with a cheap domestic flight to move around across the country…. 😉 Here are the most popular airlines that offer international/domestic low fares Thai people use.
Jetstar is an Australian airline which offer a low-rate airfare and its services to many destination across the globe. Jetstar is known as a subsidiary of Qantas which runs a premium full-service. The main base is located at Melbourne Airport, Australia.
A Malaysian low-cost airline operates domestic and international flights to 100 destinations over 22 countries. AirAsia hub in Thailand is located at Don Meuang International Airport. Thai AirAsia X is Thailand's first airline to launch long-haul low-cost flights.
The headquarter of TigerAir is located in Singapore. TigerAir offers a low-budget flight which its services are operated many regional destinations across Southeast Asia, China, and India. The airline has a couple destinations in Thailand; Donmueng(BKK), Suvarnabhumi (BKK), Chiangmai, Hat Yai, KRabi, and Phuket.   
Thailand's major low-cost airline, NokAir, offer domestic services over 20 cities outside Bangkok. The services are also cover features called Fly'n'RIde and Flu'n'Ferry which allows travelers to enjoy a ride to islands and other provinces that don't have their airports. NokAir also offers international flights to Laos, Myammar, China, Vietnam, Singapore, Japan, and Taiwan.
Nokscoot is also medium to long-hual airline which offer a low budget airfare, based in Thailand. The airline is a collaboration business of Thai's Nok Air and Singaporean's Scoot. It plans to expand international services out of Bangkok (Don Mueang International Airport)
Thai Lion Air is a Thai budget airline which is a partnership of Lion Air based in Indonesia. The airline is currently offer a domestic flight to some cities of Thailand, Kuala Lumpur, and Singapore, and also planning to expand its destinations internationally.
---
To be honest, AirAsia is my preferable airline when travel in Thailand. I often find their airfare the cheapest amoung the rest of the airlines, mentioned above. But, just check on other airlines too, if you have spare time. Who's know which airlines might have better promotions at time? 😉
Comments
comments