What's up, fellow travelers! Only a couple days ago when I thought about local Thai dishes and how to order them and came up with this infographic about how to order a cooked-to-order dish in any Thai restaurant across the country. I've heard many foreigners talk about how complicated to order a local dish here. So, I'm going to walk you through this quick how-to and list some of the most common dishes you should try, while you're in Thailand. It's going to be fun!
Talking about cooked-to-order dishes, there are so many varieties to choose/ order from. You can order plates of white rice and 5 different Thai dishes to share. You can also order Tom Yum soup, glass noodle soup, or stir-fried macaroni with ketchup. Today, we will only focus on how to get a quick one-dish meal first. Let's get started!
Note that Thai people often think about the seasonings and the meats first, before thinking about how they would like their dishes served or what they would like to add. But, I arrange it this way, so it's easy for you guys to order or even fix it yourself at your place.
4 simple steps of how to order cooked-to-order Thai dishes
'It's only a choice you need to make'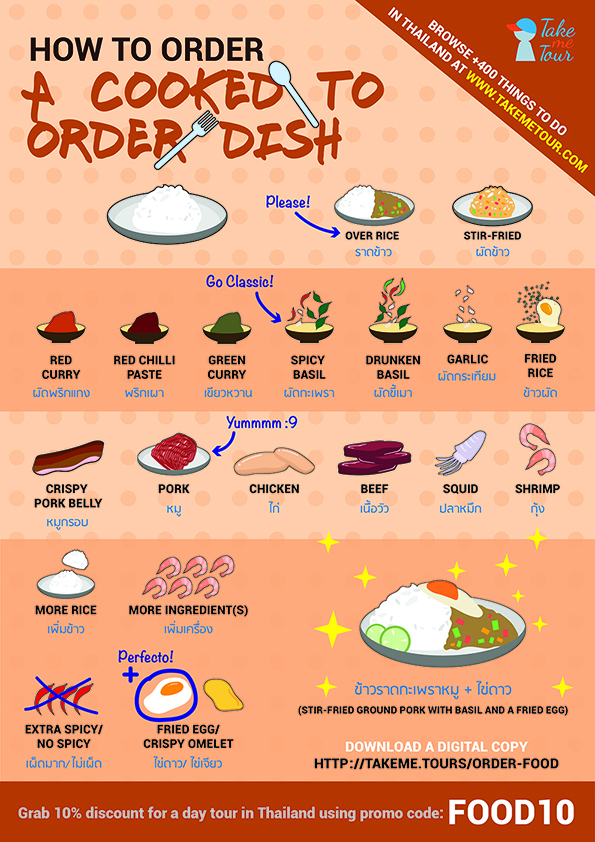 1. Over rice or Stir-fried (Rad Khao or Pad Khao/ ราดข้าว or ผัดข้าว)
The default serving is over rice, so if you'd like to have the chef stir-fried the dish don't forget to say 'Pad Khao or Pad Gub Khao). Some local folks like to have stir-fried dishes since the rice observe all the seasonings. Some people don't.
2.  What meats am I going to have today?
Crispy pork belly = Mhoo Grob (หมูกรอบ)
Ground Pork = Mhoo Sub (หมูสับ)
Beef/ Pork/ Chicken =  Nua Wua/ Nua Mhoo/ Nua Gai (เนื้อวัว/ เนื้อหมู/ เนื้อไก่)
Squid/ Shrimp = Plaa Mhuk/ Goong (ปลาหมึก/ กุ้ง)
These are the most common meats they have, although each restaurant might have their special meats/ vegetables. You can also ask the chef or the waitress, if there anything special such as, preserved egg, egg tofu, duck meat, sausage, salted fish, etc. You can have squid with ground pork or crispy pork belly with chicken. There's no limitation/ rule when ordering. As long as they have their ingredients, they are willing to cook you any Thai dishes any way you like.
3. How would you like your seasonings?
Red curry (Prik Gaeng พริกแกง)
Red chilli paste (Prik Phao พริกเผา)
Green curry (Gaeng Keaw Whan แกงเขียวหวาน)
Spicy basil (Ka Prao กะเพรา)
Drunken basil (Khee Mao ขี้เมา)
Garlic (Kraa Tiam กระเทียม)
Fried rice (Khao Pad ข้าวผัด)
These are the most popular/ common seasonings Thai people often order. It's like, if you are going to a cooked-to-order restaurant with a group of 10. 7 of your squad will surely order one of these for their dishes. lol
4. Extra/ Add-on
More rice (Perm Khao เพิ่มข้าว)
More meats (Perm Nua เพิ่มเนื้อ)
Extra spicy/ No spicy (Ped Mak เผ็ดมาก/ Mai Ped ไม่เผ็ด)
Extra fried egg/ crispy omelet (Perm Kai Dao เพิ่มไข่ด่ว/ Perm Kai Jiao เพิ่มไข่เจียว)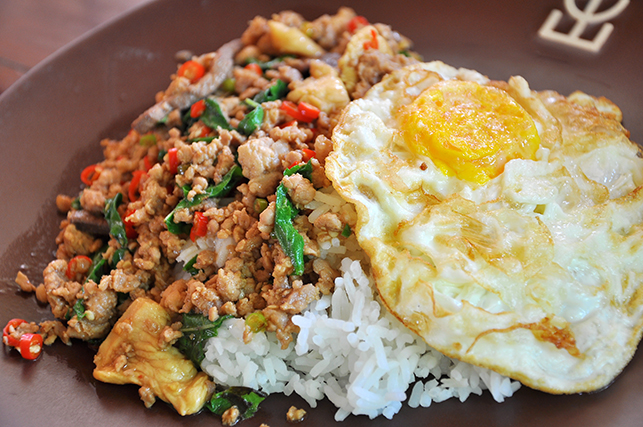 Apart from this, you can also tell them to add/ not to add any veggies available at the restaurant. As for me, I'm a meatatarian, so I often tell them not to add any vegetable (Mai Sai Paak/ ไม่ใส่ผัก) on my dish at all. lol
If you would like to take your food home or anywhere just simply say to the waiter/waitress 'Grub Baan' (take home/ กลับบ้าน) right after you finish ordering your food though….
Need an idea? Stay tuned for the most common dishes Thai people often order at a local cooked-to-order place. Don't forget to comment and share us the story of your first time ordering Thai dishes at the restaurant.
Comments
comments