Bangkok Chinatown, or Yaowarat in Thai, is famous for its street food. But did you know it's also surrounded by temples and uniques sights? Here are 9 local things you can't miss in Chinatown when you're there:
1. Grab some tasty pork dumplings
View this post on Instagram
Looking for cheap and mouth-watering dumplings? Come to eat pork dumplings (in Thai: Khanom Jeab) at one of the best places near Wat Yuan. Jek Sia, the owner of the shop locals call Khanom Jeab Wat Yuan, has been serving pork dumplings from his pushcart for over 55 years. The tasty pork dumplings are inside a steamer, so they are always warm and fresh. Also, be sure to top Khanom Jeab with fried garlic and black vinegar for the perfect match!
Address: Mongkol Samakom Temple (Wat Yuan), Plang Nam Road
Opening time: 11am-6pm

2. Try the best crab noodle soup in town

Crab noodle is a must-try when you're in Bangkok Chinatown. Find the best at Odean, which serves fresh crab and delicious savory soup. The red steamed crab claws are noticeable in a display case. Also, its hand-pulled noodles create a unique experience for customers and show that they pay attention to detail.
Opening time: 8:30am–8pm
Address: 724 Charoen Krung Rd, Talat Noi, Khet Samphanthawong, Krung Thep Maha Nakhon 10100
Contact: (+66) 868882341
3. Eat the original Crispy Oyster Omelet
View this post on Instagram
If you want to taste the original oyster omelet, you should come to Hoi Tod Texas. They've been serving oyster omelet for 80 years. Their oyster omelet is crispy on the outside and this is how the nice oyster omelet should be. Also, they make awesome hot sauce. When eating an oyster omelet, hot sauce is a must. If you're not full yet, Chinatown has countless street food in the evening too!
Address: 77-77/1, Soi Troksai Lane, Yaowarat Road, Samphanthawong Sub-District, Samphanthawong District, Bangkok
Opening time: 11am-8pm
Contact: (+66)22213050

4. Buy in bulk and get a discount at Sampeng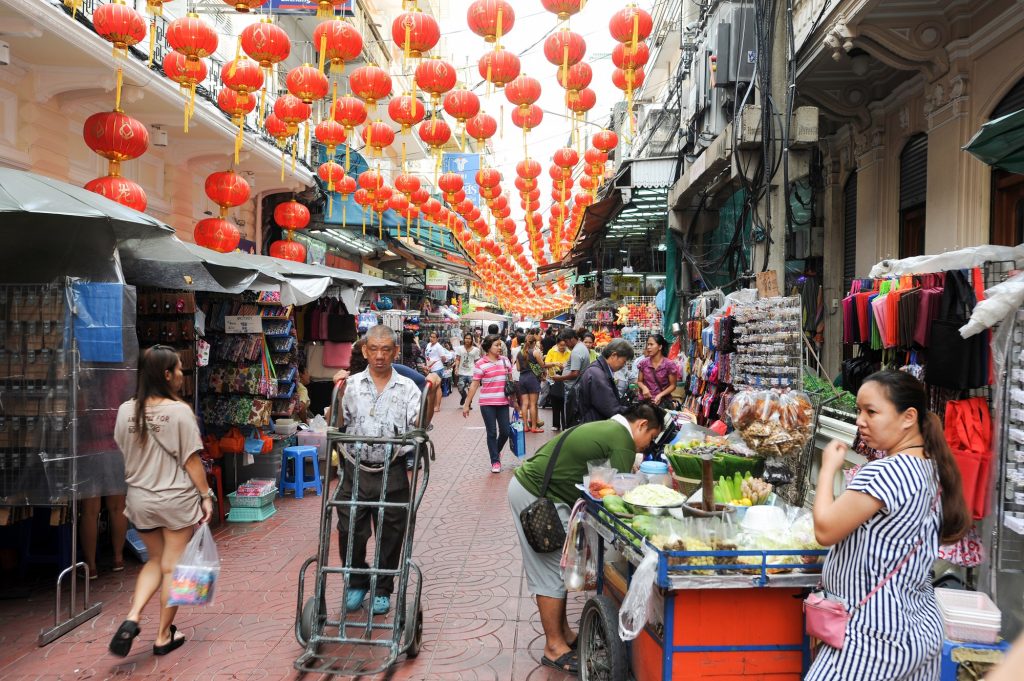 Sampeng is a busy and chaotic narrow alley, and it's packed with everything from souvenirs to gadgets and fabrics to household items. Also, it is considered as one of the cheapest places to go shopping in Bangkok. The features of this market are to see a jumbo pack of stuff and buy in bulk, so you get a discount!

Address: Khwaeng Chakkrawat, Khet Samphanthawong, Bangkok
Opening time: 12am–7:30pm, 8:30pm–12am
5. Check out cool hidden graffiti
View this post on Instagram
Don't forget to take your camera with you, as you'll definitely want to take photos at Trok San Chao Rong Kueak. Here, you'll get to see interesting graffiti which reflects the local life in the city. So, make sure to drop by and enjoy the street art and post some photos on your Instagram. Bangkok Chinatown has street art, spread this to the world!
Address: 22 Soi Charoen Krung Khwaeng Talat Noi, Khet Samphanthawong, Bangkok

6. Explore A 220-Year Old Chinese Mansion
Sol Heng Tai is another hidden gem in Bangkok Chinatown, which will stun you with its beauty. The highlight here is the beautiful dark red door with golden traditional Chinese characters. You'll also get to see collections of antique furniture and bright red Chinese lanterns. They also have a cafe where you can sit back and relax, and a deep pool where you can even learn scuba diving.
Address: 282 Soi Wanit 2, Khwaeng Talat Noi, Khet Samphanthawong, Bangkok
Opening time: 9am–6pm
Contact: (+66) 802187000
7. Feel nostalgic at a confectionery shop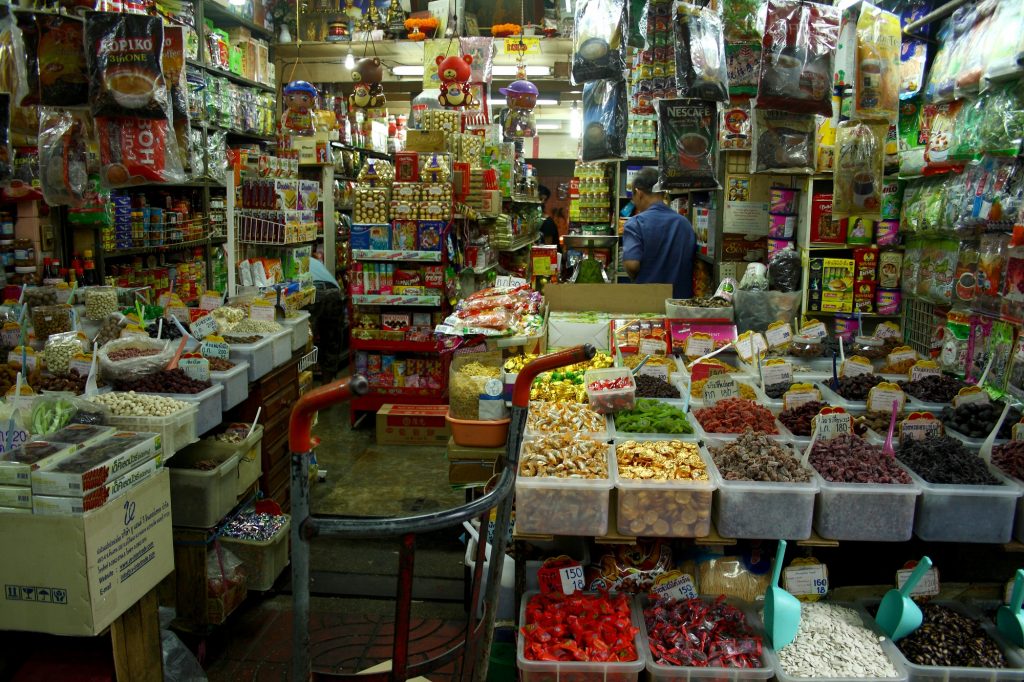 Don't you miss eating all the snacks as you wanted as a kid? There are many confectionery shops in Bangkok Chinatown that can bring this childhood memory right back. The confectionary shop itself is recognizable because of its variety of colorful snacks. If you can't decide what to buy, we highly recommend grabbing delicious mooncakes!

8. Taste Chinese pastries

View this post on Instagram
You can also find many Chinese pastries in Bangkok Chinatown. They're not only delicious, but they're also cheap. Come to Ure Leng Heng where you can find original Chinese pastries such as mooncakes and bean cake with salted egg yolk. Some of the pastries also have printed Chinese characters on top wishing you luck, prosperity, and happiness.
Address:11-13, Yaowaraj, Plang Nam Road, Samphanthawong Subdistrict, Samphanthawong District, Bangkok
Opening Time: 8am–6:30pm
Contact: (+66)22220369

9. Chill at Chinese style bar Ba Hao

Ba Hao will leave you wishing for more time to stay in Bangkok, Chinatown! It's an outstanding Chinese style bar renovated from a 70-year-old building. You can easily spot its striking Chinese neon characters glowing in the doorway at night. We recommend you to order their best-selling Drunken Mistress cocktail, which is gin and lychee based with Star Anise and Plum. It also goes well with their duck wontons!
Address: Ba Hao, 8 Soi Nana, Maitri Chit Road, Bangkok
Opening time: 6pm to 12pm
Contact: (+66) 646351989
There's no doubt that Bangkok Chinatown is a must-visit destination in Thailand. Come to discover street food, unique sights and Thai- Chinese culture. If you're looking for even more ways to spend your nights in Bangkok, don't forget to check out 12 things to do at night in Bangkok.
Comments
comments