When traveling abroad, some of the things we all should be aware of are scams and frauds. We all know there are people who will be trying to take advantage of us when they have the chance to make a quick buck. If you are in Bangkok or planning to be, let's have a look at the most common scams in Bangkok and how to avoid them.
---
6 Common Scams in Bangkok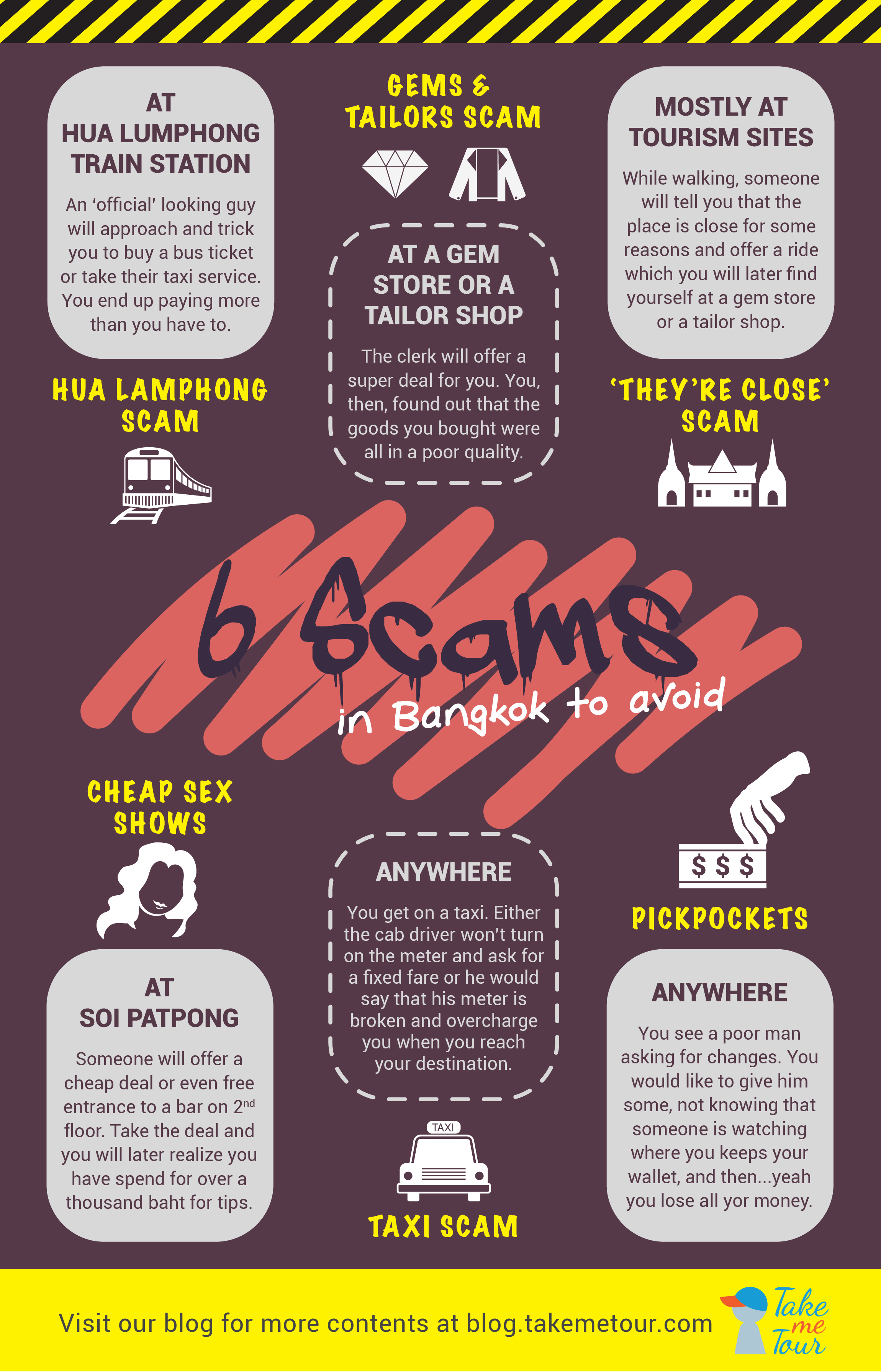 1. 'They're closed' scam
Where – Often around tourist attractions
Situation
When you visit tourist attractions, often around Wat Phra Kaew, the Grand Palace, or Wat Arun, someone will randomly come up to you and say that the place is closed for a certain reason (For example, a special ceremony, or a small renovation). Then, they will recommend you to take a Tuk-tuk or a taxi ride around the town instead. When the ride reaches a certain time, the driver will take you to a gem shop or a tailor where they get a commission. This is one of the most, if not the most common scams in Bangkok.
FYI/ How to avoid
1. Don't talk to these guys and just walk away.
2. If you'd like to take a Tuk-tuk ride especially around that area, only hop on for a short ride which you actually know the route to where you want to go.
2. The Gems and Tailors scam
Where – At the shop
Situation
This is usually what happens after the previous scam. You'll most likely be brought to a shady gem shop or a tailor shop. The shop clerk will offer a too-good-to-be-true wholesale deal. They might even mention how you can resell these items (often rubies and emeralds) back to your home country and make a great sum of money. At a tailor shop, they might even offer a delivery to your country. In reality, you'll end up buying some and realize how poor the quality really is.
FYI/ How to avoid
1. If you would like to buy some jewelry back home, find a shop that's in a mall or any creditable place. Though the price might be higher, the quality will also be higher as well.
2. Buy products where you can pay and receive them right away. Avoid paying up front.
3. The Hua Lamphong scam
Where – Hua Lamphong train station
Situation
While walking into the station, an "official" will approach you and offer help in finding the right train ticket for you. He/she will pretend to check the train availability and claim that the train is fully booked. He/she will then introduce you to take a tour bus or taxi instead where you'll have to pay extra money.
FYI/ How to avoid
1. Don't talk to these guys and just walk straight to a ticketing booth.
2. Be extra careful of your belongings. Taking the train or any modes of transportation can't guarantee you that they will not be tampered with. Trust me, even we Thais are very concerned about this too.
4. Cheap sex shows
Where – Soi Patpong/ Soi Cowboy
Situation
While strolling along the premises, someone will come to you or even grab you and offer a special strip show, or ping pong show at a bar. They might give you a special discount for the entrance fee, or even offer a free entrance. By taking the deal and go along with them, you'll be trapped by the strippers asking for your tips every 5-10 minutes
FYI/ How to avoid
1. Note that this is not a total scam, but rather a choice for you to make. This kind of business aims for foreigners. The girls will keep insisting you for more and more tips. If you are on budget and really want to experience these kind of things, stick on the bars on the ground floor. At least the prices of drinks there are fixed.
2. If you visit Patpong with your friends in a big group, they will approach the ladies first since they think the rest of the guys will tag along.
3. If you are not interested in these type of experiences, just walk away. Do not make any eye contact. Do not talk to them. These guys are experts on insisting people and luring customers.
5. Taxi scam
Where – Anywhere
Situation(s)
1. Another one of the most common scams in Bangkok happens when you get into the taxi, but the driver just won't turn on the meter, and asks for a fixed, overcharged fare. You have luggage in the trunk, so you couldn't say no.
OR he does turn on the meter, but it's been modified to jack the price up quicker than the normal meter.
2. The driver claims that the meter is broken, so he's asking for a fixed fare.
3. Before getting in a taxi, the driver will demand a fixed fare. If you reject his deal, then, you'll have to grab another taxi.
FYI/ How to avoid
1. This is one of the most common scams in Bangkok. Even locals often get treated like this too, especially during the rush hour or when they know we have no other choices of traveling. They'll charge us even more during a big festival like Songkran when we're all soaking wet.
2. There are 2 ways to avoid this type of scams in Bangkok:
a.) Try the BTS skytrain, MRT subways, ARL airport links, and the BRT express buses.
b.) Call a designated car using mobile applications such as Grab. These two services are widely used among Bangkokians. The services are also available in some provinces in Thailand too. Learn more about these modes of transportation of Bangkok right here
6. Pickpockets
Where – Anywhere
Situation
You might see a poor old lady begging for some changes, and you'd like to give away some change. Not knowing that there is a mysterious, unknown person looking at you, they will somehow snatch your wallet out of thin air.
FYI/ How to avoid
1. If you're walking in a crowded area, don't forget to put your wallet in the front pocket where you can see easily.
2. Don't be too aloof while shopping. Casually look around you and see if there's any suspicious people around you.
---
For an even more convenient traveling experience, check out this page for useful numbers to call when traveling in Thailand.
Comments
comments