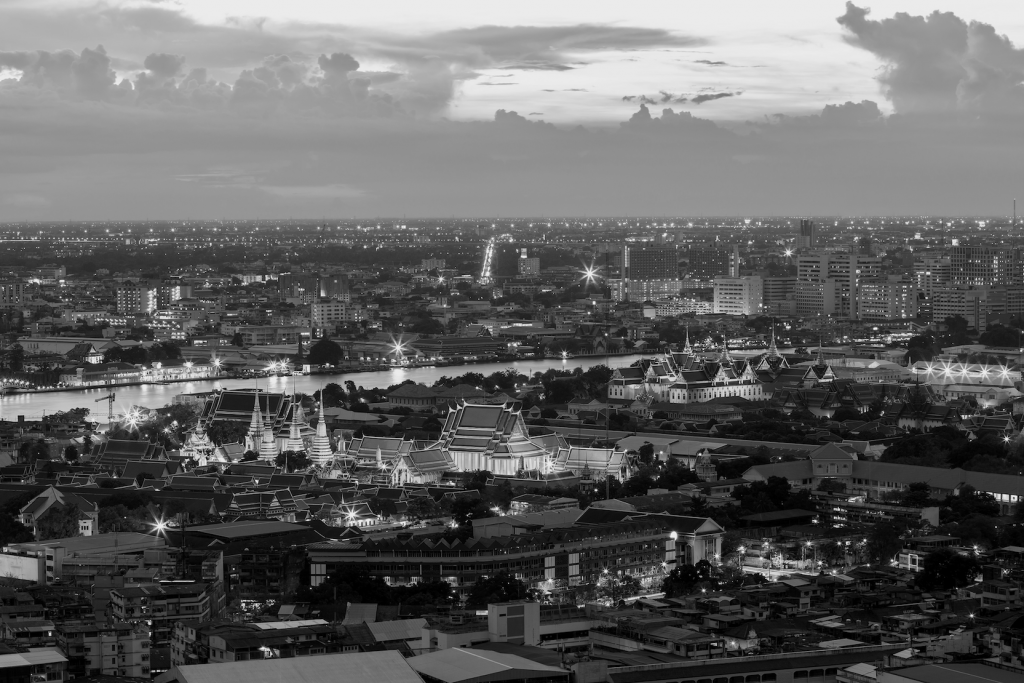 (last updated : 17 October 2016)
To all of my foreign friends who are coming to Thailand,
You might have heard the saddest news on Thursday 13 October 2016 that our beloved King Bhumibol Adulyadej has passed away at the age of 88 after 70-year long of non-stop working hard to serve his people as the "strength of the land". This is why we, Thai people, call him "Father". There are few points I would like to explain and clarify to you regarding what to expect & what should you do during this mourning period in Thailand.
What to expect?
Although all Thais are deeply in sadness, PM has urged everyone to help running business & economy as best as we all can. So most of the hotels, attractions, restaurants, department stores, and shops still operate as usual. However, main tourist attractions in the old-town district (Rattanakosin Island) are closed due to the royal mourning ceremony, e.g. grand palace & the temple of emerald buddha. All of the entertainment related events will be on halt for at least until the end of October 2016, for example, concerts, parties, or night clubs. I've put the exhaustive list at the end of this article. You also might  have noticed that the social media and online sites might turns black in mourning. This is usual practice among Thais and nothing to worry about.
Is it safe to come to Thailand now?
Definitely yes. It's even safer because everyone helps keeping eyes on any unusual. Almost everything is running as usual, e.g. floating market, Ayutthaya historical sites, River Kwai bridge, etc.
Should I postpone my trip?
If I were you and things are all planned out, I would not. Although you might not be able to visit the grand palace (at least at the moment), there are still many other great things to do here in Bangkok / Thailand, e.g. visiting floating market, enjoying delicious Thai food, doing a spa.
What should I do or prepare?
If you are coming to Thailand, it's nothing to worry about if you understand the situation and our feeling. We will mostly wear black/white clothes. Please make sure to bring a couples of black/white or non-vivid colour clothes to wear in public. You might have to tone down and be respectful in public area. So you won't feel too noticeable.
What else do you suggest?
I would consider using more public transportations (BTS, MRT) instead of commuting by car because it might be a heavy traffic in certain area.
List of Tourist Attractions Status
(Updated as of 27 Oct @ 6PM)  
During this difficult time, the nation has suffered a tremendous loss since the decease of King Bhumibol Adulyadej. Many tourist attractions are royally significant venues which are surely affected by this incredible sorrow.
Venue
Significance

Status

The Grand Palace
This is where many crucial royal
traditional ceremonies are held
including the funeral.
Closed 14-31 October 2016

Re-open 1 November 2016

Ananta Samakhom Throne Hall
This is a royal premise and also expected to be closed to the public for at least throughout the mourning period
or until the further notice. It is best to keep up to date by calling the Hall before
your visit.
Open
Wat Arun & Wat Rakhang
These two are located nearby
the Siriraj Hospital where the King's body remains.The surrounding area might be affected from the crowd and traffic jam.

Open


but access with some restriction
due to the traffic.
Floating Market
Famous and unique attractions in Bangkok. Recommend to visit these
non-touristy floating market: e.g.
Lat Mayom floating market,
Tha Ka floating market,
Bang Nam Phueng Floating Market, or
Kwan Riam Market floating market
Open
as usual
Chinatown
It's a popular street food spot for both locals and tourists. It's best to have a local to tag along trying different food.
Open
as usual
Khao Sarn Road
It is the entertainment district known
best for its nightlife and backpacker haven, but is also very near to the Grand Palace.

Mostly Open in private area.

Entertainment is refrained in public for 30 days

Thong Lor & Nana Area

It is the infamous red light & entertainment district.

Mostly open
Full Moon Party
Is the famous monthly beach party
located in Koh Pha-ngan, the southern part of Thailand,
Canceled for October
(dated on 17 October 2016)
Likewise, other concerts and party events are all canceled or postponed including:
Kolour Warehouse Party, Morrissey Concert, Modern Dog Anniversary Concert, ETC Concert
Movie & Theatre

Rachadalai and Siam Pic-Ganesha are major theatre in Bangkok.


SF, Major Cineplex, Lido/Scala,
House RCA are major cinemas
Theatre: Cancelled all performances

Cinemas: Open
If you have any other questions regarding the attractions or tourist spots, please feel free to leave it at the comment box. We will do our best to check it out for you.
Comments
comments