Planning to travel in Thailand in October? Be sure to put the Thai-Chinese Vegetarian Festival ("Tesakan Gin Jeh" in Thai) on your itinerary. Exciting parades and unusual rituals aside, you can enjoy various vegan snacks. (Fun fact: It's called the Vegetarian Festival, but the food is actually vegan.) These Thai vegan snacks are prepared with special kitchenware, which is used for cooking vegan dishes only. It works in a similar way to halal food.
You'll never run out of delicious choices at the Vegetarian Festival, but here are the most popular Thai vegan snacks that locals love. They are all deep-fried, but packed with different flavors. You'll find vendors selling these Thai vegan snacks almost everywhere, so keep your eyes open and your stomach empty.
2018 Thailand Vegetarian Festival: October 8-17
6 Popular Vegan Snacks at Thailand Vegetarian Festival
Fried Radish Balls, Fried Bean Balls, Fried Taro Balls, and Fried Corn Balls
These four fried vegan snacks go through similar cooking methods. You shred or slice the vegetables and add them to a bowl of batter. Mix them with the batter to form balls. After that, deep fry them till they are golden brown. The result? Vegan balls that are crispy on the outside, but tender on the inside. Try to eat them while they are still hot for maximum crispiness and best aroma.
Vegan Spring Rolls
Spring rolls all look the same, but they actually come with various fillings. For those planning to go vegan during Thailand Vegetarian Festival, try a combination of stir-fried vermicelli (glass noodles), shredded cabbages, diced carrots, and wood ear mushrooms. This filling is loved by many locals, but taro and corn fillings are also tasty. The best tip: go for a bag of mixed flavors.
Fried Tofu
One of the easiest Thai vegan snacks to cook. You only need to know where to find good tofu, usually at local fresh markets. Then it takes only two steps: cut the tofu into bite-size pieces and deep fry them until they turn golden brown. We love this snacks a lot for not only the tastes but also the simplicity.
Bonus: Dipping
There is only one sauce to enjoy with these Thai vegan snacks: the sweet chill sauce topped with crushed peanut. It's similar to the sauce for Thai-style fried chicken, but this dipping is specifically made for vegan food. If you are allergic to peanut, don't forget to tell the vendor "Mai Ao Thua" (No peanuts).
Need a quick guide for ordering these Thai vegan snacks? Feel free to save this list before hitting the local streets or markets. Then just look for the yellow flags with the word "เจ" (Jeh) in red at each food stall.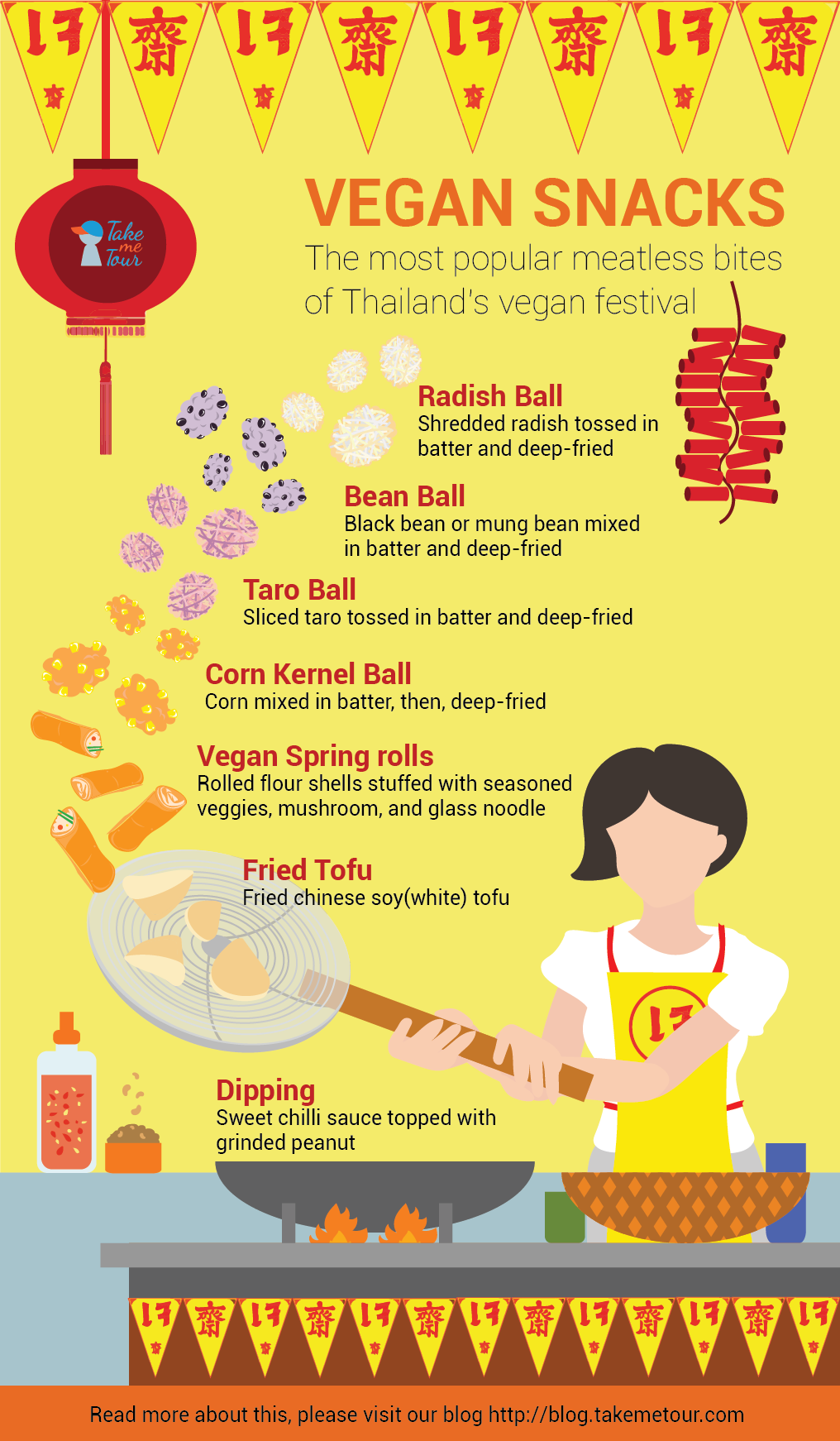 These are just the 6 most popular vegan snacks in Thailand, so don't forget to try others. Locals have been getting more and more creative with Vegetarian Festival food, coming up with even meat lookalikes… From smell to taste and texture, they are almost the same as the real things. To be honest, that's not a very vegan way of eating, but these "vegan meat" help some Thai-Chinese locals with the cravings during the Vegetarian Festival.
Happy exploring and eating! We hope you enjoy our Vegetarian Festival.
Comments
comments