Want to experience what the markets in Phnom Penh are like? They are where you can find the truly local food, products, and interesting glimpses into the Cambodian culture. While you may feel a bit lost in the chaos at first or struck by the heat and sometimes unpleasant smells, you'll find the experience worth it once you've pushed through them!
So, to get you started, here are the best Phnom Penh markets to shop along with the locals:
Top 5 local markets in Phnom Penh to check out:
5). Olympic Market (ផ្សារអូឡាំពិក)
View this post on Instagram
If shopping for clothes makes your eyes light up, then you'll want to explore Olympic Market. More of a run-down mall than a typical wet market in Phnom Penh, the stalls here sell all kinds of clothes and fabrics, some from the local garment factory and others imported from other Asian countries such as Korea, China, Thailand, and Vietnam.
Address: 95, St. 286, Phnom Penh
4). Old Market (ផ្សារចាស់)
View this post on Instagram
With the array of fresh produce and meat here, you'll want to take a cooking class to learn how to turn them into delicious Khmer dishes. You'll mostly find locals doing their shopping here, so if you're looking to glimpse into the local life, this is the place for you. Besides food, you can also find pretty much everything else here, so look around!
Address: St. Preah Ang Eng, Sangkat Voat Phnum, Phnom Penh
3). Boueng Keng Kang Market (ផ្សារបឹងកេងកង)
View this post on Instagram
If you're into second-hand or vintage fashion, then Boueng Keng Kang market should answer your needs. This market is popular among young people to shop for clothes, so join in on the fun finding the best bargains. There's also plenty of food, fruits, and fresh produce here for you to recharge with after your shopping.
Address: St. 380, Sangkat Tonle Bassac, Phnom Penh
2. Russian Market (ផ្សារទួលទំពូង)
Russian Market is where you can spend hours shopping for clothes and souvenirs (but remember to bargain most of the time). Once you've shopped and ready to drop, follow where the locals go and sit down for some Khmer food. The area around the market has also seen some lovely coffee shops pop up in recent years, such as Lot 369 and TINI, so be sure to check them out for a break from the heat.
Address: St 163, Phnom Penh
1. Central Market (ផ្សារថ្មី)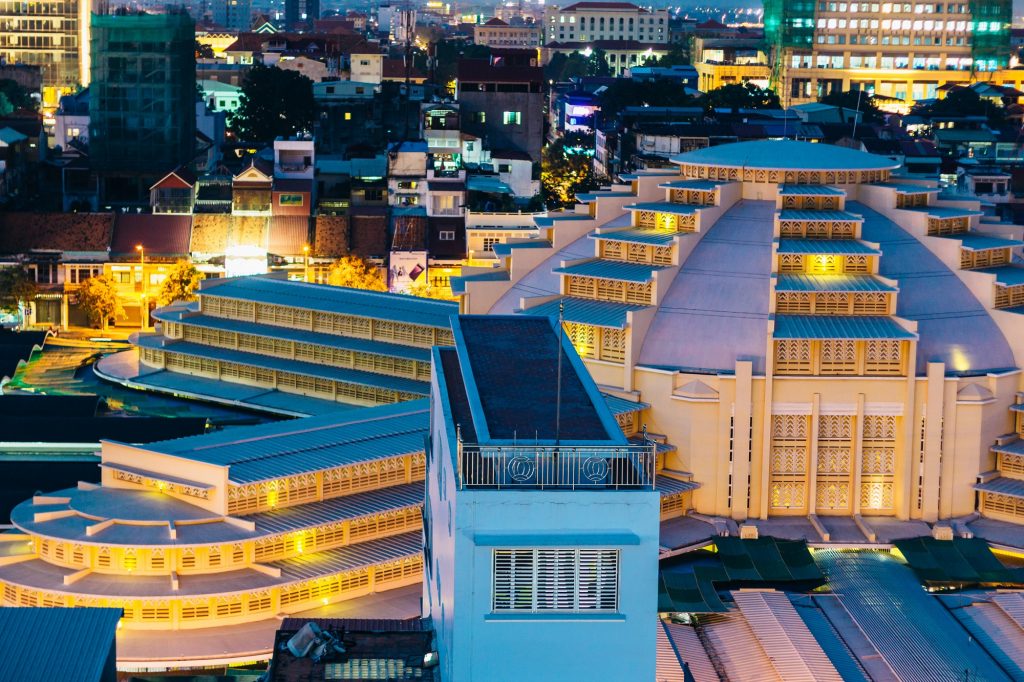 Undoubtedly the most beautiful of the markets, Central Market pops with its bright yellow dome and four wings. It was designed by French architect Jean Desbois in 1937, and it has also become something of an icon of Phnom Penh markets. Here, bask in food paradise, or stroll around to look at the jewelry stores and clothes. The walkways are pretty clean too with room to breathe, making it a favorite for both locals and travelers.
Address: Calmette St. (53), Phnom Penh
Ready to explore the markets in Phnom Penh?
For those looking for a dive into the local culture, the markets are one of the best places to do so! After your fun day out, be sure to check out the best highlights of Phnom Penh's nightlife to end your day on a high note!
Comments
comments