Straddling along the bends of the Chao Phraya, Bangkok's Old Town or the Rattanakosin area is undergoing a modern resurgence of late. Founded in 1782 by King Rama I, Rattanakosin is the prototype of today's Big Mango. For those interested in the heritage and origins of Bangkok, visiting the Old Town is indeed one of the best things to do. Besides the picturesque Grand Palace and the hustle and bustle of Khao San Road, Old Bangkok is brimmed with timeless temples, palaces, and museums that honor old traditions. Also, there are a plethora interesting things to do, see, feel, and taste around every nook and cranny. Thus, to help you experience the enchanting old town like a local, here's a list of the 10 extraordinary things to do in Old Bangkok.
1.) Get a traditional Thai massage at its birthplace
Besides from housing the Giant Reclining Buddha, Wat Pho is also the birthplace of the world-renowned Thai massage. Being Thailand's main school for traditional Thai medicine and massage, it's certainly the perfect spot to loosen up. As a result, the massages here are expensive by our standards. However, what you are paying for at Wat Pho is quality and prestige at its most supreme.
2.) Travel back in time at Museum Siam
History buffs, take note! You can take a crash course in Thai history through interactive displays at Museum Siam! Set inside a prodigious neoclassical house, it's not the usual display of historical artifacts you'd come to expect in a building as such. As a result, you can spend a couple of hours learning about the history of the kingdom as it evolved through different eras. Even if museums are not your thing, it's a great introduction to Thailand's heritage and culture without being boring.
3.) Take in the hip, bohemian vibe at Phra Athit Road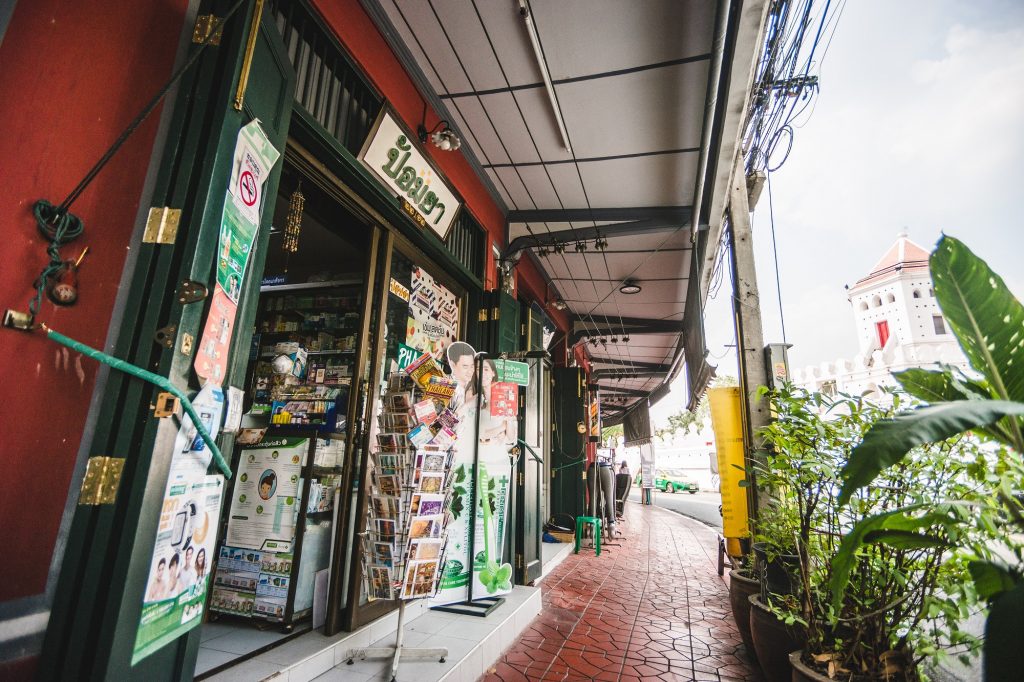 If you're weary of the backpacker's den that is Khao San Road, head to a more tasteful Phra Athit Road nearby. A collection of quaint shop houses is what makes Phra Athit Road stand out. The river pier, picturesque riverside park, and an ancient fort are the things that give this iconic stretch of road a unique atmosphere. There are many cafes, cool bars and interesting local restaurants catered to an eclectic blend of artsy locals, expats and tourists. It also happens to be a hub of live music, namely pop, rock, blues and jazz. For sure, you'll most likely run into tasteful crowds at your next gig as a result.
4.) Go street food crawling at Chinatown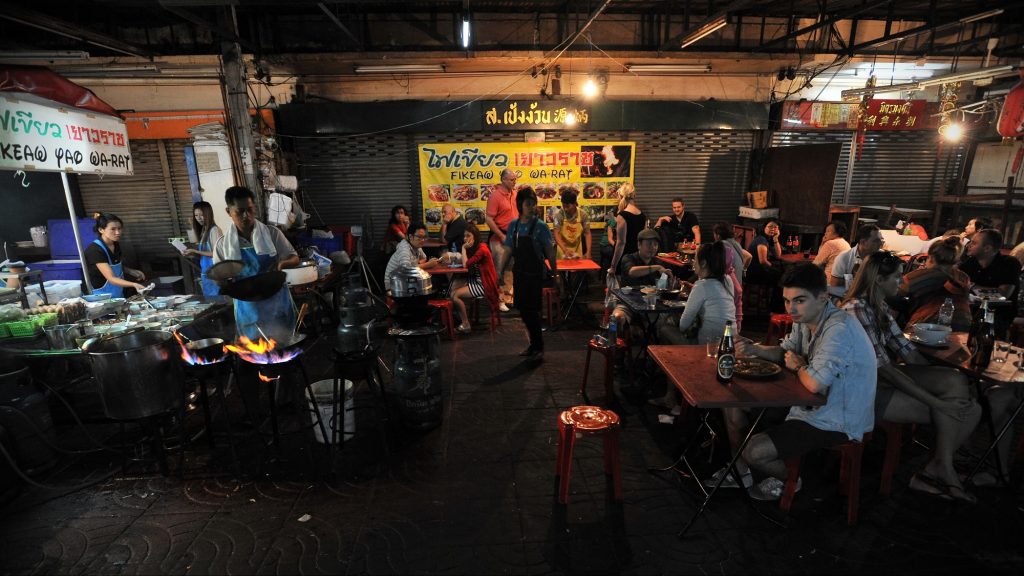 Being the largest Chinatown in the world, Bangkok Chinatown or Yaowarat is a great place for foodies looking for local Thai-Chinese grub as a result. Vegetarians and vegans are never left out either, as they can easily find quality, inexpensive meals for less than a 100 Baht per plate. Other than that, you can enjoy Chinatown at its liveliest at night. You'll find a plethora of bars, restaurants, local food stalls, and rustic shop houses coming to life after sunset. If you're the type who enjoys the hustle and bustle of the night streets, Yaowarat will surely not disappoint!
5.) Step into Bangkok's Little India, Phahurat
View this post on Instagram
Phahurat Market or Little India is predominantly known for its wide variety of textiles at affordable prices. Other than fabrics shopping, you can appreciate the quaint and colorful buildings that Little India has to offer. Photography enthusiasts in particular can immerse the beauty of this charming part of town. Not only that, but you can check out the food court in the Indian Emporium for a variety of Indian delicacies if you happen to be craving for the real taste of India.
6.) Go Flower Shopping at Bangkok Flower Market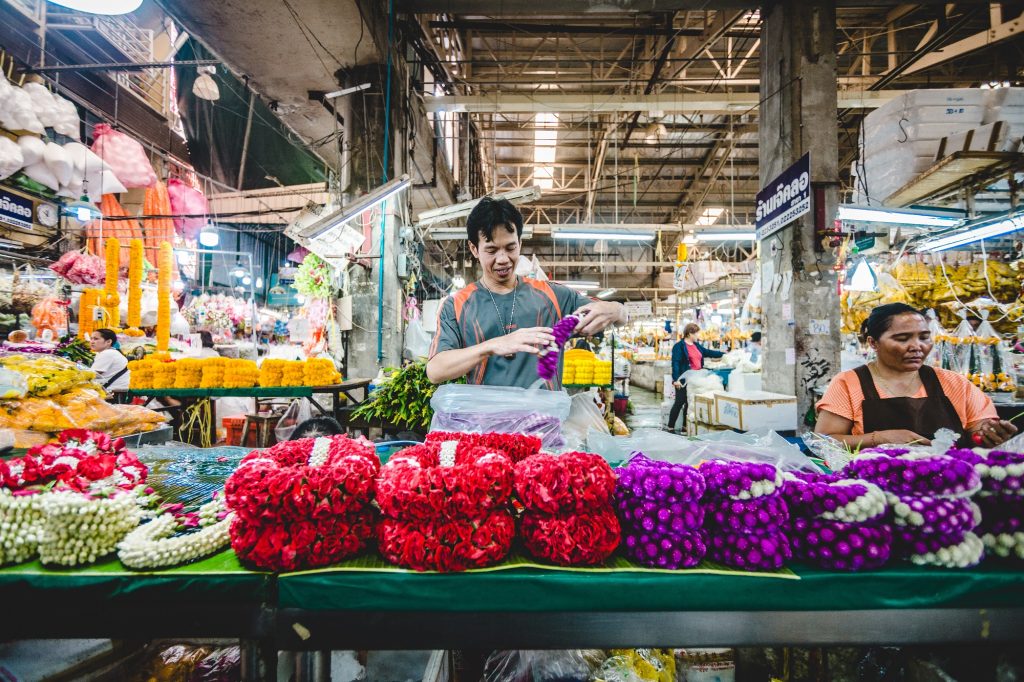 Bangkok Flower Market (Pak Klong Talat) is Bangkok's largest and oldest 24-hour wholesale flower market. Flower dealers from all over Thailand come here to sell their flowers such as roses, orchids, and lilies in packs of 50 or 100 at amazingly cheap prices. Open for 24 hours, it's best to come after midnight. However, the peak time for selling and trading happens at 2 a.m., so prepare to beat the sunrise. Roaming the streets here is truly a colorful and fragrant experience indeed!
7.) Learn more about Thailand at Rattanakosin Exhibition Hall
Rattanakosin Exhibition Hall is perhaps Bangkok's newest educational center. More than a museum, the two-story hall overlooking the Grand Palace explores cultural legacies of the present Rattanakosin Era. The whole premise itself is divided into nine halls, a library, a souvenir shop and a coffee shop. Moreover, the ground floor is reserved for regular cultural events and performances.
8.) Be a bookworm at Bangkok City Library
Opened in April 2017, this historic, three story neoclassical building is now a 24-hour public library. Bookworms all across the city now have a sanctuary at any time of day or night. Above all, its spacious interior offers areas for kids to play, work spaces with free WiFi, rotating exhibitions on the ground floor, and a coffee shop. Therefore, if you're looking for the perfect spot to rest your mind, grab a book and make yourself comfortable right here!
9.) Savor the best Pad Thai in town at Thip Samai
Pad Thai Thip Samai is certainly one of the most famous Pad Thai restaurants in the entirety of Bangkok. The menu selection is small and easy to choose from, and everything here is also made in-house and fresh daily starting from 5 p.m. The fire-spitting charcoal stoves and hunger-inducing aroma in particular, are a sight and smell to behold in itself. The line is often long, so head there as early as you can to grab your much-needed Pad Thai fix.
10.) Go specialty cafe hopping
Perhaps one of the best ways to take in the most of Old Bangkok in one day is to go specialty cafe-hopping. Areas such as Chinatown and the Bangkok Flower Market host many up-and-coming local brews that coffee connoisseurs and young local hipsters gladly call home on the weekends. Not only you will get to taste locally-made coffee, but you will appreciate the charming atmosphere in each part of town and gain an authentic insight to the local coffee culture.
Comments
comments