Think Battambang in Cambodia is just a sleepy town with nothing much to do? Think again! While it's no doubt peaceful, the city holds plenty of treasures for you to discover. So, if you want to go beyond Phnom Penh and Siem Reap on your Cambodia trip, here are the best 10 things to do in Battambang to put the charming city on your itinerary!
What to do in Battambang: For the Adventurous
1. Ride the bamboo train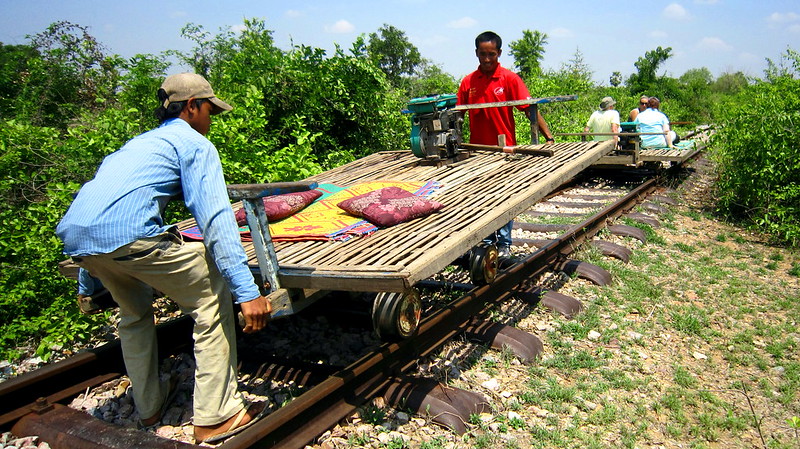 You can't pass up a ride on this unique invention — an ingenious use of a bamboo board with a motor attached to it. Known locally as 'Norry', the bamboo train takes you on a thrilling ride through the beautiful countryside.
While a new bamboo train service has been built, many still prefer to ride the original Nory which can go up to 40 km/hr! As it is on an active and one-way train track though, sometimes you have to get off if there is a train or another Nory approaching from the opposite side. Meanwhile, the new Nory track runs 4 km long, starting from the base of Phnom Banan.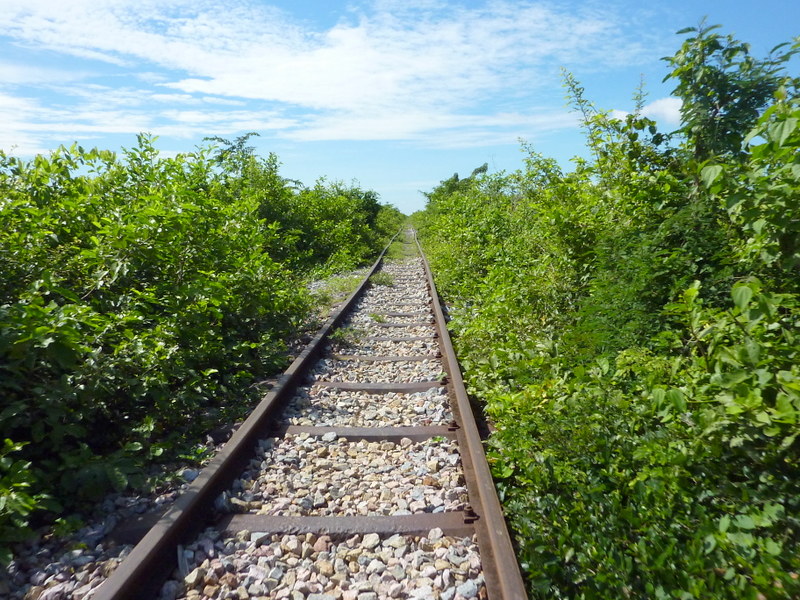 Price: $5 for both bamboo train services.
Tip: For the old Nory ride, it's good to know beforehand that you will stop for about 20 minutes at a small village at the end of the ride. It's common to be approached by local sellers for snacks, drinks or souvenirs. Locals would often ask you to tip your Nory driver too. You can do as you wish, but expecting this helps not to muddy the experience.
2. Watch thousands of bats fly out of Phnom Sampov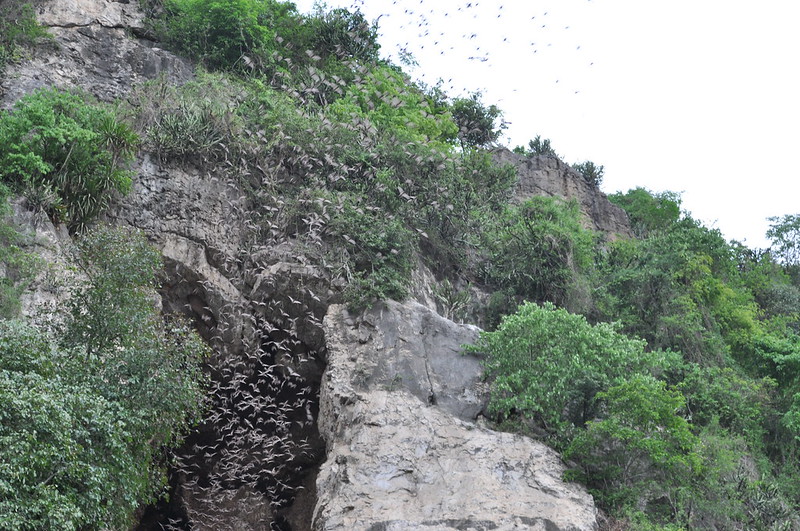 You don't want to be saying, 'What, you can see that?!' after your Battambang trip, so make sure not to miss this incredible sight. When dusk begins to fall at Phnom Sampov, thousands of bats fly out of the caves to hunt for the night.
If you love getting active, you can also hike up Phnom Sampov with a local guide to catch the spectacle. The trees along the route and scenic lookout definitely make it worthwhile. You'll also stop by the Killing Caves, where Cambodians were executed during the Khmer Rouge genocide from 1975 to 1979. It's a tragic but eye-opening part of Cambodian history to learn about.
3. Climb over 350 steps to Phnom Banan Temples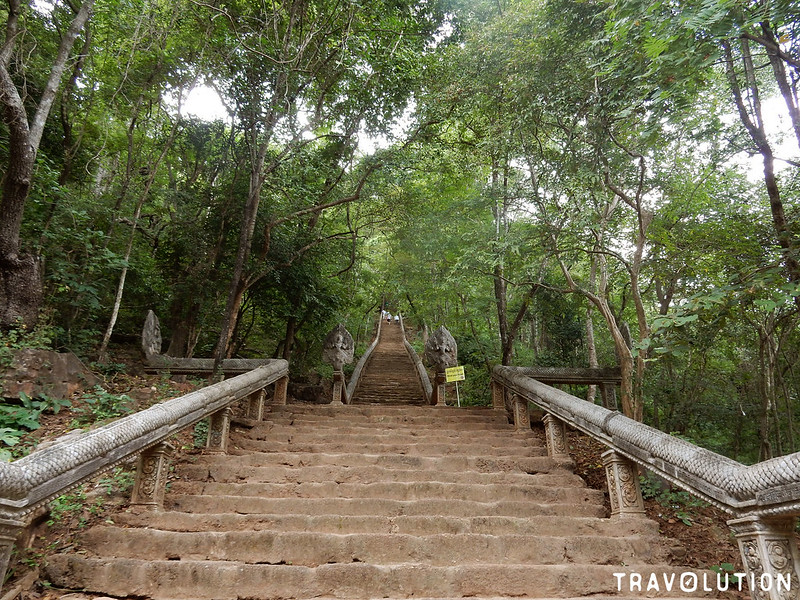 Now this is a feat to put in your travel books! While Siem Reap is where you'll find the majority of ancient temples, Battambang also has a few that are worth visiting.
One of them is Phnom Banan Temple, built in the 11th century and later finished under the rule of revered King Jayavarman VII. While the stairway up is pretty steep, it's well worth a climb. The temple has five prasat (similar to towers) and is still largely well-preserved with elegant carvings on lintels and walls. The surrounding trees also make for a peaceful stroll, not to mention the incredible view of Battambang from up top!
Note: On the way up, make sure to stay on the designated path. Some areas of the mountain still have landmines.
What to do in Battambang: For the curious
4. Visit the old and new Wat Ek Phnom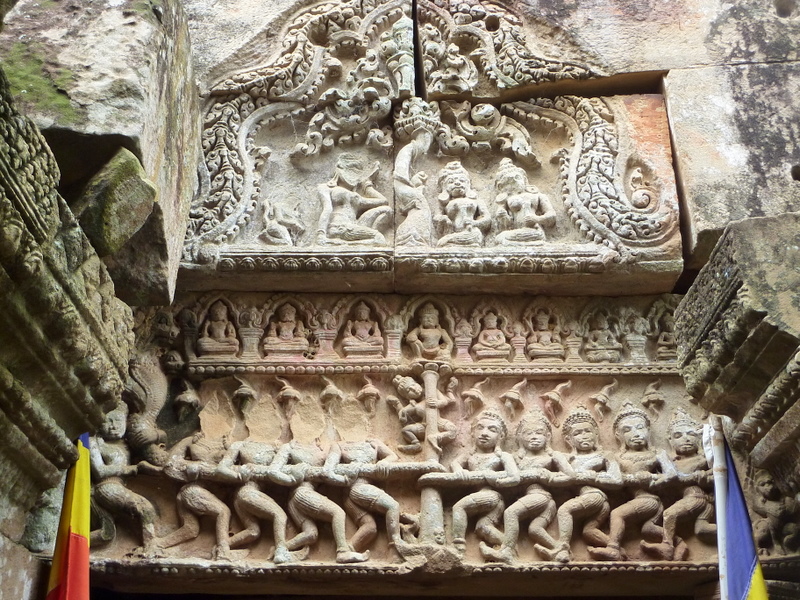 About 9 km away from Battambang city, Wat Ek Phnom is an Angkorian temple built in the 11th century, preceding Angkor Wat. The highlight here is the intricate lintel of the Churning of the Ocean of Milk (Ko Samut Teuk Dos in Khmer), the monumental battle between the Devas (Gods) and Asuras (Demons) central to Hinduism.
In front of the ancient temple is a modern ornate temple, also called Wat Ek Phnom. Here, you'll see locals coming to offer their prayers. A few feet away is an impressive 28-meter Buddha image statue in the Abhaya Mudra gesture, the right hand raised with the palm facing outward and the left hand resting underneath. The gesture represents the dispelling of fear, giving protection and peace.
5. Explore the city's quaint architecture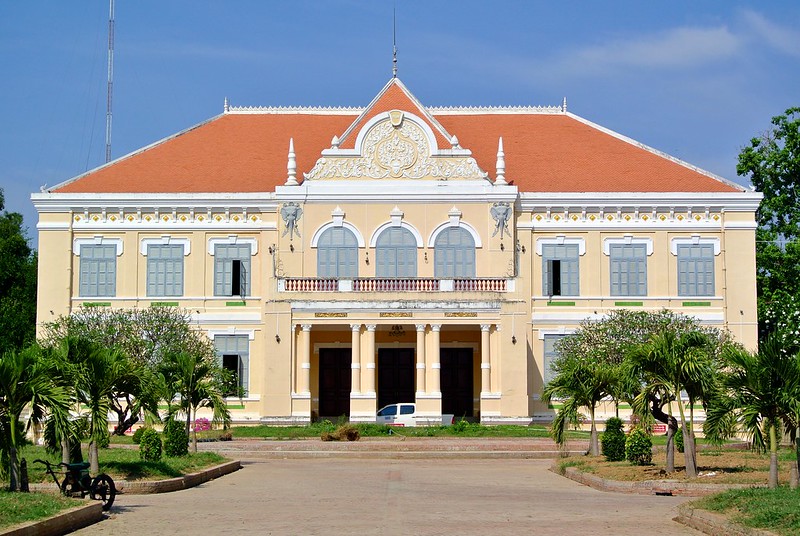 Battambang city houses lovely old Khmer and French colonial buildings, rich with history and adding even more charm to the city. Join a walking tour with a local to take it all in, and learn the past stories that give you a fascinating glimpse into Cambodia's history. You'll also stop by an elegant pagoda, where you can immerse in the local traditions.
6. Learn all about traditional Khmer food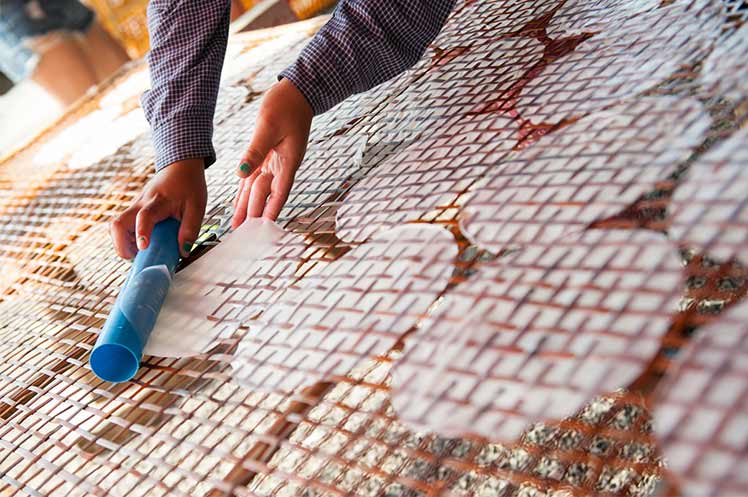 Another great thing about Battambang? The food, of course! It's the main producer of traditional ingredients such as hand-made rice paper and Khmer noodles. Locals' favorite snacks such as dried bananas and bamboo rice cakes are also specialties here. On this fascinating day trip into the local livelihood, you'll learn directly from the local communities about how they make these traditional Khmer foods.
7. Visit the largest Prahok market in Battambang
You might have heard of Prahok, the smelly, tasty, polarizing national food of Cambodia. The fermented fish paste is foundational to Khmer cuisine, used as a seasoning for many dishes or as a dipping sauce. With its overpowering influence, visiting the largest Prahok market in Battambang might just strike you as a once-in-a-lifetime experience. Just expect to be hit with some stinky pungent smells. It's a nose-closing, eye-opening experience for the strong.
What to do in Battambang: For the art lover
8. Watch the mesmerizing performance of PHARE Ponleu Selpak
PHARE Ponleu Selpak (translated to The Brightness of the Arts) is a social non-profit that trains young Cambodians in the performing and visual arts. It is the parent of PHARE, The Cambodian Circus in Siem Reap, with a mission to better the lives of disadvantaged youths through the arts. In Battambang, you can also catch incredible performances by the maturing artists. Each performance follows an original storyline and reflects on Cambodia's past and modern society. It's a wonderful way to spend your night in Battambang!
9. Catch Cambodia's rising talents at Romcheik5 Art Space
View this post on Instagram
Battambang's art scene definitely deserves every recognition it gets. At Romcheik5 Art Space, a studio slash museum for local creatives to display their work. Bold, colorful, and symbolic art line the walls here, offering fresh and powerful glimpses into Cambodia and its people. There are both rotating and permanent exhibitions, the latter from the studio's artists in residence. You can also grab a drink or get creative yourself at the rooftop cafe.
10. Step back 100 years at Mrs. Bun Roeung's Ancient House
If you love to feel the antique air of a place, then a calming visit to Mrs. Bun Roeung's Ancient House is for you. The house captures the life of a family in Battambang 100 years ago, with photos, stories, and memories that show you Cambodia's past through a personal lens. The family's niece now takes care of the house and guides visitors through the house and family history. Entry is free, but you can leave a donation to help with the house's maintenance.
What are you excited to explore in Battambang?
We hope these amazing things to do in Battambang inspire you to give it a visit during your Cambodian trip! If you want to explore more famous and off-the-beaten destinations in Cambodia, here are our top picks for you to check out!
If you're also planning to stop by Kampot, another favorite for locals and travelers, be sure to check out these top 20 things to do in Kampot for an amazing time!
Want to know more about Cambodia or share your experience? Leave your thoughts in the comments below.
Comments
comments