What to expect?
From the 25th to the 29th October 2017, the Royal Cremation of the late King Bhumibol Adulyadej is scheduled to take place at Sanam Luang Ceremonial Ground in Bangkok. Thursday 26th October 2017 will be the actual Royal Cremation day and it has been declared a public holiday. For the whole month of October 2017, which will be a time of great sadness and mourning, you will see many Thai people wearing black or white clothing as a sign of respect.
Should I postpone my trip?
You're more than welcome to visit Thailand during this historic period in our lives. Your travel plans can be continued as normal. All transportation, banks, tourism and hospitality businesses across Thailand will be opened as usual. Only the Grand Palace and the Emerald Buddha Temple will be closed from 1-29 October 2017. More importantly, it's the only time that you can experience the great love and reverence that Thai people have for our beloved King through observing the mourning rituals and paying their final respects.
What should I do or prepare?
As mentioned earlier, we'll mostly be wearing black & white, but it is not a requirement for visitors. However, if possible, I would recommend that you bring a couple of black & white clothes to wear in public. Moreover, I'd recommend you to reconfirm with your Local Experts, as well as other agents that you may be dealing with, and check local media regularly. TakeMeTour will be sure to keep you updated in the case of any developments and further announcements.
Where should I go to visit during this period?
All tourist attractions across Thailand will still be operating as usual, with the exception of the Grand Palace and the Emerald Buddha Temple, which will be closed from 1-29 October 2017. Places outside Bangkok are definitely a good destination choice to avoid the crowds. The best places around the Bangkok area are the floating markets, food tours, biking trips, etc. Also, I would suggest that you avoid travelling near the Grand Palace area since some routes may be closed to traffic and please be aware of the likelihood of experiencing traffic delays.
What else should I know?
– Public transportations (BTS, MRT, Airport Rail Link) are suggested to be used instead of commuting on the road due to the heavy traffic that is expected in certain areas.
– This is quite a sensitive situation for Thai people, I'd suggest that as an outsider you should be aware of behaviours that may be considered inappropriate or disrespectful. We would suggest avoiding being drunk in public, wearing inappropriate clothing, playing loud music, and remembering to be sensitive about taking photographs of people during this time. Most of all, be mindful of discussing the subject in conversations with locals out of sensitivity and respect for this deeply significant and sad period in our history.
In case of any doubt or unsure about anything, I'm sure the local can be your best person to talk and ask.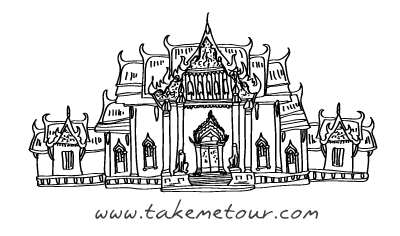 Comments
comments