Dubbed the second most crowd-pleasing Thai festival (after Songkran), you might have already come across the classics of Loy Krathong Festival or the Festival of Lights. The dreamy scene of candlelit floating Krathong and anecdotes on the River Goddess's grace and the sail away of your bummers are everywhere. But did you know about the Buddha's return-to-heaven fable or the huge clean-up on the day after?
If you want to know more about Loy Krathong Day in 2019, you're in the right place! Here, we've gathered the traditional tales behind Loy Krathong Day, things you probably didn't know about the festival, as well as practical tips on how and where to witness the magical floating lights.
The basics
Every year on the full moon night of the 12th lunar month, Thais celebrate the almost millennium-old Loy Krathong Day. "Loy" literally means to float in Thai while "Krathong" is a lotus-shaped raft with flowers, candles and incense.
So what's the historical significance of the act of releasing Krathong into rivers? Krathong is created as a tribute to the River Goddess, a big thank you for her generosity and at the same time, a sheepish apology for our misuse of rivers.
A revelry for Buddha
Thai culture has drawn some influences from Indian culture, especially when it comes to religious ceremonies. A fable says Loy Krathong Festival started when the Nagas (a mythical great snake) asked Buddha for a keepsake before the Lord returned to heaven. He granted them his footprints on the bank of a river in India. Thus began the Nagas' floating tradition to celebrate Lord Buddha's glory.
Another belief recounts the gods and the humans offering Buddha flowers, welcoming his descent from heaven to preach his mother.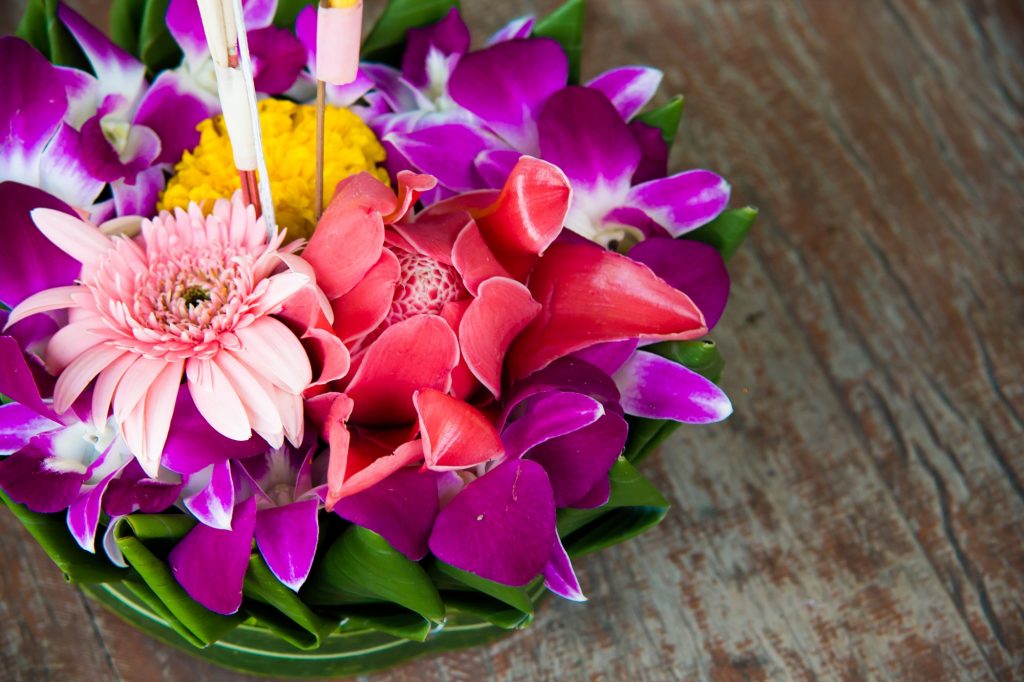 What you didn't know about Loy Krathong Festival
Apart from all things bright and nice, some Thais put their tucks of hair or bits of nails into Krathong. According to a traditional Thai belief, sailing away your clipped nails is equivalent to shedding a bad luck. Then, there are those who float away small coins, in hopes that the tide will bring in wealth.
You'll also see (mostly young) couples very carefully place their Krathongs on the river and watch eagerly, hoping that they don't turn over or float apart. This is another popular Thai belief and it goes like this: couples whose Krathongs float together, stay together.
Originally, Krathongs were a magical, natural mix of banana trees and local flowers. Then the modern days saw the eerie rise in styrofoam Krathongs. After a panic phase of waste crisis, Thailand has since been trying its very best to stick with more environmentally-friendly Krathongs. The materials vary from banana leaves and lotus blossoms to bread and even tapioca starch. Now that's also fish-friendly, isn't it?
However, our majestic rivers (and the full and satisfied fish) usually find themselves in a Krathong coma phase the day after. Every year, city workers have to step in and heap up Krathongs (both the biodegradable and the polystyrene).
Loy Krathong Festival is a beautiful tradition, but to make it even more beautiful, we encourage you to share a Krathong with your family, friends, or boyfriend/girlfriend.
Practical tips on how and where to celebrate Loy Krathong Festival
Brace yourself for the crowds, no matter where you go. Don't lose heart, though. Even as a local, we still think it's totally worth it… if you know the best spots. Check out our favorite places to celebrate Loy Krathong Festival in 2019.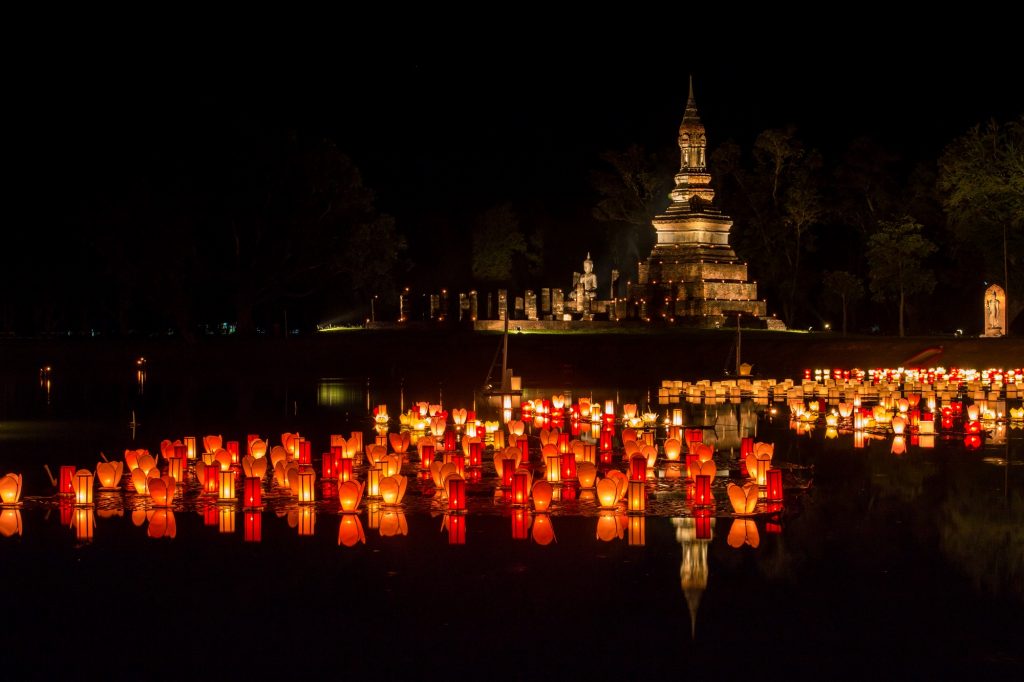 Rama VIII Bridge – Golden beam of the cable-stayed bridge above, golden lights of the Krathongs floating below. What more could we ask for?
Santi Chai Prakan Park – Old town charm gets even more charming at night. Float away your Krathong while taking in the glory of Bangkok's 200-something fortress, Phra Sumen Fort.
Lumphini Park (Silom and Sathorn districts) – Warm candle lights against skyscrapers' industrial lightings make for an eccentric Loy Krathong Day experience (that we love).
Although these classic local's go-to spots in Bangkok aren't known for fancy lighting decoration, the infectious smiles among families or loved-up young couples convey the true spirit of the cheery full moon festival.
View this post on Instagram
A word of warning: Don't play with fire(works), firecrackers or sky lanterns. As they have caused countless injuries and fires, authorities now say light lovers could be fined up to 60,000 baht.
Whether you're in Thailand during this time of the year by chance or by choice, we hope you get to experience the joy of Loy Krathong Festival in 2019!
Comments
comments