See the story of our local experts and how they are a big part in helping the community with our local tourism support.
Travel is a great chance for you to put yourself out there in this wide world. Explore what you've never seen, and embrace the differences.
Meanwhile, traveling is also about giving for us. Started as a small company, we do care about small people and community. Believing that every minor act can lead an impactful change, we focus on bringing back to the local community as much as possible. Whether it's a crystal clear beach or a local alley in the suburb, they are both worth discovering and valuing.
Here are the a few stories from our over 15,000 Local Experts.
---
Bring Happiness Along Thonburi Canal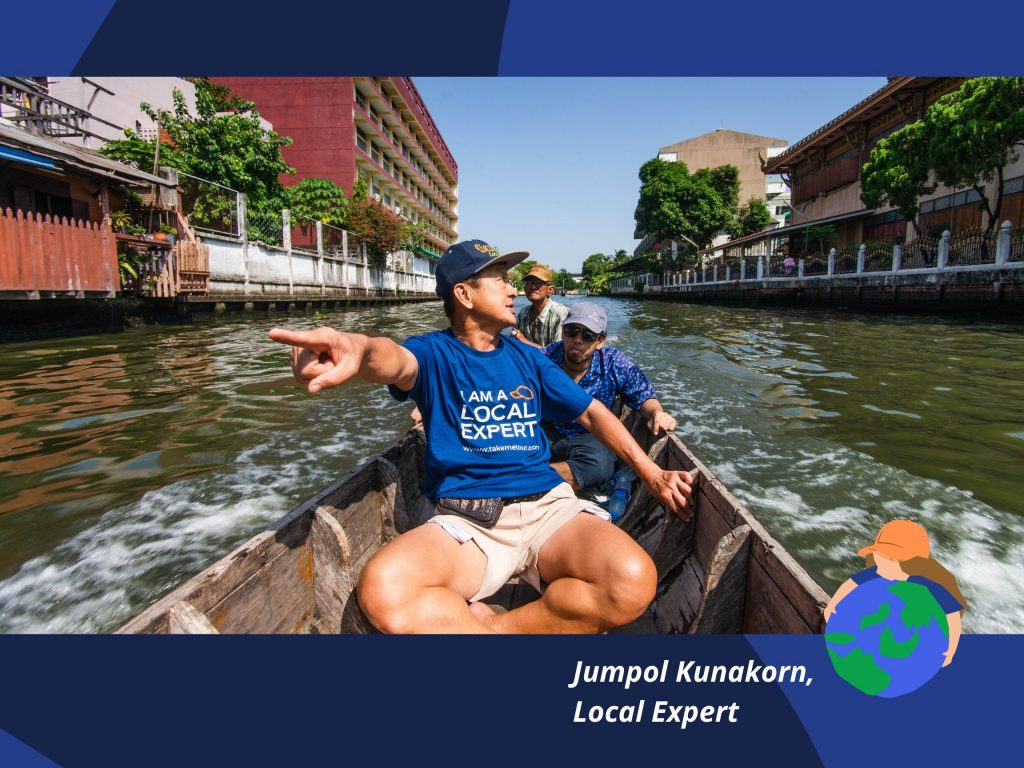 How did Jumpol Become a Local Expert?
Making people happy makes him even happier. Jumpol used to work in the sales sector. He loves going out and meeting new people. Jumpol lives just nearby the Thonburi canal, where he often takes time cherishing the peaceful life along the river. Having tons of overseas friends from work, he takes them on a fun journey, rowing his little paddle boat, and exploring the canal. They love it as much as Jumpol does.

Living here for over ten years, Jumpol knows every corner and allies. He decided on becoming a Local Expert so he is able to show the outsider how amazing these local communities are. Helping his neighborhood is definitely one of many best things he could do.
Does being a Local Expert bring a great change to the community?
Well, the local community is not to be looked over. Loads of people would spend the whole day of their vacation just to explore the authentic lifestyle of the locals, and that's what tells us that this thing is precious. Even as much precious and fascinating as the commonly-visited destination. It's just that less people know or have an idea how to access these areas.
"I usually teach my visitors and friends a few local phrases to speak with the locals they meet during the trip. You'll be surprised how bright the locals' smiles are. I noticed that when the local tourism came in, I hear their laughters, their fun chitchats, and I feel real happiness. People see the value in themselves and their community, and they start to open up to new things."
Because traveling is not just about places, it's all about emotional bonds and memories you create with the people you meet along the way. And that is what makes it so unforgettable and so heart-warming.
Today Jumpol still continues to help the community around his neighborhood. He often takes visitors on a Thonburi boat trip and explores the Bang Luang community where they grab some local ingredients, and cook Thai dishes together.
---
The Historian Who Turns Kudi-Chin Alley to a Gem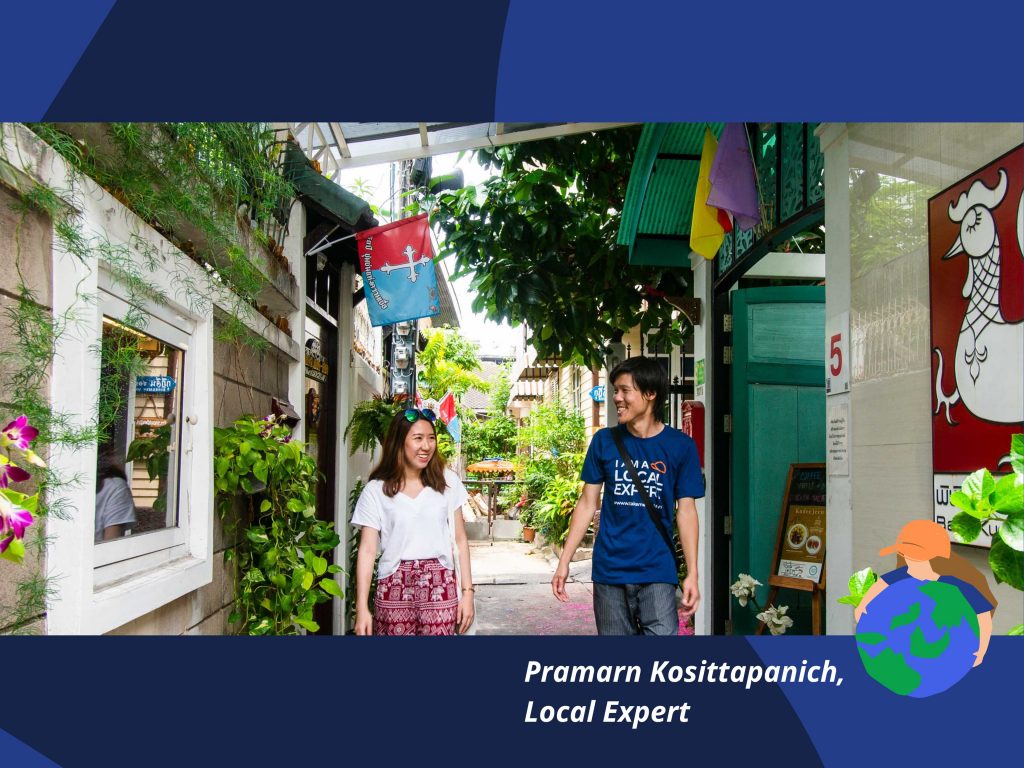 Every place has its own history, even the wooden chair you see at the street corner might be there for over a century. That what gives such a beauty engraving to the local community
How did Pramarn Become a Local Expert?
Pramarn was a full-time social studies teacher. Without doubt, he has a great passion for the cultures of people. He started reaching out to the area he knows best, "Kudi Chin", where the richness in cultural diversity is embedded. Situated next to Chao Phraya River, this Thai-Portuguese community has settled here for over 200 years. He often takes visitor on a little adventure whilst showing them the hidden gems and tell the most fascinating insights. To utilize what he is passionate of, giving out an endless knowledge to visitors is then the right choice.
Do you think the tourism should be a part in helping the locals?
"It is crucial that we understand the importance of tourism on the local community. I don't see the tourism industry as a single sector, I see it as a connection. Locals, travelers, guides, and communities, they affect one another in some ways. To see it clearer, take a look back on the past of how one famous attraction can lead to a change of its neighbor community. If we see the beauty in every local corner with just a little help from each of us, things will greatly change."
How are you working as a part in achieve the change in community?
Pramarn tells us a great insight of how he sees the local community in a different way. Here in the Kudi-Chin neighborhood, it is often seen as a closed community. The thing is, there are endless fascinating things to discover from traditional coffee shops to even museums. Some might not understand why they would go such a long way to grab just a cup of coffee. He'd take his visitor because if anyone has ever really come here, they will definitely re-visit. The authentic vibes and the chilling atmosphere of life is what's so charming here and you'll find it different in other coffee shops. It's lovely, but things like this need to be experienced, not just heard and seen from others.
Believing that education and deep understanding are very important to how people see the world around them, Pramarn still continues his social studies teaching whilst also being a Local Expert who tries to bring out the exquisite aspect of these local alley to the outsiders.
---
Carry On the Heritage, a Man and Silk-Weaving Village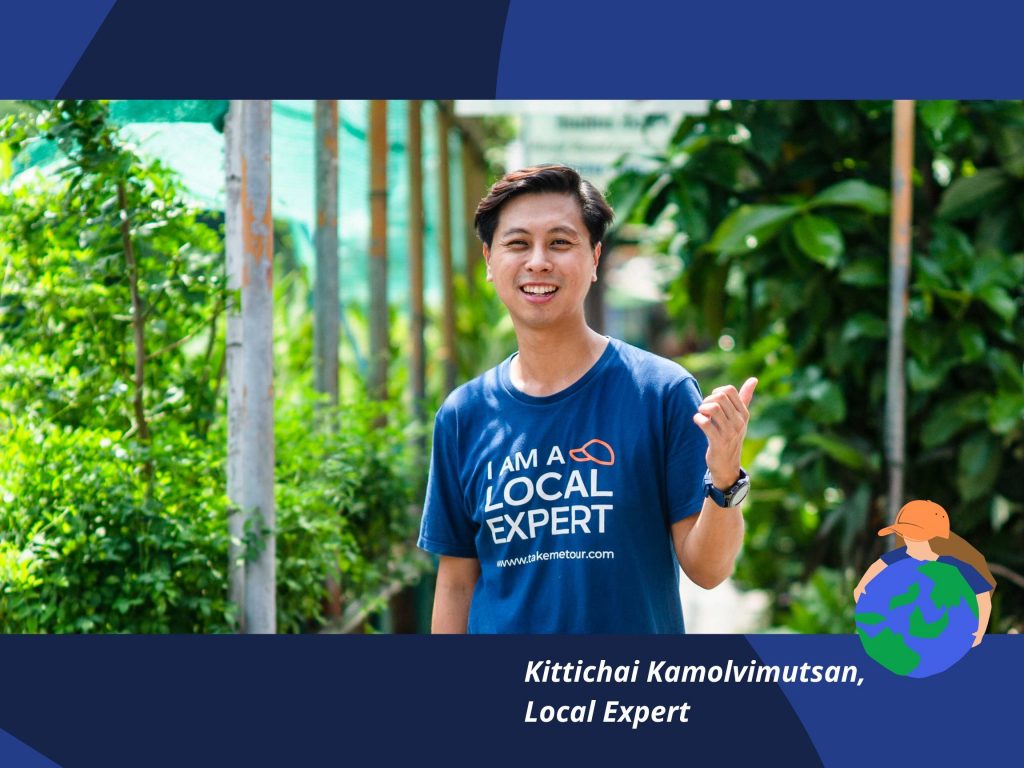 How did Kittichai Become a Local Expert?
Anything starts from a fingertip! Once Kittichai realised traveling is definitely his thing, in a flash, he attended a Tour Guiding course at Mahidol University. Well, nothing works if you don't have hands-on experiences. With his sister's advice, he decided to sign up as a Local Expert and that's the beginning of how he helps the local community.

As Kittichai knows that anything is within reach, he started from the area he lives in. As he looked closer, he realized the exoticness has always been there. Living here for such a long time, we didn't realize we were merged as a part of this culture. But, from a viewpoint of the outsider, it's definitely exquisite.
When did you realize that the local community is super precious?
One of Kittichai's favourite places he usually takes visitors to is Wat Pathum. Located right next to Thailand's most bustling part "Siam", when you step inside the temple, the vibes are completely different. Kittichai says he begins to realise this local charm when he saw a pack of shopping malls, but then this temple situated just there in the middle. Living in a fast-changing world, we sometimes forget about this lovely side of the local community. And, it's worth doing anything just to make them alive.
What's your part in helping the local tourism?
"How we can help the community might be embedded in the smallest thing we looked over, like the clothes we wear"

Behind this famous clothing brand "Jim Thompson" is the delicate work done by the local villager at Baan Krua, silk-weaving community. It is well-known that Jim Thompson is a hotspot for travelers coming to Bangkok, but just a few steps away there's a completely different world that retrieves you back in time. Baan Krua village has been supporting the production of traditional Thai Silk for over 70 years. But unluckily, when the time has passed, only one household of Nippol's family still continues making silk. And, that's where Kittichai takes the visitors too, because this precious culture might be gone from Bangkok at any day if no one has given the support.
How do you see yourself and what you do as affecting the future?
"I believe that this is just a starting point for the local tourism sector. Green and Local traveling is very essential and we all will start to see the change after the trend has increased. It's not just a rise in the number of travelers, instead we'll see a better change of the whole society.

Kittichai aims to continue taking travelers to this small community. Everytime he took a visit, he would encourage them to try silk-weaving like the locals do, because he believes this might be a one-in-a-lifetime experience for those who have never seen it before.
---
If you'd love to help us and our Local Experts support the local communities, check out our tour below. We try as much as possible to save these Thainess and the local treasures that might have been gone any day. Each of our trips really takes you to discover the genuine side of the destination, meeting the friendly locals who will bring you laughters, and of course, the heartfelt experiences that will keep you smiling each time you think about it.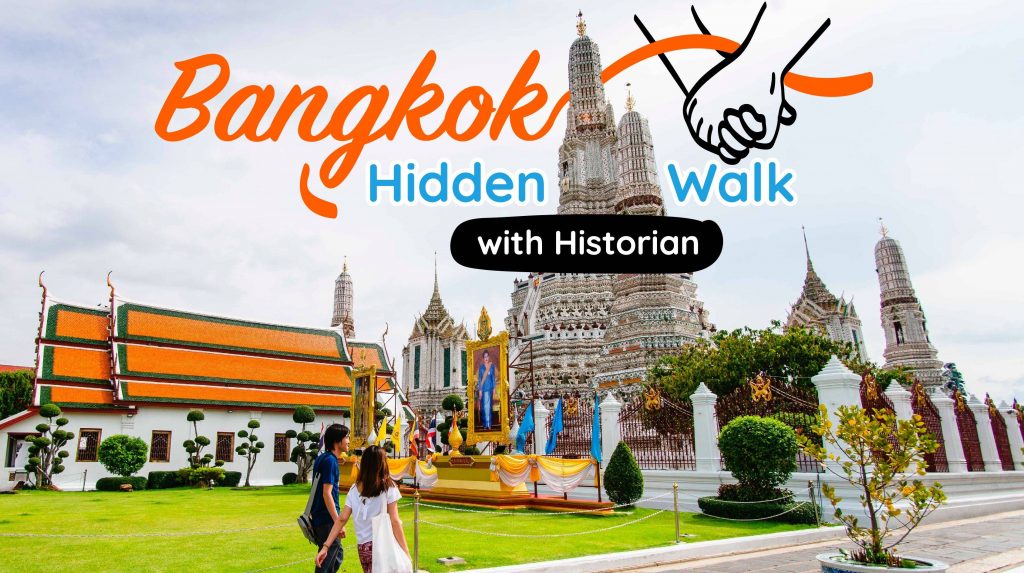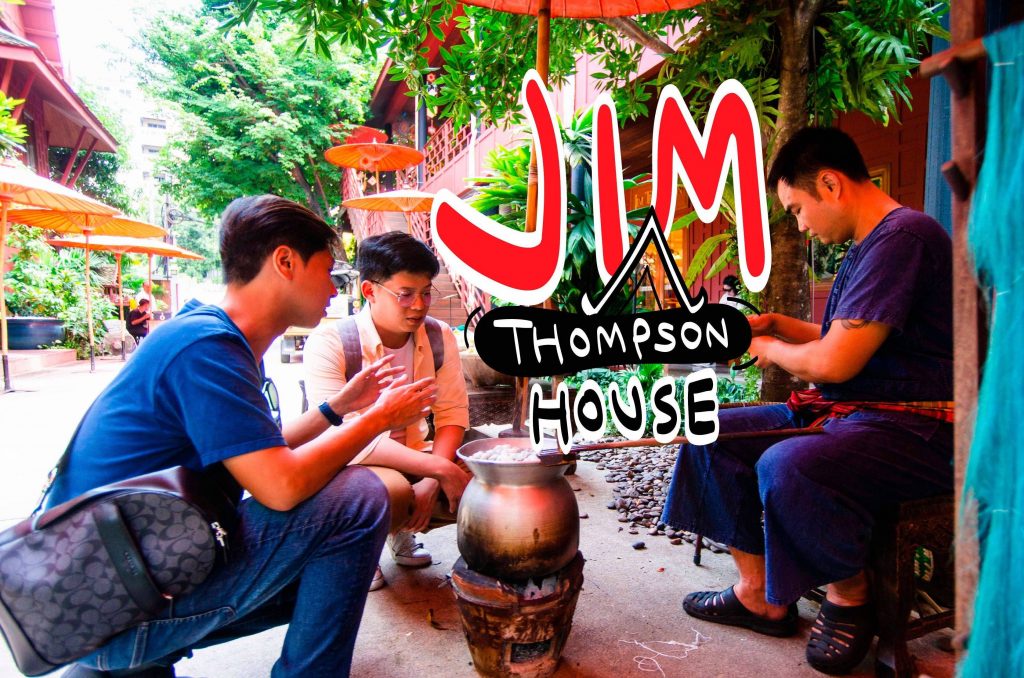 Comments
comments