Spooky-doo, fellow travelers!
As we are all know, Halloween is right around the corner. Though Thais start to celebrate this Trick or Treat happening, unfortunately, Thais people doesn't really have a Thai tradition to celebrate this day like westerners. Today, I would like to introduce you the 7 traditional ghosts known by every Thai.
Let's get started! 😉
---
First thing first, The word 'ghost' in Thai is ผี, pronounced as Pĕe or Phi. Sometimes, we put the word, Pĕe in front of the ghost name such as, Pĕe Kra Sue, Pĕe Preta, etc.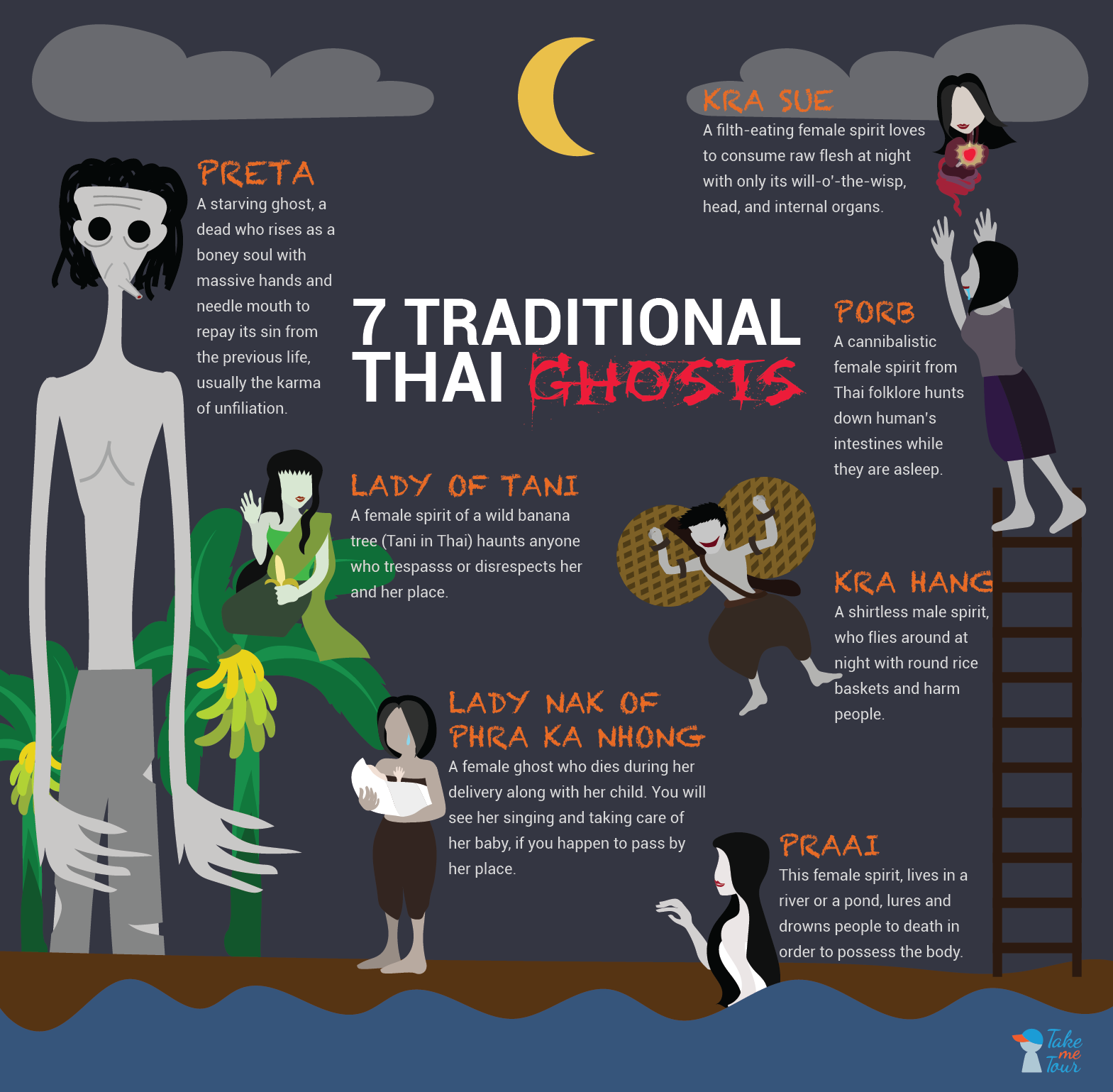 1. Kra Sue
From Thai folklore, this female spirit, known as a filth-eating ghost, is curses to be hungry and active every night. It possesses human body and lives like a normal folk during the day. It takes off its head and internal organ from the body and float around at night with the will-o-the-wisp to prey on blood and raw flesh. Feces and carrion can be substituted to ease the gluttony when flesh is not available. It's said that Kra Sue lives in the same area with Kra Hang.
To protect one self from Kra Sue, villagers often put up thorny fences around their houses. Kra Sue will hide its headless body in secret since it needs to be reunited before the dawn break. If the body is found/ destroyed/ replaced with a different body and Kra Sue can't get back with its body in time it will suffer and die in torment. If the intestine is cut off during its prey time this will be fatal for Kra Sue also.
2. Porb/ Pop
A cannibalistic spirit disguises in a body to devour in human intestines. The old tale says that Porb was originally from a witch or a dark sorcerer who went mad from their uncontrollable power. When Porb is successfully haunting and possessing its preys, their intestines will be eaten during their sleep. Porb moves from one body to another to eat their internal organs. As Porb are dying, it will find a way inherit one self to others.
3. Kra Hang 
This male spirit is like a combination of Kra Sue and Porb. It has been being said that this shirtless guy is someone who practices black magic and gone mad from its malpractice or uncontrollable power. At night, it uses round rice baskets to leap around, harming people by walking  and eat feces and carrion.
4. Praai
Praai is like a Thai version of Siren. Living by water where many drown victims die, Praai is a female form of will-o-the-wisp, wearing in white clothes. The spirit lures people to it's resident, kill them, and possess their dead body.
Thais call her Mae Nak Phra Ka Khong. She is the most well-known one among those female ghost who die during their delivery along with the children. From the old tale, she was pregnant and left alone while her husband was enlisted to join an army. After he came back home, he was concealed from the fact that she died. No one has ever allowed to tell the truth. Any passerby would see her taking care of her child and sing lullaby at night. They would be haunted if they trespassed her house. There is no secret in this world. Her husband finally knew the truth. Mae Nak was confined in a pot and thrown to a river. Later, she was released accidentally and went rampage to the villagers. Finally, her body was dug up and a buddhist monk, called Somdej Toh, chanted and used his spell to lead her soul to rest in peace. This love-after-death story has been impressed and told by all Thais, and the believe of her unconditional love lives through ages.
You can pay a visit to Mae Nak Shrine (Sarn Yaa Nak) at Mahabut Temple (Wat Mahabut) here in Bangkok and learn more about her great love story.
6. Lady Tani
Phi Tani or Nang Tani (Nymph of Tani) is a female spirit who lives in a wild banana tree (Kluai Tani in Thai.) She is the same kind of a spirit of the wood (Nang Mai.) She is always invisible and only reveals herself during a full moon. She has a greenish complexion and wear green Thai traditional cloth. She is a gentle spirit. She sometimes offers food to monks who are pass-by. Nang Tani will harm mostly men who have wronged women. Her tree can be found in a rural area of a village. People will avoid to build a It is said that villagers must not move or cut down her tree. Her tree looks like any other normal wild banana tree, but her fruit is not edible.
7. Preta
Known as a hungry ghost, a supernatural being of those poor souls who have to suffer from their karma after death. The types varies in many countries in Asia. For Thais, those who turn into Preta are usually the unfilial ones. Thais despise people who hurt their own parents physically and mentally the most. Preta is a super skinny giant, always suffering from thirst and insatiable hunger. Its hands are abnormally huge and the mouth is narrowly tiny as a needle. Preta often appears nearby temple fairs to beg for merit so they could go to a better place.
---
What do you think of these 7 Thai ghosts? We can't assume that these folklores and old sayings are true. Someone say that these are all make-up tales to teach their children. Many Thais are still superstitious and do believe that they are non-fiction stories.
'Just because you can't see, it doesn't mean that they are exist'
Hope you enjoy this week content as Halloween is right around the corner
Stay sweet and be spooktacular, y'all!
Comments
comments