Time for lunch or dinner in Chiang Rai? Also wondering what and where is good to eat? Then, this list of the best Chiang Rai food to check out is perfect for you. I got to try many of these on a trip with the Tourism Authority of Thailand, and let's just say I was happily full at every meal. For the best places to eat the dishes, check out the restaurant recommendations at the bottom.
What to Eat: 12 Must-Try Food in Chiang Rai
Chiang Rai food has roots in the ancient Lanna Kingdom, which spanned much of Northern Thailand. So, it's often called Lanna food too. Unlike the south of Thailand, where your tongue will surely burn, the food in Chiang Rai is more mildly spicy (with some exceptions). Here are the best not to miss for foodies in Chiang Rai:
1. Khao Soi Gai Nong (Coconut Curry Noodle Soup with Chicken Leg) – The classic favorite Chiang Rai food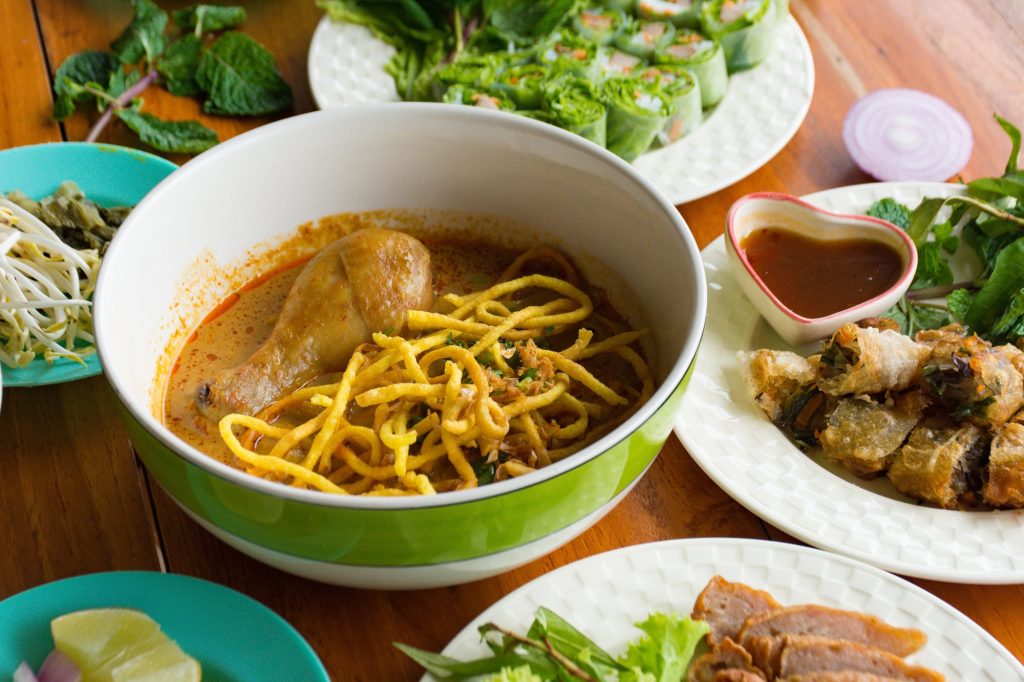 You won't want to miss this northern Thai specialty in Chiang Rai. The spicy coconut curry and tender meat of the chicken leg are just so good. Coupled with crunchy egg noodles and a dusting of coriander, and the addicting combination is complete. Khao Soi also comes with a side serving of red onions, lime, and pickled cabbage.
Also thinking of going temple-hopping and eating here for an awesome day out in Chiang Rai? Check out this trip with a local to make it happen!
2. Sai Ua (Northern Thai Sausage) – The Chiang Rai food to buy for your friends and family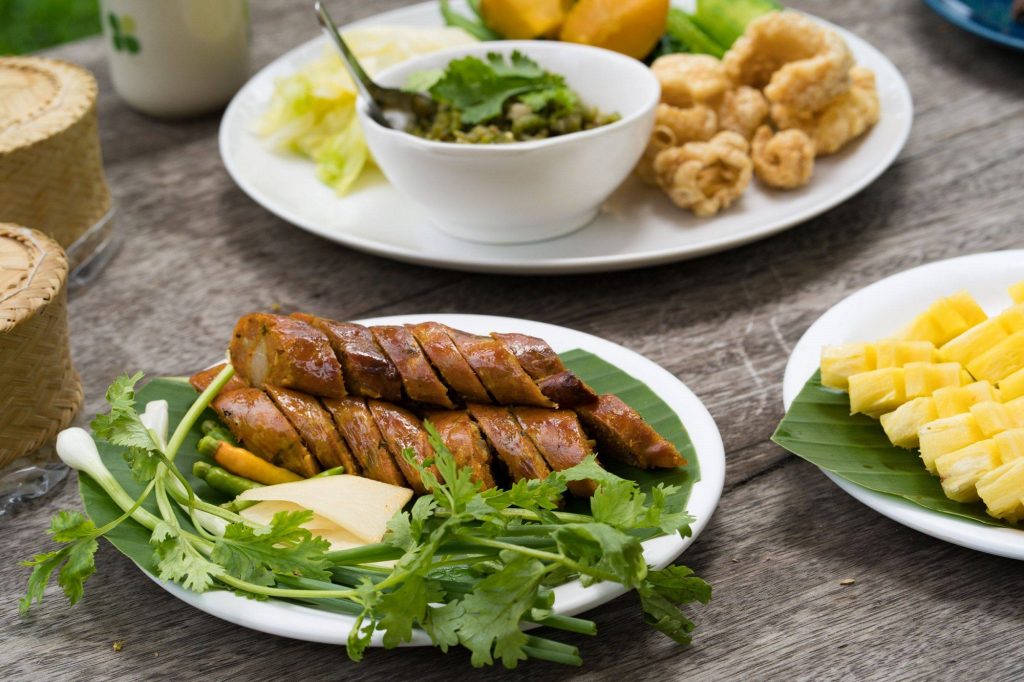 This flavorful grilled sausage is another Chiang Rai food that you simply can't miss. Minced pork meat is mixed with curry paste, herbs and spices to create an explosion of flavors that will satisfy all your taste buds. The best part is you can find Sai Ua in shops as well if you want to buy them to take back home. Refrigerate them, and they can last for up to a month!
3. Naem (Fermented Sour Sausage) – The next food souvenir to bring home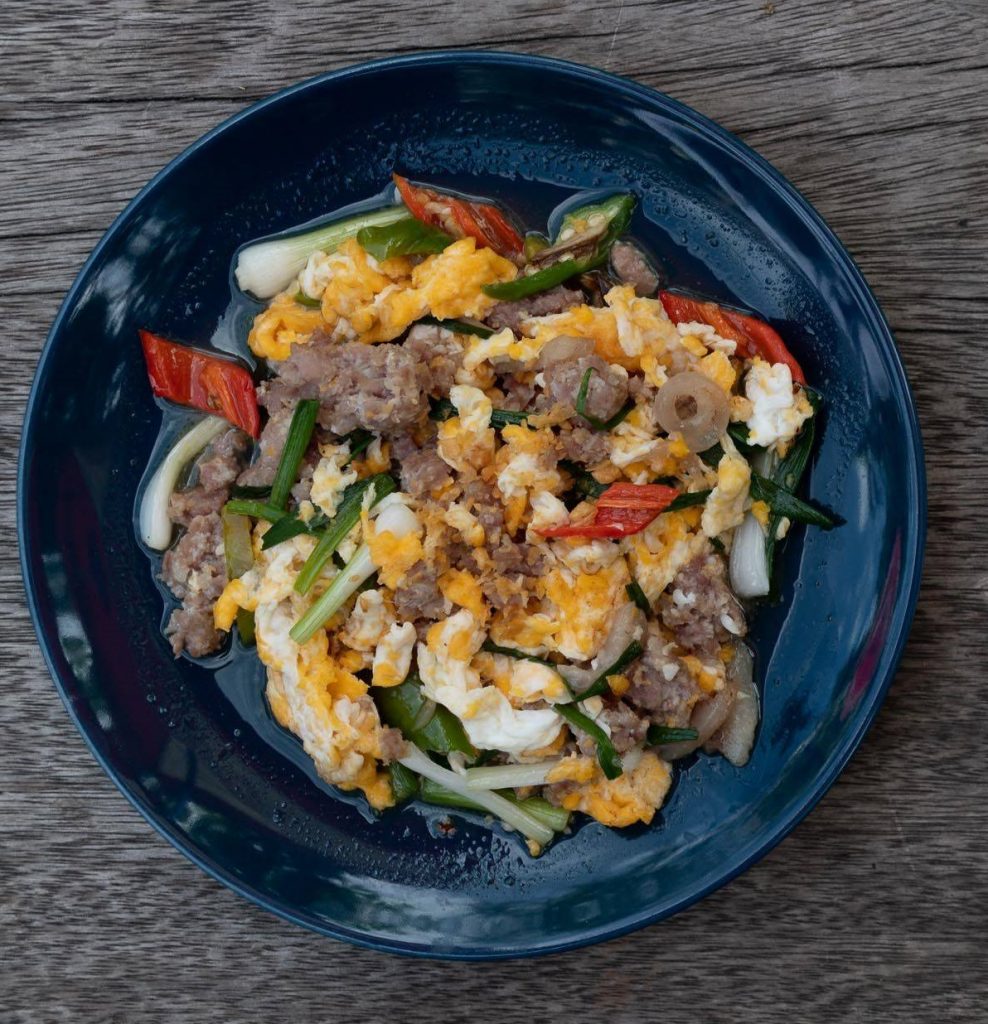 More of a fan of sour food instead? Then, Naem should be right up your alley. It's usually made with ground pork, sometimes beef, along with garlic, chilies, salt, sugar, and glutinous sticky rice. The mixture is then left to ferment for about three to five days. Locals like to eat Naem raw, often with ginger, shallots, chilies, and spring onions. You can also eat it cooked, and stir-fried Naem with egg (pictured above) is definitely a must-try!
4. Nam Prik Ong (Tomato and Pork Chili Dip) – The appetizer you need to order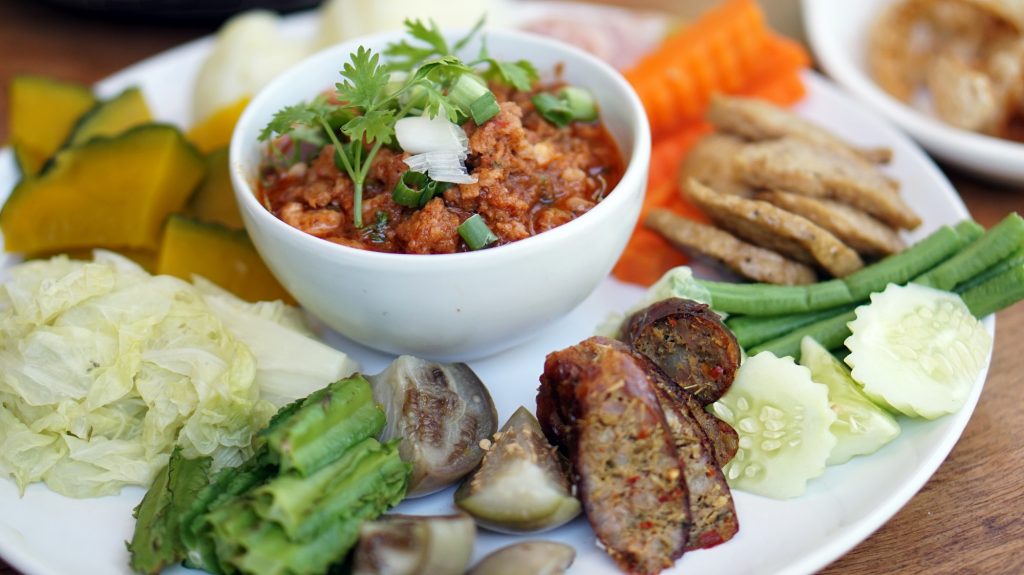 Don't let the fiery red look fool you! Usually, Nam Prik Ong is actually not so spicy at all. The chili tomato paste mixed with minced pork is also nicely sweet and a little sour. Eat it with pork crackling, and you probably can't stop snacking on it! You can also use it as a dipping sauce for Sai Ua, Naem and vegetables.
Also, if you're looking for a fun day out to get your appetite going for all these amazing foods, check out this awesome day trip that takes you from the hot springs to visiting hill tribes in Chiang Rai.
5. Nam Prik Noom (Roasted Green Chili Dip) – The second appetizer to order
This is the spicier alternative to Nam Prik Ong, and so worth trying! The green chili used in Nam Prik Noom is abundant in Northern Thailand. Usually, the chilis are pounded with garlic and shallots in a pestle and mortar, along with other seasonings such as palm sugar and fish sauce. It's super tasty, so get some pork cracklings or sausages and dip in!
6. Larb Muang Moo (Northern-style Minced Pork Spicy Salad) – The unique twist on Larb to build your Thai taste pallette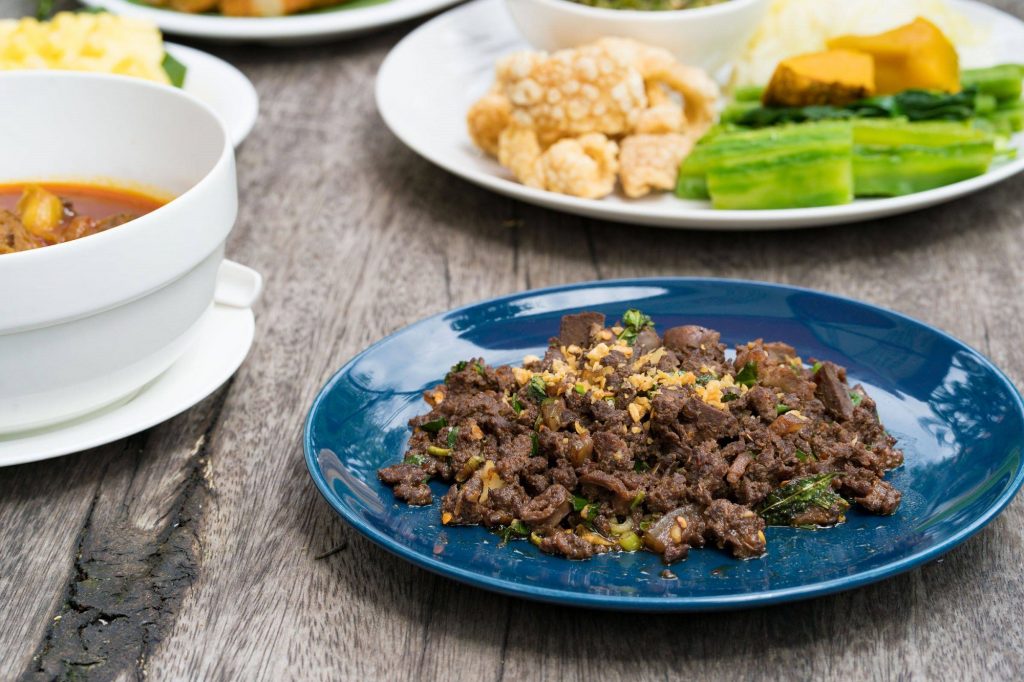 If Larb makes you think of the fresh sour and spicy pang of the Isan-style Larb (which is popular all over Thailand), then the northern-style Larb will be very different from what you're used to. With Larb Muang Moo, you get a more subdued flavor with dried spices, and the pork blood in the sauce might not be for everyone. However, you can eat a version of it stir-fried and without pork blood called Larb Moo Kua.
7. Khanom Jeen Nam Ngiao (Spicy tomato soup with white noodle) – The unique soup in Chiang Rai to try at least once
I was pleasantly surprised to taste tomato in this bright red soup, as was the case with Nam Prik Ong. It's also mildly spicy with minced pork balls and jellified pig's blood. This might be an acquired taste for some, but it's one of the popular local dishes, so be sure to give it a try!
8. Gaeng Hung Lay (Northern Thai Pork Curry) – The Chiang Rai food locals love to cook at home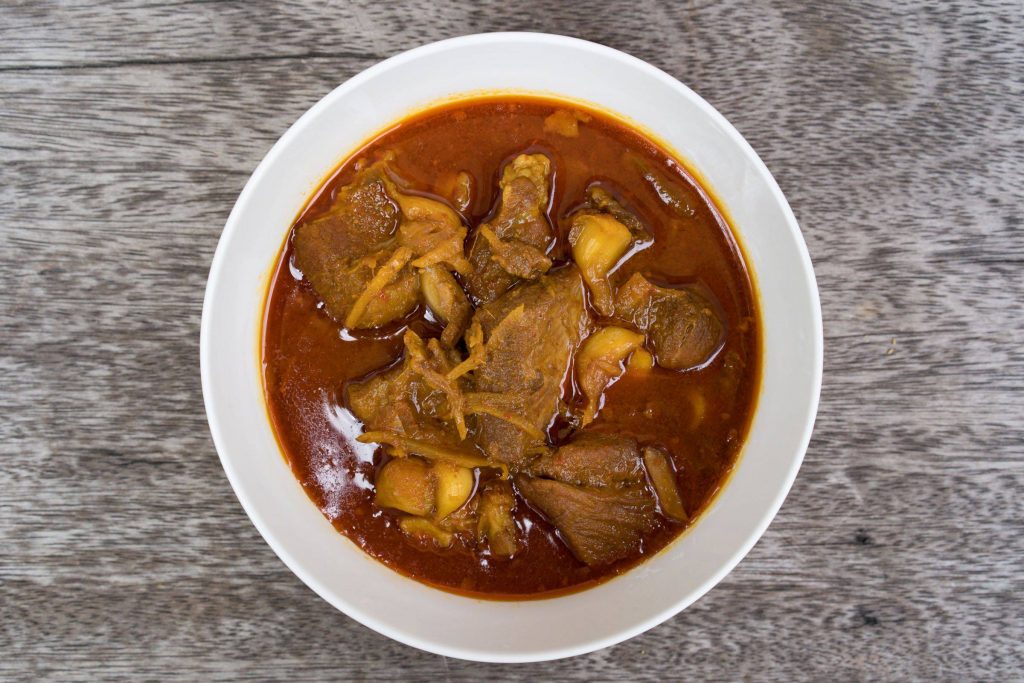 This can easily become my comfort food if I stayed longer in Chiang Rai. With the succulent large chunks of stewed pork and the rich spices and herbs in the curry, I have nothing to complain about. Also, fun fact: Gaeng Hung Lay was originally from Myanmar, which Chiang Rai borders, and the dish had Indian influences on it too.
Talking about homes, why not visit a local one? Enjoy a lovely day out cycling in the countryside village for a deeper look into the lives of Chiang Rai people and some gorgeous scenery.
9. Gaeng Kae Gai (Spicy Sesban Soup with Chicken) – The soup to feel some fire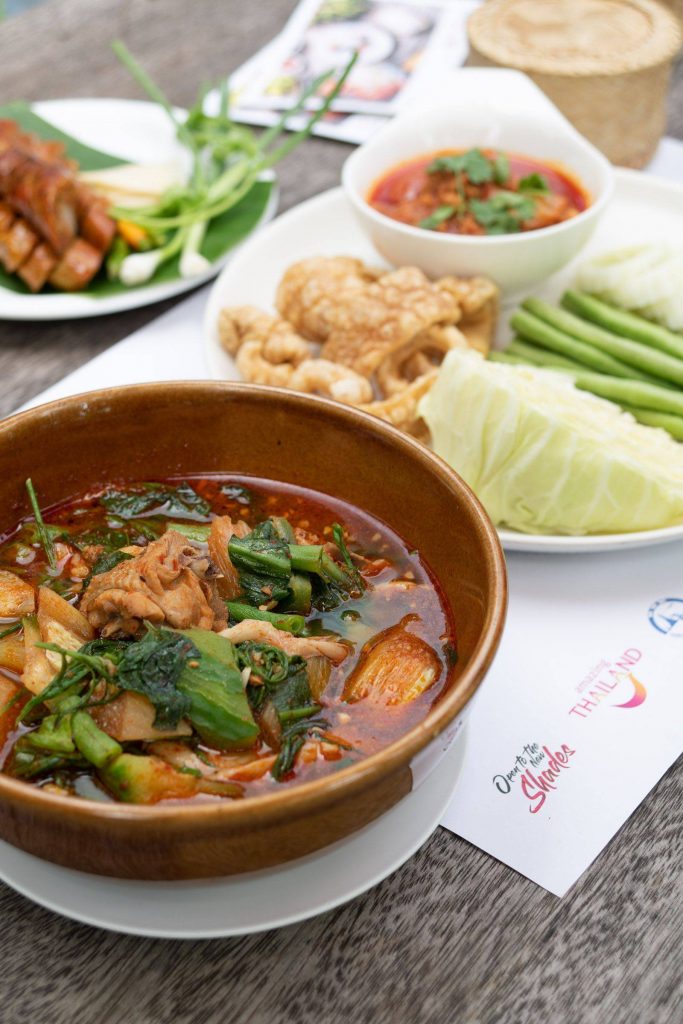 Wanna spice it up a bit? Then, you might like Gaeng Kae Gai. It's a spicy and savory soup with chicken and vegetables. It's also common to add yellow sesban flowers into the soup. Though it's not the most memorable, if you're looking to get your fill of proteins and vitamins, then this is a good choice.
10. Joi Yor Sod (Northern-style Fresh Spring Rolls) – The light finger food you need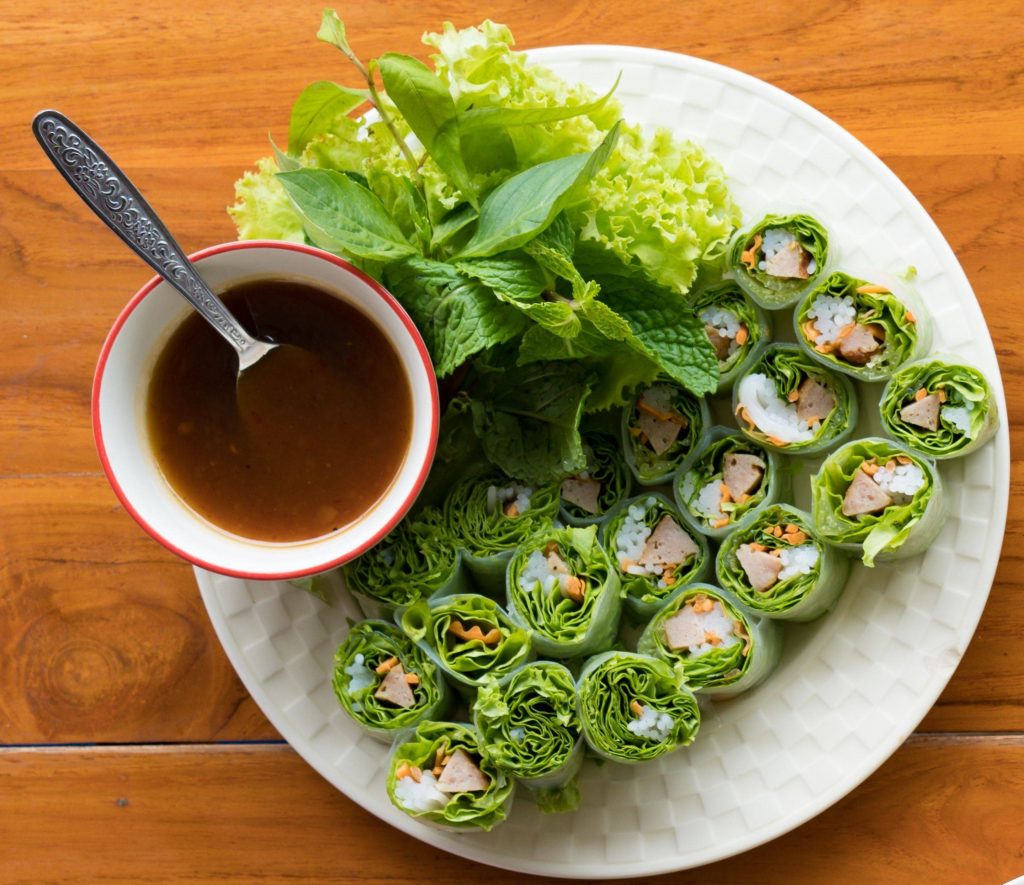 Who doesn't love some good old spring rolls? The locals in Chiang Rai also can't get enough of them. Joi Yor Sod makes a super tasty finger food, and you'll be finishing all the rolls before you know it. The pork, fresh vegetables, and rice noodle go just right with some good chili sauce.
11. Cha Pu Moo Yang (Grilled Pork Wrapped in Wild Betel Leaf) – The side dish to your Khao Soi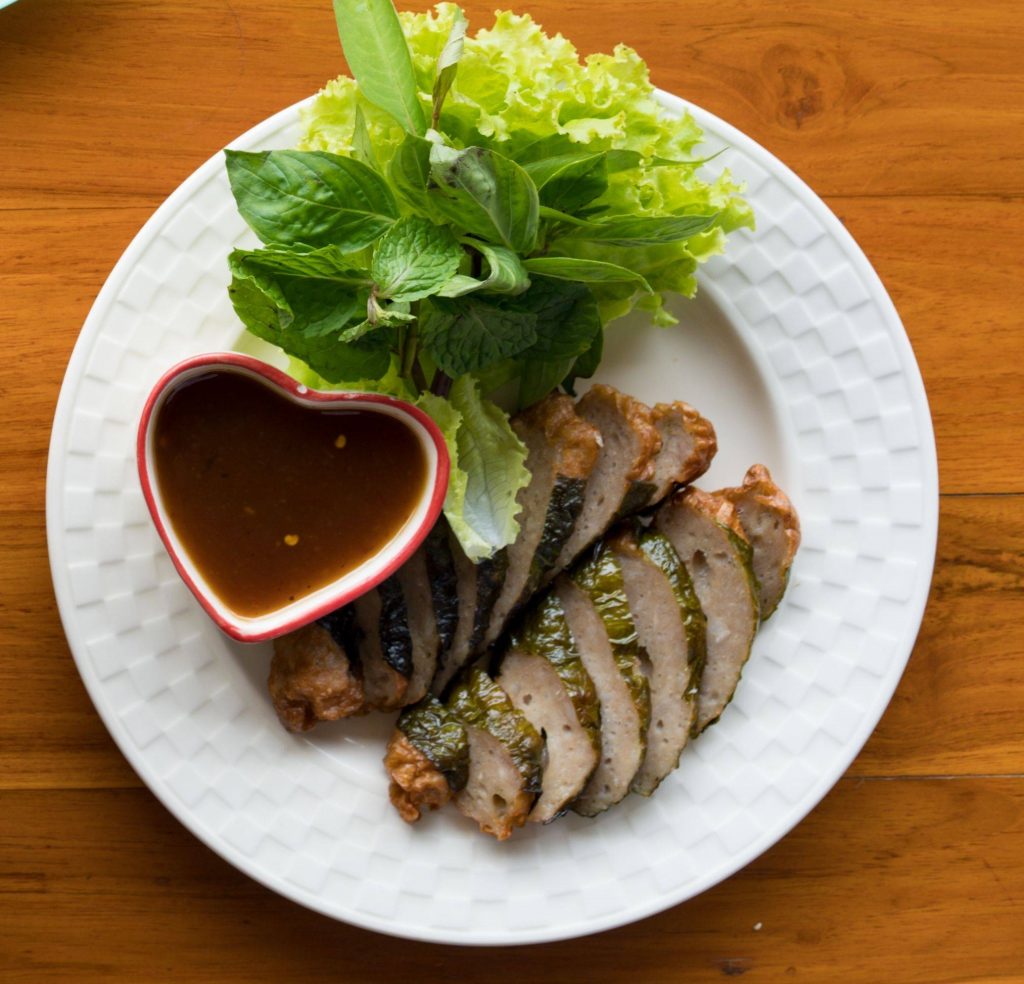 Here's a little something different from your typical grilled pork, or moo yang, in Thailand. In Chiang Rai, you can also find the grilled pork wrapped in betel leaves. The leaves add another level of smoky aroma, and you have to dip it in the chili sauce like the locals for the best bites. If you're looking for an appetizer or snack before a big meal, then Cha Phu Moo Yang should fit the bill!
12. Phulae Pineapple – The Chiang Rai Popsicle
View this post on Instagram
Keep your eyes out for these tiny Phulae pineapples! Refreshingly sweet and crisp, these are perfect whether you're out temple-hopping or finishing a meal. Buy a couple when you see them in the local markets or chance on any street carts that sell them. Trust us, one won't be enough.
Where to Eat: 5 Best Restaurants for Authentic Chiang Rai Food
1. Khao Soi Vijittra (Baan Do Branch)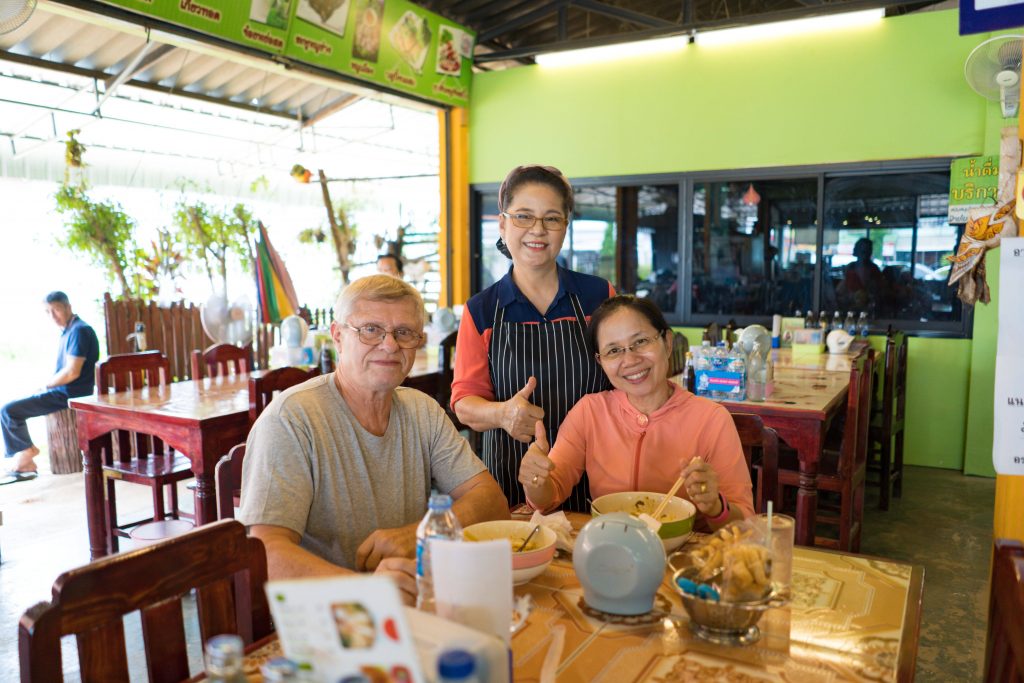 If you're wondering where to find the best Khao Soi in Chiang Rai, then you need to go to Khao Soi Vijittra. This family-run business has been a household name for years. Besides the famous Khao Soi, you should also try the Khanom Jeen Nam Ngiao while you're there. The homey atmosphere is lovely too.
Opening hours: 9:00 AM – 3 PM
Contact: 089 744 4143
Address: 1 14 Trairat Rd, Tambon Wiang, Amphoe Mueang Chiang Rai, Chang Wat Chiang Rai
2. Salungkham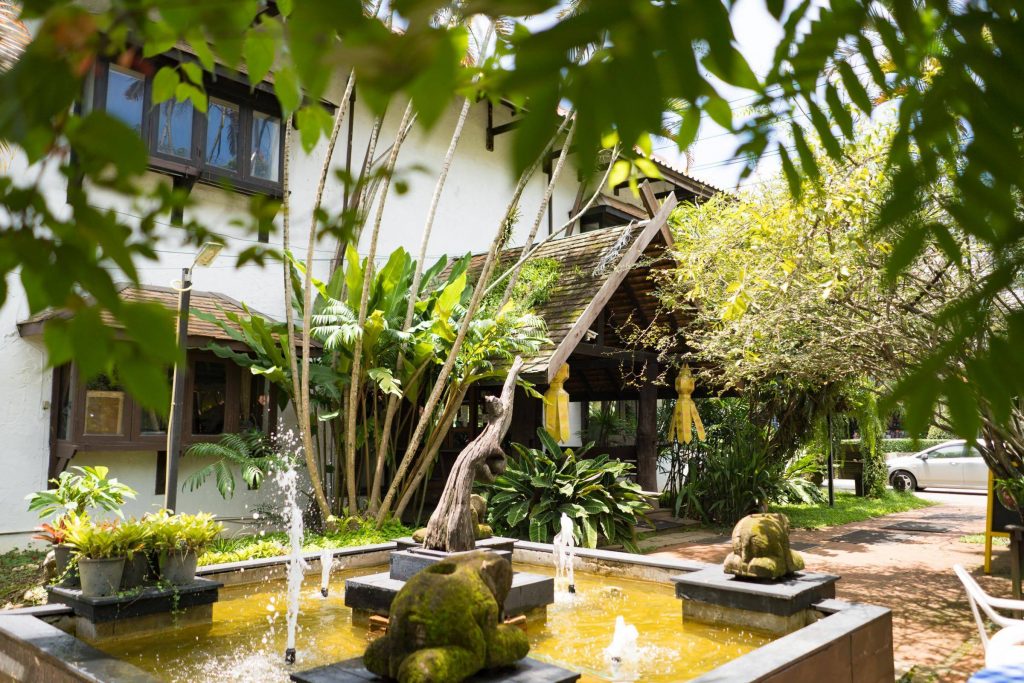 You'll be in food heaven here for sure. You can find many of the best dishes in Chiang Rai here. Don't miss ordering the Sai Ua, as theirs are homemade and just a delightful bite after another. If you're looking for the best place for a family meal, then make sure to stop by Salungkham.
Opening hours: 10:30 AM – 10:00 PM
Contact: 0 5371 7192
Address: 834/3 Phahonyothin Road, next to the Krung Thai Bank, Ha Yaek Branch
3. Sawan Bon Din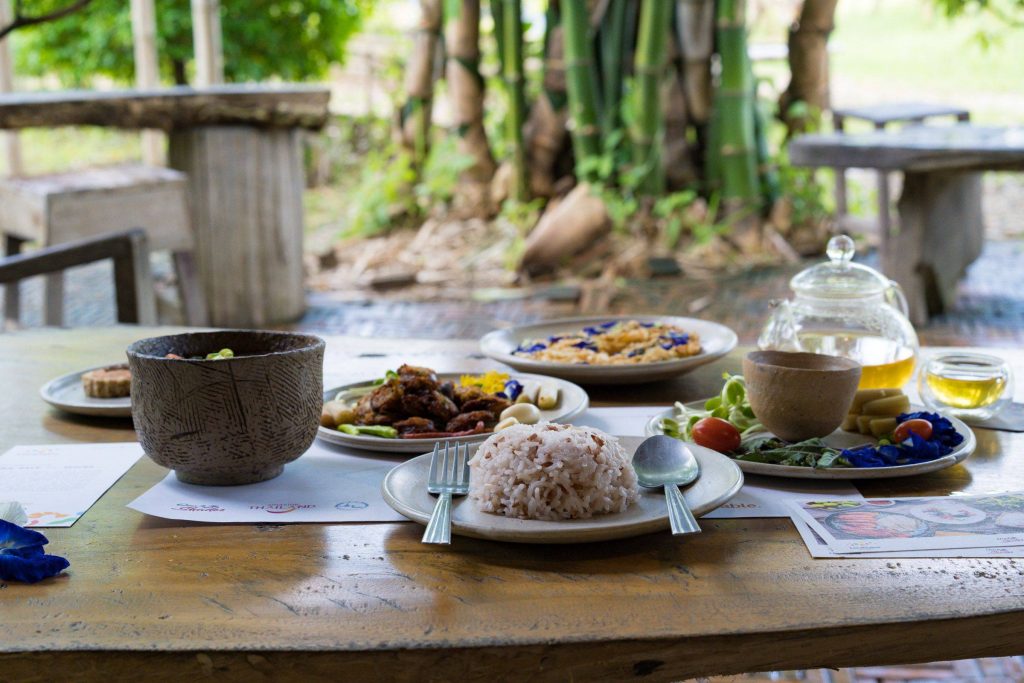 Spend a relaxing day out at an organic farm here and you'll feel like it is heaven on Earth (as the name says). The food here is made with fresh ingredients from the farm, with the special touch of rose and butterfly pea petals. Be sure to check out their signature herbal teas too.
Contact: 052 086 995
Address: 171/12 Moo 4 Soi 1 Rim Kok, Mueang Chiang Rai
4. Larb Sanam Keela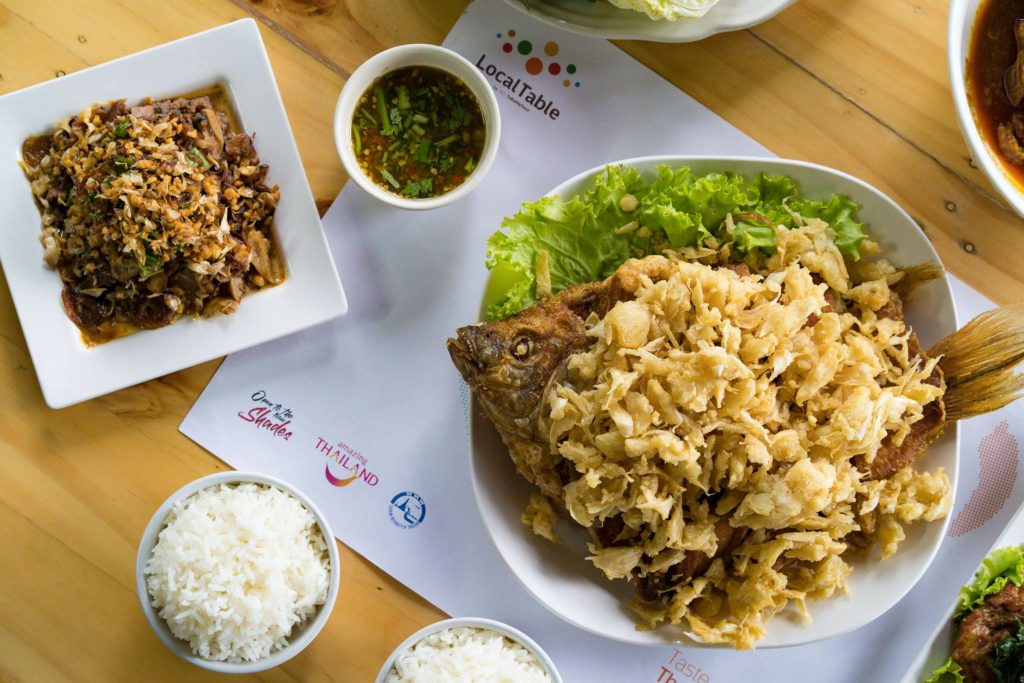 If you want to try the best Larb in town, then this is where to go. Their Gaeng Hung Lay is also worth trying. The owners of Larb Sanam Keela pride themselves in making delicious home-cooked food that will leave you happy and full.
Opening hours: 10:00 AM – 9:00 PM
Contact: 087 173 2498 , 080 134 7877
Address: 123 Moo 22, Tambon Robwiang, Amphoe Mueang Chiang Rai
5. Janchay Restaurant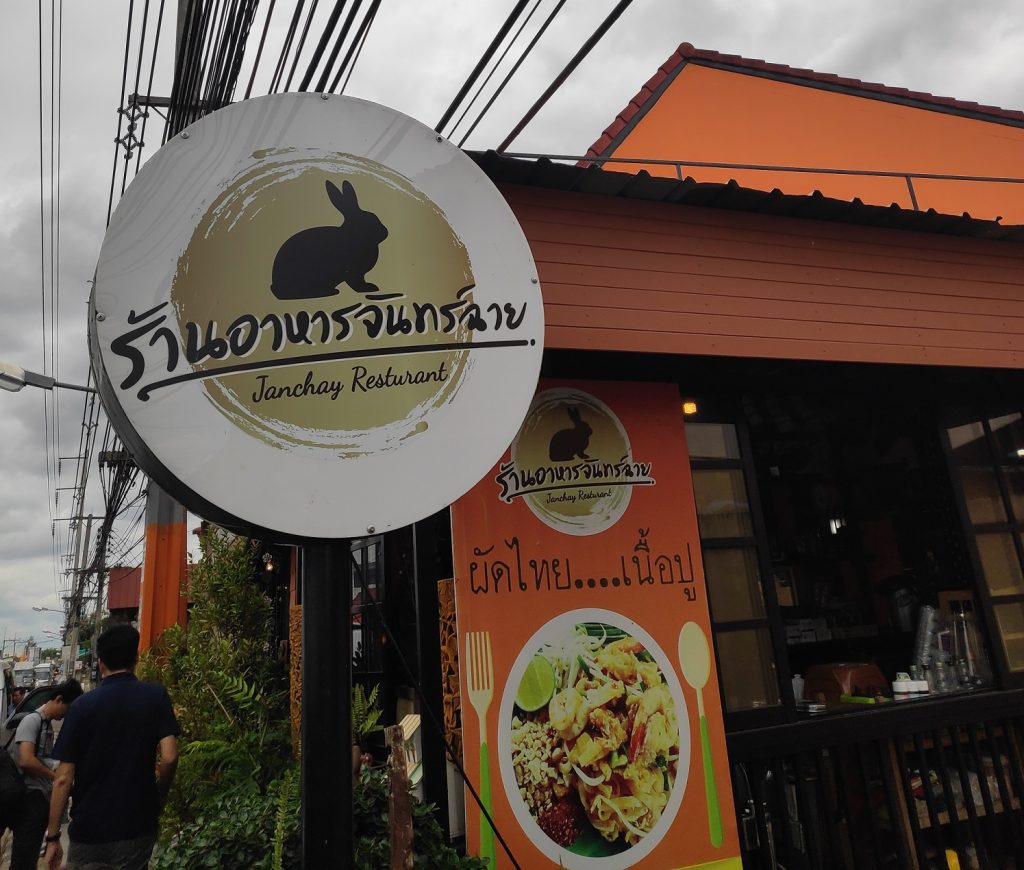 With its popping bright orange walls and old country Thai music, the atmosphere at Janchay Restaurant is already full of charms. Most importantly, the food definitely delivers. Each of the classic dishes in Chiang Rai is tastefully done, and you can also chat with the friendly owner too.
Opening hours: 9:00 AM – 11:00 PM
Contact: 080-1223395 , 053-781322
Address: 383/2 Moo 2, Tambon Wiang, Amphoe Wiang Pa Pao
Looking for more foodie guides in Thailand? Be sure to check out our ultimate list of Thai noodle dishes to add to your food bucket list!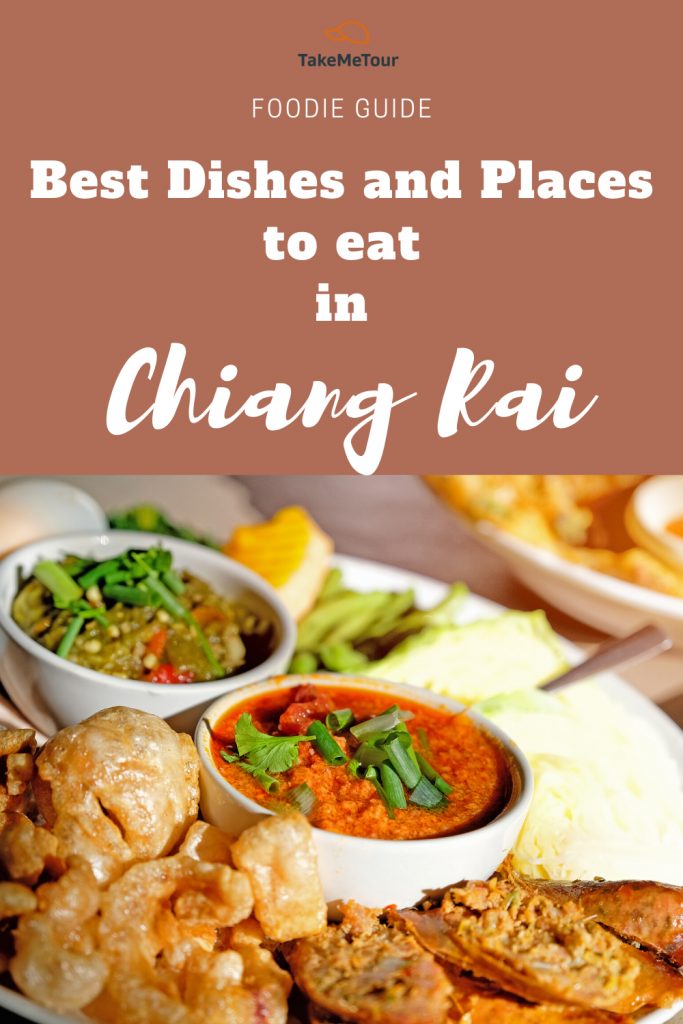 Comments
comments