Good Day,
Decomber is coming right around the corner, and it's time for Christmas and New Year celebration. Today, I would like to introduce you to these traditional Thai sweets. As you might already know, Thai people love sweets. That's why there are so many kind of Thai sweets and desserts since the old time, ones that are real authentic and ones that were derived from other cultures. Flour and coconut are the most important key ingredients of the original Thai desserts/ sweets.
Let's take a look at these sweets I've picked for this week's content 🙂
---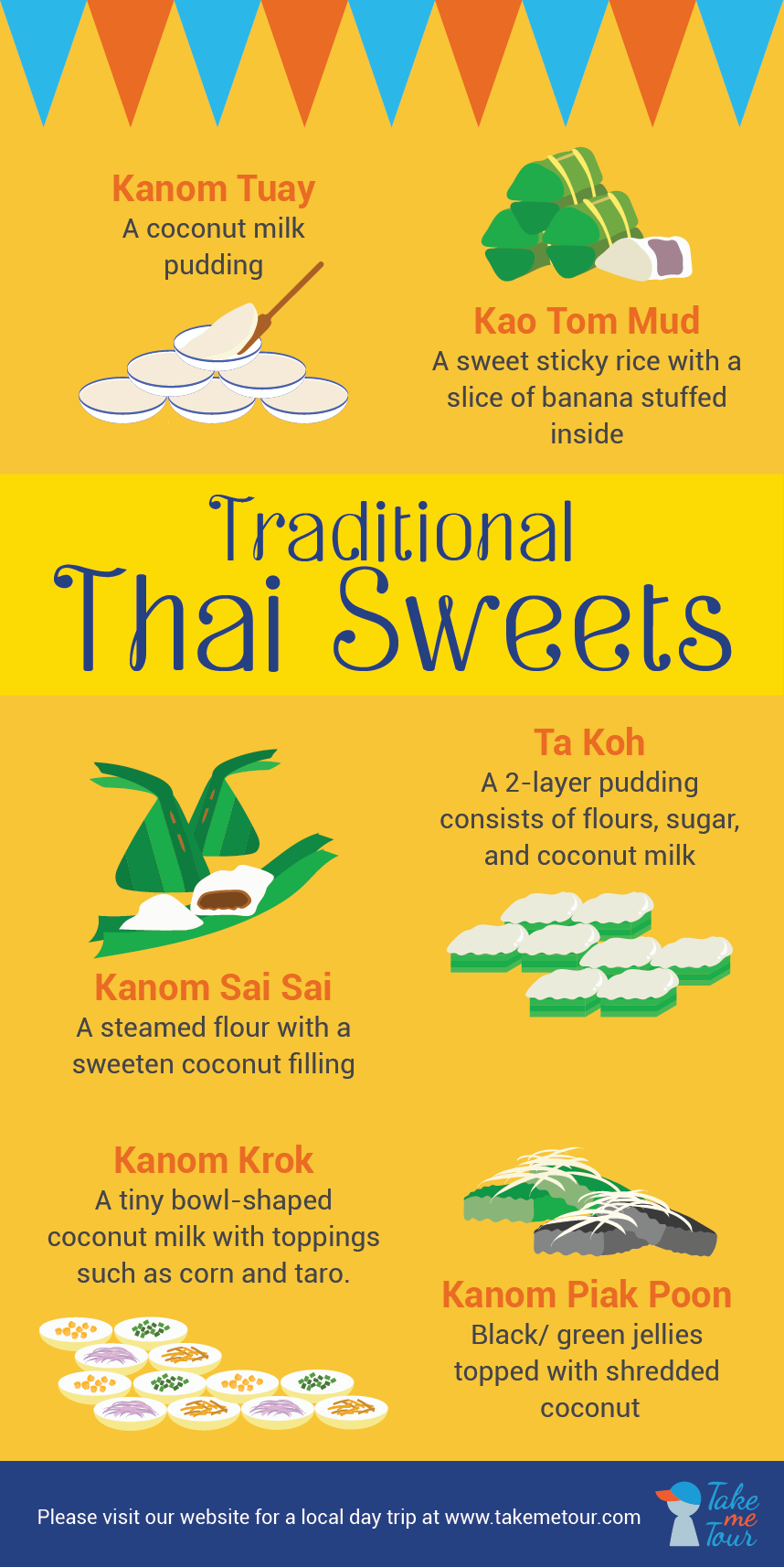 1. Kao Tom Mud
The notorious Kao Tom Mud, consisting of coconut milk, sticky rice, and a filling (banana, black bean, or taro), is so delicious and chewy. There is a saying that Kao Tom Mud symbolizes a couple life since they usually pair two Kao Tom Mud together and tie with a bamboo stripe.
2. Kanom Tuay
Kanom Tuay is made of flour batter and coconut milk. It has 2 layers; the bottom layer is a sweet and the top layer is rich and has a touch of saltiness.
3. Kanom Sai Sai
This Kanom Sai Sai used to be one of Thai sweets Thai people made for a wedding ceremony in the past. It's made of flours, coconut, and its milk. As you see, Kanom Sai Sai is wrapped with banana leafs and pinned with a wooden pick, then, it goes to the steamer and steam until it's cooked. :9
4. Ta Koh
Ta Koh has 2 layers just like Kanom Tuay, but it's smaller, in bite-size piece, and it's filled in a rectangle-shaped banana leaf. Some people put yam, taro, corn, etc, onto the bottom layer of Ta Koh, before another layer added. Also, natural food colors such as Pandan green or Butterfly pea blue are used for the bottom layer.
5.  Kanom Krok
For me, this little Kanom Krok is a sweet version of Takoyaki lol….but it doesn't have to be rotated and created a round shape, when making. This cutie tiny pancake is known as Serabi in many country like Indonesia, Laos, etc. Kano Krok is made from a batter, consisting of rice flour and coconut milk. Many Thais love to add corn, shredded taro, or diced pumpkin on top of Kanom Krok too.
6. Kanom Piak Poon
Nowadays, it's a little hard to find a place that makes a good Kanom Piak Poon. The key ingredients of Kanom Piak Poon are limewater, flours, and coconut. Thais use Pandan leafs, Butterfly pea, and roasted coir to create different colors of each Kanom Piak Poon.
---
These traditional Thai sweet treats can be found almost at every market, especially floating markets.
If your would like to explore around Bangkok for a day, please, visit this link to check out all the day trips.
or take a look at this link, if you would like to book a day trip for free. Grab it fast while it last 😉
Have a great day,
Ciao
Comments
comments