When traveling on an oversea trip, using transportations like the subway and bus is a super common thing to do. But here in Thailand, there's a great chance that you need to re-picture your whole idea of public transportations, because you might have never seen these before anywhere else! So, if you'd love to get a real local feel, let's learn more about them and ride on!
1. First Thing First, the Most Iconic "Tuk Tuk"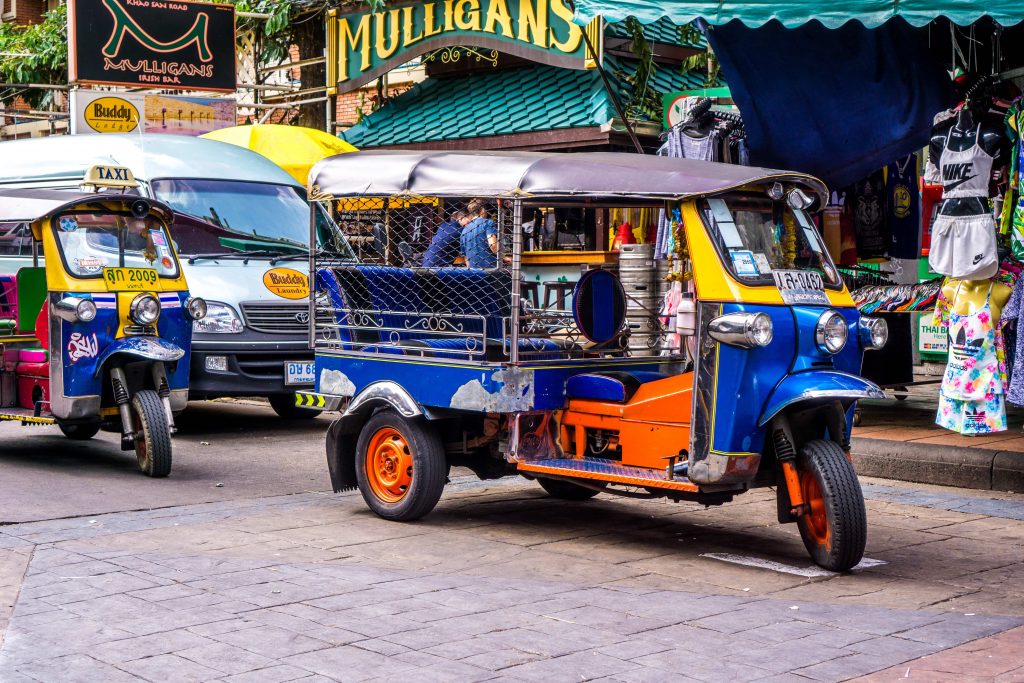 How could anyone miss a Tuk Tuk ride when coming to Thailand? This iconic ride was even our Miss Universe costume before! This three-wheels actually originates from the famous trishaw during World War II. We started calling them Tuk Tuk since the engine sound went a bit too rough. Well, even when the engine is more advanced than those days, it is still loud. But, that is what makes a fun adventurous ride, isn't it? Sometimes the rider goes super extra and lifts the front wheel! (Many love it, though it is super dangerous).

If you're a party lover, loads of Tuk Tuk are decorated with neon lights and loud EDM music is turned up. However, a Tuk Tuk ride is a bit more expensive. So, most of the time, people are hopping on it for a fun short ride, not travelling to another district, of course. This iconic three-wheel can be easily found in most tourist attractions. If your budget spending is not too tight, you can even hire a 1-day Tuk Tuk and roaming around town.
Price: THB 30+
Location: BTS entrance or stairs / the city's downtown
Good: a fun ride for a group / unique experience
Bad: only found in touristy area / quite expensive
---
2. Scoot Around Town on a "Morcy"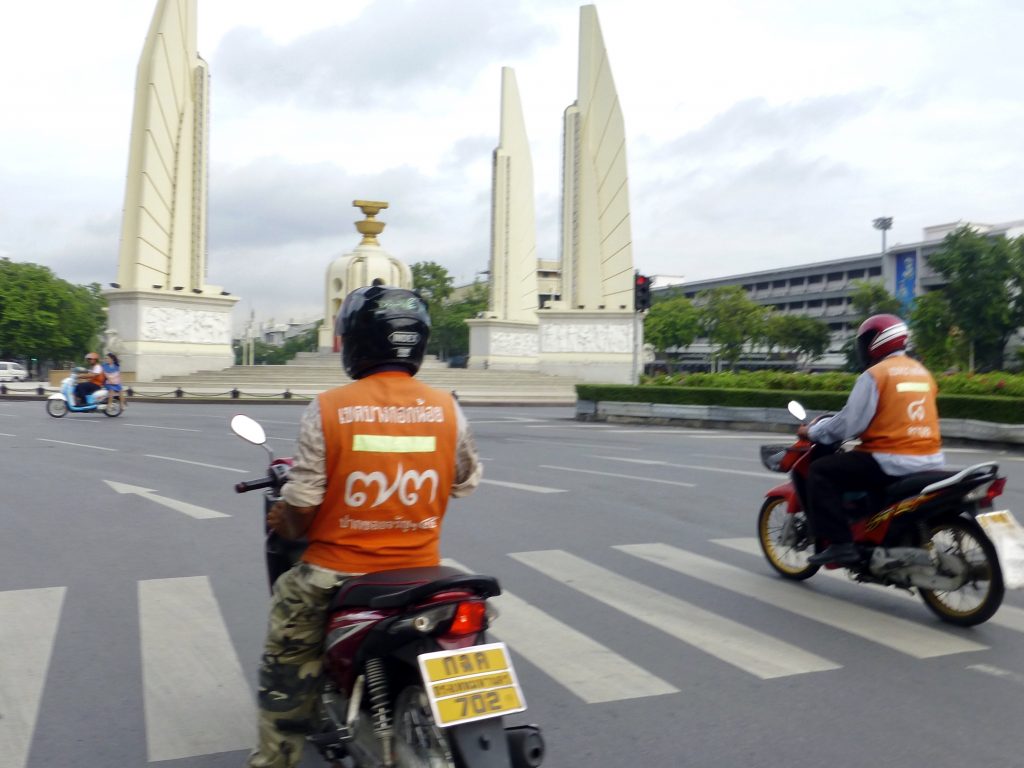 This is the life saver for local Thais since our traffic is way more than intense. This motorbike or what we call "Morcy" (to shorten it for some reason) can glide through the narrow space between cars. So whilst people get stuck at the end of the street, these scooters can zigzag their way through to the front of traffic lights! Many save their time by hopping on Morcy and getting off at the subway instead of driving all the way to the destination. As a visitor, this is one good way to locally explore the city!

Well, there is no standard price at all, it is commonly up to the rider's prediction on distance and traffic. However, the price is usually cheap, starting around 15 baht. We must also need to tell that don't ever wave and call the scooter on the street, because not everyone is working as a rider. Look for the one wearing an orange with the number on the back!
Note: Make sure you wear the helmet just to be safe. Plus, holding the rider's shoulders is sometimes better than holding the seat rail (most riders won't mind passengers doing this).
Price: THB 15+
Location: Alley front, BTS and MRT entrance, or just wave for the one riding on the street
Good: super fast, very cheap
Bad: Needs safety measures, only 1 passenger per morcy
---
3. See Bangkok from the Top: BTS Skytrain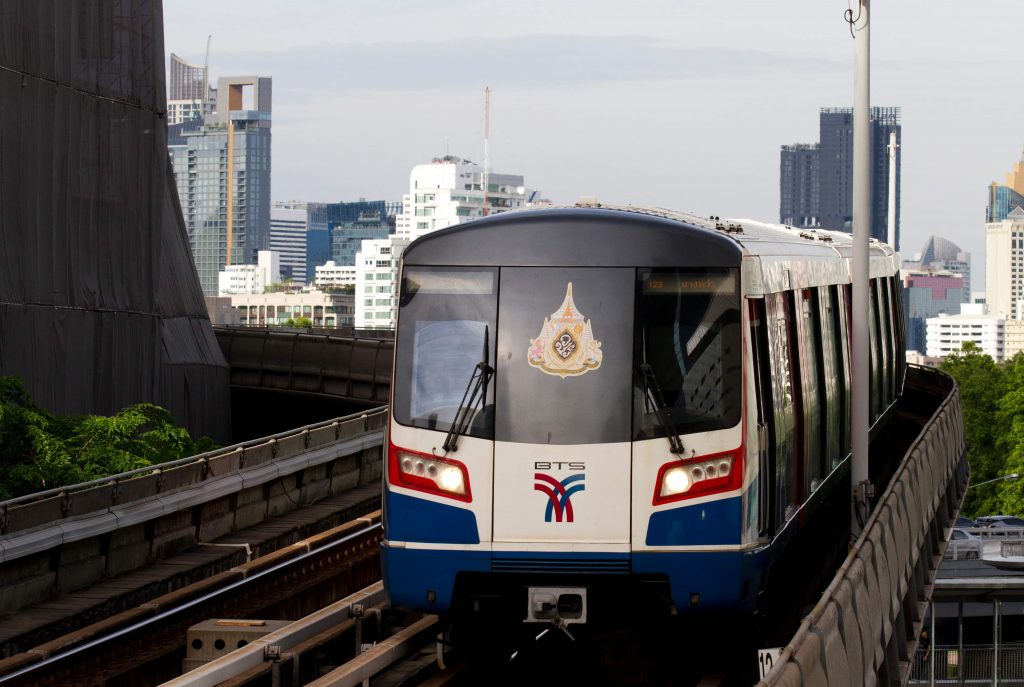 We quite believe anyone who plans on having a trip to Bangkok will prolly have heard of BTS Skytrain. We could say it might be the fastest and most convenient way to travel around town (if you're visiting Bangkok's highlights). The trains come often, and the best thing is that it has AC! So, if you have been on a walking journey amidst Thailand's summer, the skytrain might be another heaven. It is likely that the most important landmark has a BTS station nearby. Still, it is better to drop yourself off at the BTS because it is timesaving, and it might only take you around 20 minutes from the outskirts to the centre! The only (a bit) annoying part you need to be prepared for, is that most ticket machines only accept coins. So, you might need to exchange your bank note or purchase tickets at the selling booth. Buying a BTS card is also an easier choice.
Note: If your accommodation is right next to the BTS, or you plan to use skytrain as a main transportation, we suggest you get a trip-ticket. You can purchase from 15 to 40 trips, and it will cost you way less than buying each ticket separately and you don't need to keep buying a new one every time you travel!
Price: THB15-THB55 per trip
Good: fast, convenient, can cool off with an AC, reasonable price per trip
Bad: does not access outskirt area, gets packed in rush hours
---
4. Gets Float On the Way: Long-tailed Boat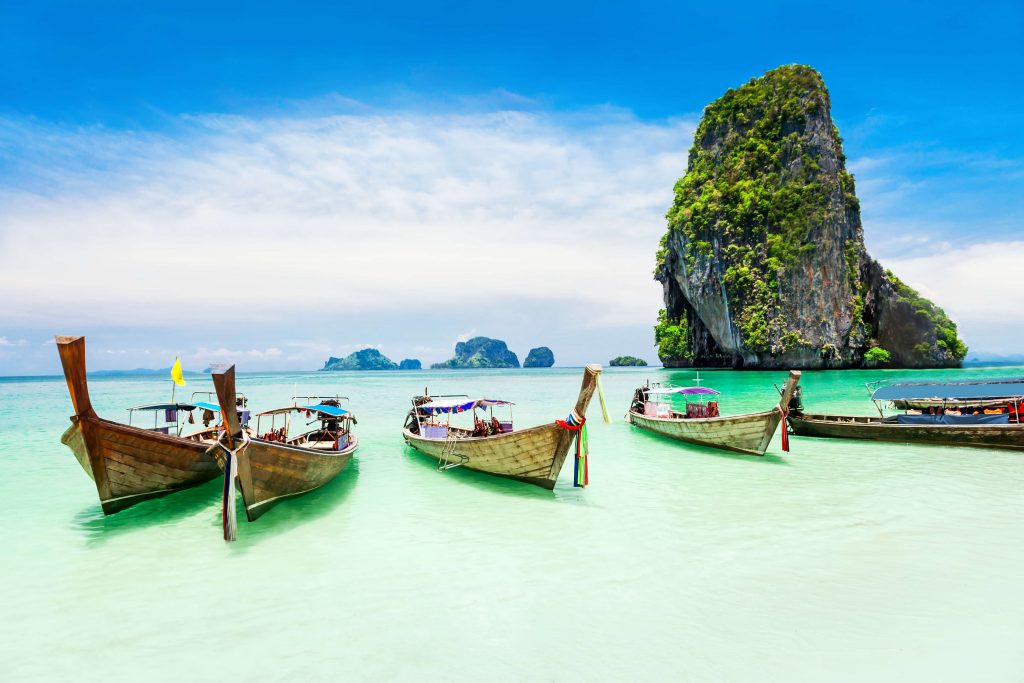 Believe it or not, you don't need to travel all the way to the southern islands just to hop on this! Long-tailed boats or "Ruea Hang Yao" are one of our local rides that can be found throughout the country. Still, the top destinations that people use this ride for central Thailand are at Chao Phraya River, floating markets, and canals. Though you can find this type of boat in other parts of Southeast Asia, we Thais have quite a long history. World's first long-tailed boat was built here at Singburi in the 1930s, and it is vastly used till these days. Using the traditional wood, many sailors go further by paying respect to the spirit of the boat, and hang the garland on its tail.

If you're coming to Bangkok, and the old town on Rattanakosin Island is in the list, Ruea Hang Yao is your way to go! It is way faster, and you get to see the stunning view of Bangkok's landmarks along the way. A number of locals who live just next to the riverside also hop on this daily, as their main way of transportation.

Note: It is safe though it's pretty much wobbly. So if you're not an adventure fan or get motion sickness, a long-tailed boat might not be for you.
Price: THB 30+ (normal ticket) / THB 1000+ (hourly group hire)
Location: Bangkok's pier along Chao Phraya river, Thonburi Canal, floating markets, beaches and islands hopping
Good: a fun ride for a group / unique experience / see views along the way
Bad: You might need water resistance if you're on a long-tail boat for the island trip.
---
5. Skip the Long Walk and Hop On a "Songthaew"
Songthaew literally means 2 rows. And, this is because the passengers sit on two sides of the car back. This ride is super popular in Chiang Mai. The locals usually call in Rod Daeng or Red Car, since these Songthaew in Northern Thailand are mostly in red for some reasons. They are usually found in the alley in a big town like Bangkok, instead of the main road. However, in other provinces, they are pretty much everywhere. A little reminder, a songthaew is random. Unlike the skytrain and bus, their route might be a bit all over the place and they did not just come at schedule. It is quite up to the riders and where their passengers want to be dropped off. Plus, the price is not fixed, up to the distance.
If you love danger, Songthaew has the two spot at the back where you just stand and hold the rail! However, if you book an island hopping tour in the south and the tour company promises to pick you up, there is a high chance that you will be picked up in a Songthaew as well (though, sometimes they come in a bus)!
Price: THB 8+
Good: extremely cheap / super local,
Bad: A little bit awkward, if you don't like staring at the opposite passengers/ no schedule
---
If you are coming to Thailand, don't forget to add these rides to your plan. They might make your OTW time more fun and exciting! We promise you will actually find all of them. However, be prepared that some might just come and go in a bit of a random way. Also beware that if the price has gone up too high and things smell a bit fishy, don't just hop on and pay! Plus, if you come as a group, getting a one-day ride and share the cost can be a brilliant idea. A whole day of fun ride and a cheaper cost!
Photo Credits:
Songthaew by Phillip Roeland, BTS Skytrain by Nathan Rupert, Morcy by David Berkowitz
Comments
comments