Everyone knows that Thailand has three seasons: Summer, Rainy, and Winter. But, the thing is the temperature during our wintertime is 30 degrees celsius … So, let's say we have summer all year round. Well, what are the good points of this? First, you can enjoy your beach day and sunbathing session anytime. But the most important part is that the hot days bring us our endless choice of icy Thai desserts!

Today, we'll let you discover what are our top traditional iced desserts that can be found here in Thailand. So, you can put them on a checklist and do not miss them when you are here!
Top 5 Thai Iced Dessert You Should Not Miss!
---
1. Thai Snow Cone "Nam Khaeng Sai"
Since our weather is super hot, let's start off with something that will get you the brain freeze! Nam Khaeng Sai is another version of shaved ice dessert that is usually made with the traditional ice shaver. If you have ever tried the famous Korean Bingsu before, we could say that this is pretty much similar. However, Thai Snow Cone's texture is less grained. So, each bite is a little more crunchy!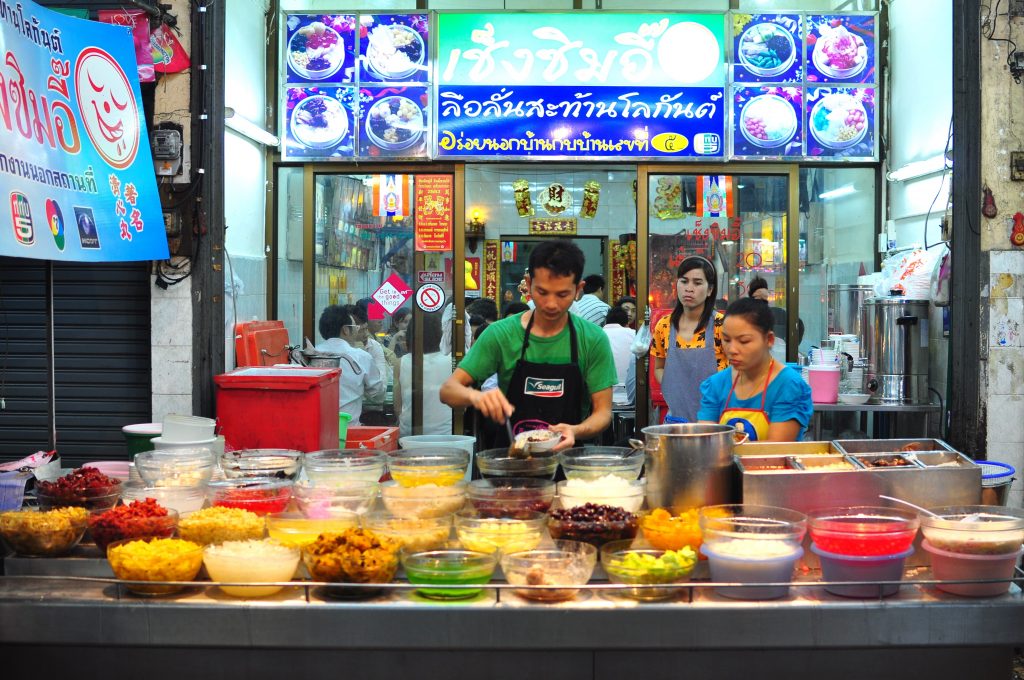 But, what makes them different from one another? This dessert is one of our favorites, since you can actually choose all the toppings you like. Plus, most dessert shops (or even the street stall) have endless choices of toppings from bread, gummy, fruits, to even different flavours of syrup! So, be creative and find out yourself what are the best combinations of taste.
Note: If you are not up to mixing your own ingredients, the most basic Nam Khaeng Sai usually has is just the snowcone with red Hale's Blue Boy syrup and bread. Enjoy!
Price: THB 20+ (not including toppings)
Where to find: Street Stalls, Flea Markets, Chinatown, (You can also find Thai Snow Cone in the shopping mall as well e.g. the food court zone, but noted that not all of them sell the authentic one)
---
2. Coconut Milk Ice Cream (Itim Kati)
If you're a sweet tooth, this dessert might be for you! Itim Kati is very mellow and can actually fill up your belly. Though there are not so many toppings for this, we Thai usually side the icecream up with 4 things: sticky rice, roasted peanuts, frozen corn, and jackfruit. We know, these ingredients seem like they wouldn't go together with the dessert. But, you just gotta try, so you know why we love them so much!

Keening to eat a more fancy version of Itim Kati? Some of the shops go further and actually make their own Coconut Milk Ice Cream! The easiest way is to look for the one using a coconut shell as a cup. And, we can say that this is super heavenly, as you can scoop the coconut meat! Since Itim Kati is easy and unmessy to eat, it's the perfect choice of dessert you could eat whilst you enjoy a shopping spree on a hot day.

Note: Some vendors mix the peanuts inside Itim Kati, so make sure to check that in case you've got an allergy.
Price: THB 15+ (not including toppings)
Where to find: Street Vendors, Markets (Chatuchak Market has one of the nicests, too!), Homely Thai Restaurants
---
3. Thai Ice Pop (Itim Lhord)
Itim means Ice Cream and Lhord means tube. This pretty much sums up what this dessert is like! We believe that you will have tried a fab before. And yes, Thai Ice Pop is quite similar and they are what the local Thais grow up with, too. However, this traditional Itim Lhord is made in a super unique and local way. Well, you will mostly see them being sold in the middle of a hot market. But, where do they freeze them up? The answer is we don't really freeze them at all! Here, the vendor will put the ice cream tube in a stainless bucket, add the ice and salt in (to keep things cold). Then, start spinning the bucket till the iced pop is frozen.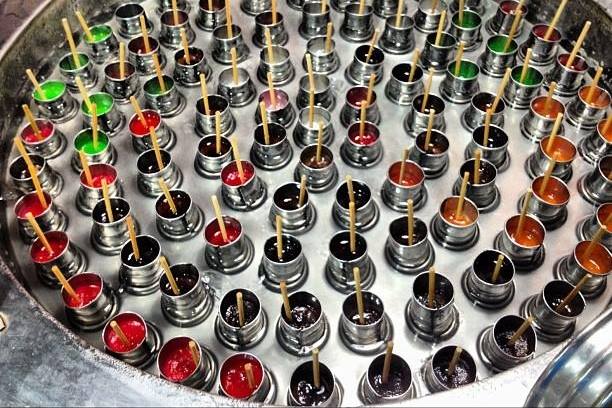 It is quite a complicated technique, but this shows that we don't need a fridge just to enjoy the dessert! This delicious Itim Lhord comes in every flavour you might like, from coca cola, strawberry fanta, to even sprite! Plus, they are very cheap. So, you can enjoy as much as you like.
Note: Thai Iced Pop melts quite fast. So, let's eat it in time before it falls off the stick!
Price: THB 3+
Where to find: They are mostly found in fresh markets and flea markets.
4. Thai Black Jelly (Chao Guay)
Thai Black Jelly or Chao Guay actually originates from China. However, they are super popular and can be found across every local alley here in Thailand. Many believe that Chao Guay can be good for health as some add the herbal ingredients like ginkgo, red bean, and longan. Eating with shaved ice, Thai Black Jelly is the great choice for the tropical weather. Instead of cutting Chao Guay into cubes, some shops decide to thinly slice them and create a refreshing drink menu!

These days, loads of vendors also go a little more extra. So, you can choose various types of syrup, from Thai Milk Tea, Matcha, to the snow cone we mentioned! If you'd love to save it for later, there are those frozen ones in the supermarket as well. (But freshly made one is still our best, of course)
Note: If you are not a fan of sweetness, don't be afraid to ask the seller to add less brown sugar and syrup.
Price: THB 10+
Where to find: Street Vendors, Market, Chinatown (a great place to try the authentic Chinese version), restaurants, shopping mall food court
---
5. Lod Chong (Pandan Noodles)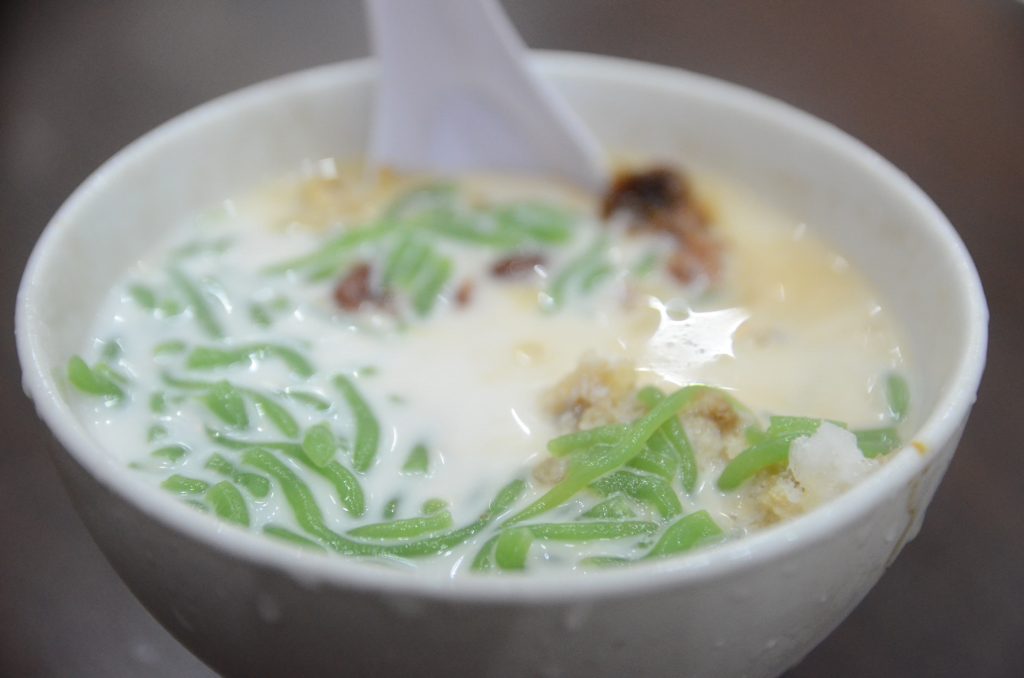 Don't get scared of the green noodles, because they taste way better than they look! This dessert menu can be found across Asia. However, different regions usually have different recipes. The traditional Thai Lod Chong usually has the ingredients of "Pandan", the green fragrant tropical plant. This amazing scent makes the dessert even better apart from the taste. Most of the time, Thais eat the pandan noodles with shaved ice. However, cube ice is also fine, too. Just anything to keep it cold basically. We suggest your first try is to eat Lod Chong alone. But, if you found the taste becoming your new fave, let's top the bowl up colorfully, with black sticky rice, taro, and cantaloupe.
Note: You can also try Lod Chong Singapore (here in Thailand) as well. The pandan is clearer and more chewy, a different kind of delicious taste!
Price: THB 20+
Where to find: Street Vendors, Market, Thai Restaurants (Lod Chong Wat Jed is super famous, so give it a try!)
---
Now that you know how to get refreshed with the delicious Thai dessert, you can enjoy the hot tropical day in Thailand! There are so many more things you can try apart from the 5 menus we have mentioned. So, if you come across any new dessert, don't miss a chance in tasting them, since you might not be able to find the dish anywhere else. We promise that (nearly) all of them are heavenly for the sweet tooth lovers!
---
Photo Credits: Lod Chong by Alpha, Nam Khaeng Sai Vendor by Karen, Nam Khaen Sai by Kanko, Itim Kati by Insatiablemunch, Itim Lhord, Itim Lhord Bucket, Chao Guay by Maanow

Comments
comments