Hello, fellow travelers!
Planning to come to Thailand this October? Get ready to be a part of Thai-Chinese Vegan Festival aka 'Tesagan Gin Je', watch many parades and unusual performances, and enjoy eating lots of vegan foods. You can read more about this celebration, please click this link.
Today, I would like to share you one of the most popular vegan snacks that you will probably find them almost every corner in town. They are called "Khong Tod Je," which is literally mean deep-fried vegan snacks. There are many kinds of Khong Tod too, but let's see what are the most classic ones Thai people have all the time 😉
---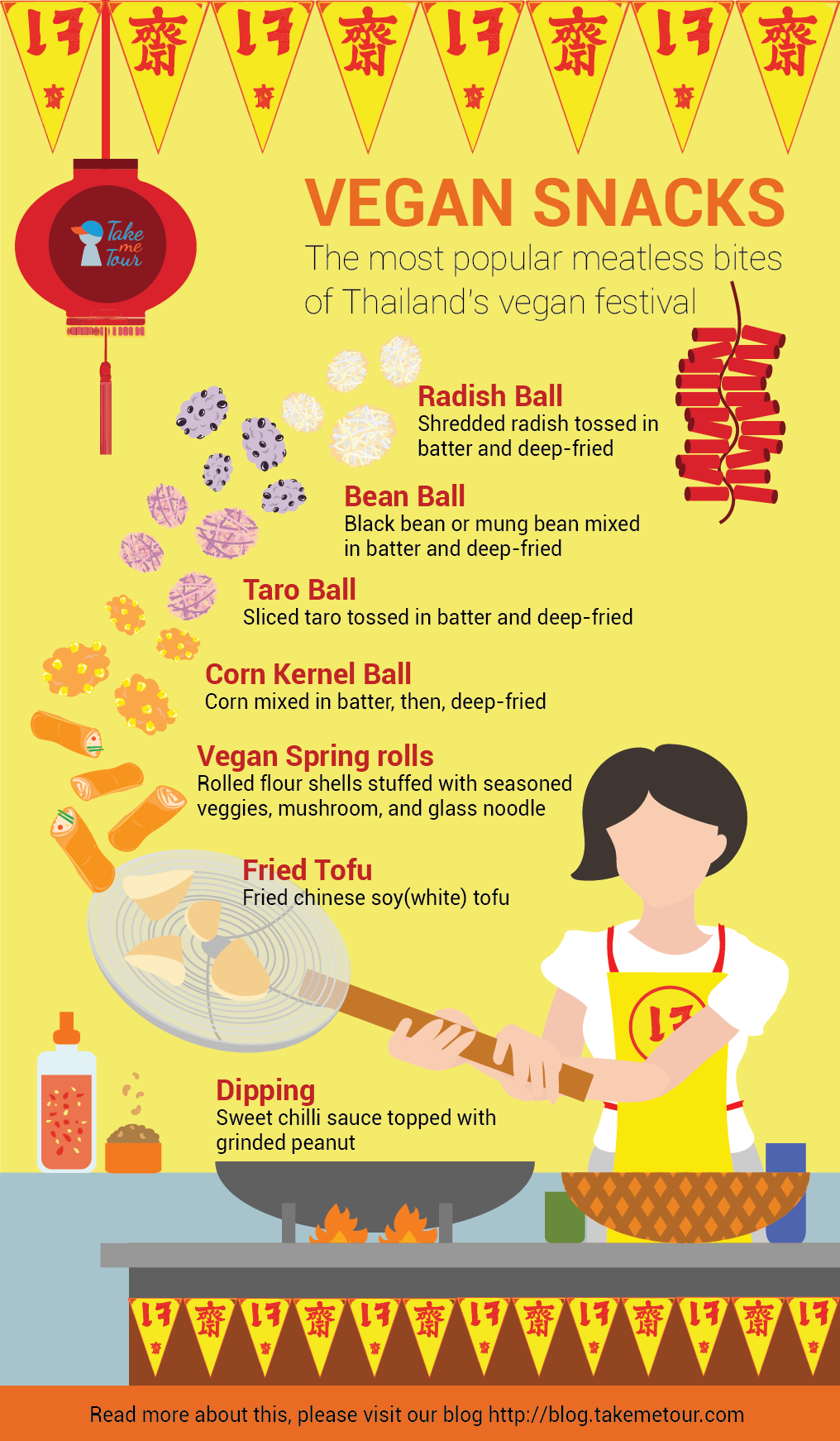 Yes, these 6 kind of meatless snacks are the most famous and you will definitely find vegan food stalls or venders everywhere.
I forgot to mention one thing that during Tesagan Gin Je, all vegan foods are made from special kitchenware (which mean that they are kept and cook for vegan dishes only; works kind of the same as Halal food, so no meat, no dairy products, or any animal-related goods.
To tell to the truth, some people gain more weight due this period since most vegan dished are made not only with lots of veggies, but also tons of carbs lol A couple years back, Thai people came up with a creative way and took vegan foods to another level by making meat-look-alike ingredients (mostly from soy beans.) Hahaha sound weird right? Taste, smell, and texture? Almost the same as the real things…You will be surprised… The purpose of these faux meats was to help not only Thai-Chinese devotees, but also normal folks, like us, to have better taste and enjoy these vegan meals throughout the period.
What happened after that? these ingredients made a big hit. More people enjoys vegan foods. That's why some people have extra pounds added to themselves helplessly hahaha.
Let's get back to what I was going to talk about….yeah 6 popular vegan snacks….
Radish Ball (Hua Chai Tao Tod)/ Bean Ball (Thua Tod)/ Taro Ball(Phuak Tod)/ Corn Kernal Ball (Khao Pod Tod)
The process of making is the same. You shred/slice each ingredient, mixed them in a bowl of batter, form balls with spoons, then, deep-fried till they are all golden brown. The result? Crispy and crunchy on the outside, but tender and aromatic on the inside. Eat them while they are hot…hmmm yummy
Vegan Spring Rolls
Spring rolls are all the same, but what make them unique and different are fillings. For vegan version, the most popular filling is made from stir-fried chopped vermicelli(glass noodle), shredded cabbage, carrot, and wood-ear.
Fried Tofu
This one is simple. You only need to know where you can find a good soy tofu from a market. With 2 steps of cooking, cut into bite-size pieces and deep-fried until golden brown. I personally enjoy this snack a lot. Don't forget to eat them while they are still hot
Dipping
There is only one sauce to enjoy with these snacks, the sweet chill sauce topped with crushed peanut. It's the same kind with the dipping called 'Num Jim Gai' that paired with Thai-style fried chicken, but this sauce are made for vegan. If you are allergic to peanut, then, tell the vender "Mai Roi Thua" or "Mai Ao Thua."

---
Have you ever tried these vegan bites? Tell me what you think of them and let me know if you are interested in a place I usually buy these snacks during Tesagan Gin Je in Bangkok
Hope you enjoy this content
Stay Sweet
Comments
comments