Greeting, fellow travelers!
This is my second part of Loy Krathong contents which I would like to talk about how Loy Krathong is celebrated differently in each region. These four are major happenings. Please note that different provinces have different ways to celebrate Loy Krathong. They aren't necessarily the same.
Let's see what are the 4 major differences of Loy Krathong in Thailand 🙂
Don't forget to check out my first Loy Krathong content here
---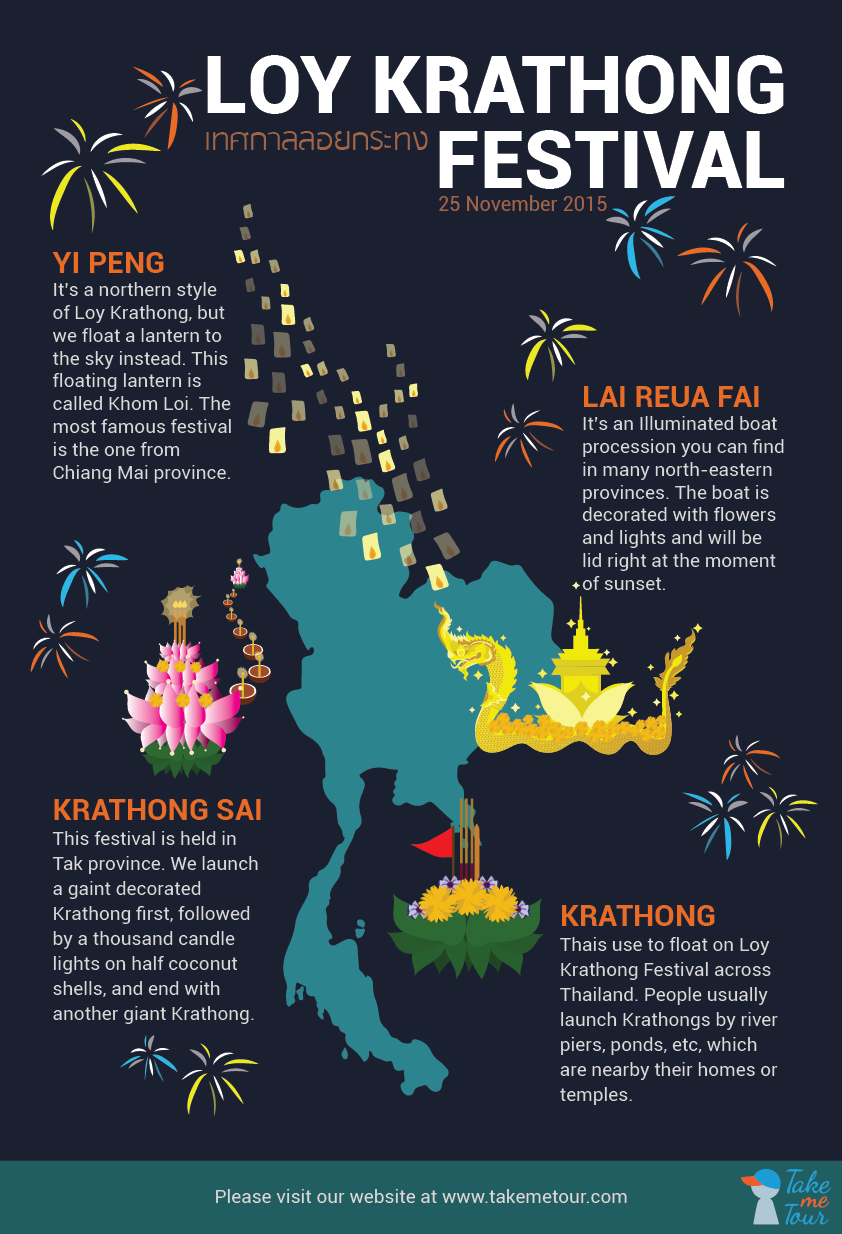 1. Yi Peng (ยี่เป็ง)
This festival is derived from the old Lanna (northern Thai) which people launch tons of floating lanterns, called Khom Loy (โคมลอย), to the sky. Khom Loy works the same as a hot air balloon. Nowadays, there is a restriction about launching these Khom Loy since they might obstruct an airplane's vision or catch fire somewhere in a neighbourhood nearby. The most popular Yi Peng is the one in Chiang Mai. Loy Krathong and Yi Peng are celebrated at the same time, so the whole town is flooded with illumination since during this period, everyone will also decorate their houses and temples with beautiful lights.
2. Lai Reua Fai (ไหลเรือไฟ)
'Lai Reua Fai' or "Lai Heua Fai" (in local dialect) is a northeastern illuminated boat processions which used to celebrate in many provinces in north-eastern region (aka Isan region). Today, only some provinces still conduct this festival in order to preserve the old tradition. Nakhon Phanom has been holding this Lai Reua Fai annually and attract tons of tourists to Thailand during this period. The illuminated boat, once, used to make out of banana tree or bamboo and decorated with beautiful flowers, joss sticks, and candles. Thais now use wood and many man-made materials to create the boat. At the moment when the sun set, all the lights on the boat are lid. The boat is then launched and make a spectacular display.
3. Krathong Sai (กระทงสาย)
The event is conducted at Tak province. The different of Krathong Sai is that they will float a giant Krathong to lead the line, following by a thousand candle lights on coconut shells (launch one by one to create a beautiful line of lights), and then another giant Krathong at the end of the line.
4. Loy Kathong (ลอยกระทง)
The most common way to celebrate Loy Krathong individually is to join an event nearby your home and your love ones. Many Thai people like to float Krathongs at a temple, since there usually will be a temple fair nearby.
---
So… where would you like to enjoy Loy Krathong Festival at? These events are the most popular ones, but I would say each province has their own unique way to celebrate this festival. Don't forget to plan your trip now as Loy Krathong is coming soon. Trust me! you don't want to miss this joyful event 😉
What do you think? Please, share us your wonderful Loy Krathong story and let us know what your thought are on this year's Loy Krathong Festival…
Stay Sweet
Comments
comments