"Is this thing really edible?" Of course! "They looks gross!!"
Trust me you should definitely need to try these weird Thai foods that looks so questionable, since you are here. Let's accepting a challenge, shall we? :9
1. Teen Ghai Toon (ตีนไก่ตุ๋น/ Braised Chicken Feets)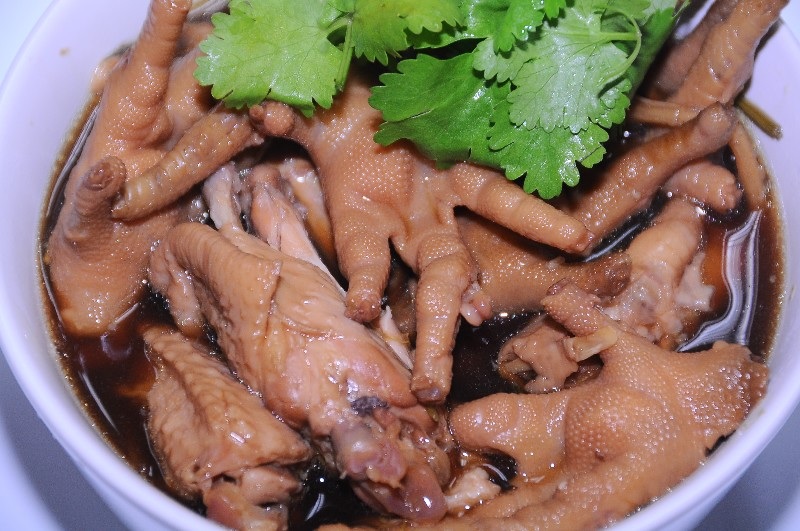 source image from pantip.com
Thai people like to eat chicken, duck, or goose feet. Chinese pot stewed ones are our favorite. Western travelers often finds these chicken feet utterly ugly and sort of scary. But, when braised, they absorb the stock and become very fragrant by cinnamon and star anises in the soup. You could say that it's a small challenge for us to suck and chew the pulpy part.
2. Pak Ped Tod (ปากเป็ดทอด/ Grilled Duck Beaks)
source image from goodmenuthai.blogspot.com
Another challenge accepting dish to try. This dish receives its popularity among local people especially drinkers. It's a fun nibble to have. The beak is marinated and deep fry (or grill) until it become chewy.
3. Yum Khai Maeng Da (ยำไข่แมงดา/Spicy Horseshoe Crab Roe Salad)

source image from payunbud.com
Never miss this dish, if you're a seafood lover. A spicy shredded green mango salad is tossed with the mantis shrimp egg. The eggs give a new texture and rich flavor to the dish.
4. Maa Laeng Tod (แมลงทอด/ Deep-fried insects)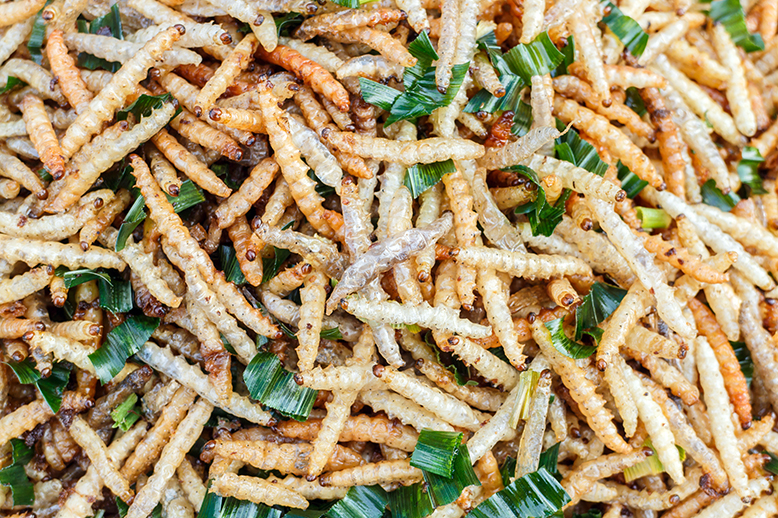 A bite-size snack you should give it a try. There are many types of insects Thai people like to snack on: crickets, grasshoppers, worms, etc. It's like eating chips though… these insects are high in protein.
5. Yum Khai Mod Daeng (ยำไข่มดแดง/ Spicy Ant Egg Salad)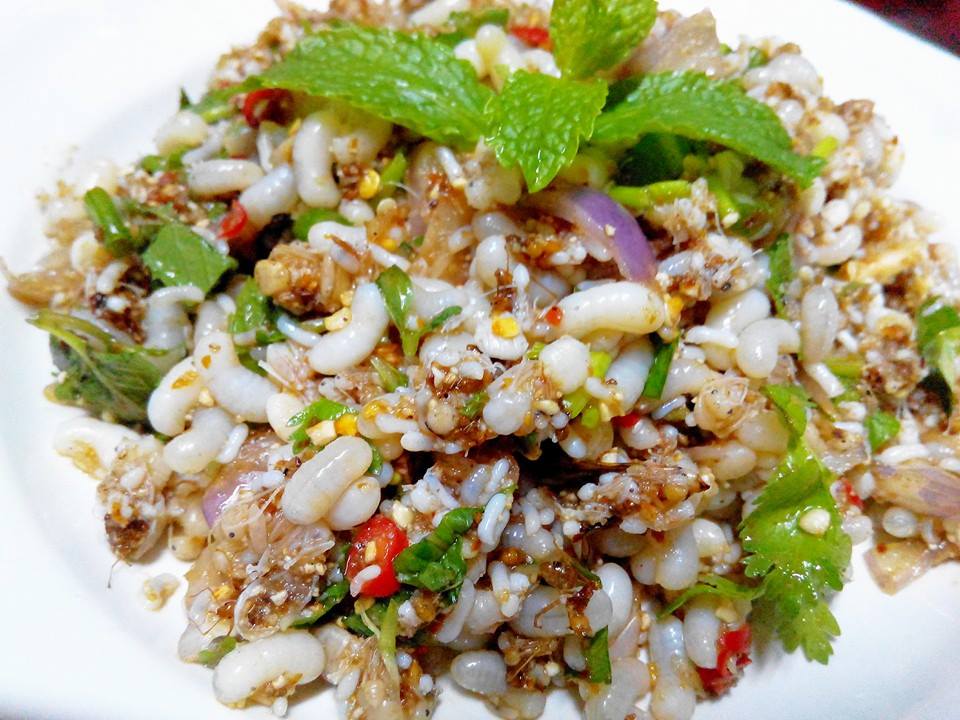 source image from pantip.com
This dish used to be so easily to find a few years ago, but it's still very popular. Khai Mod Daeng is chewy and rich in taste. You might think that these eggs aren't edible, right?
6. Kaa Kob Tod (ขากบทอด /Fried Frog Legs)
source image from manager.co.th
One of my favorite dishes. Frog legs taste exactly like chicken meat, but they are more firm and chewy. I bet you can imagine how firm the legs are since frogs always jump over here and there.
7. Khai Ngew Maa (ไข่เยี่ยวม้า/ Preserved egg)
source image from food.mthai.com
A regular duck egg is preserved and turn to this jelly texture with a dark color. By itself, its smell does't please anyone. But, when you eat it with Chinese congee or stir-fried pork with basil, it's actually very scrumptious.
8. Guay Tiew Naam Tok (ก๋วยเตี๋ยวน้ำตก /Noodle with Black Soup)
source image from manager.co.th
A very popular noodle soup in Thailand indeed. This dish is known among western countries as a black noodle soup. If you've tries it one you probably think it's very tasty. Little you know that the black soup is made of (pig/ cow) blood and seasoned with a Chinese pink tofu mixture.
9. Gunk Tod Kra Tiam (กั้งทอดกระเทียม /Fried Mantis Shrimp with Garlic)
source image from wongnai.com
If you happen to see raw/ live mantis shrimp somewhere you will probably think that it doesn't look appetizing. Wait until you try this fried mantis shrimp. It's garlicy and flavorful. A stir-fried mantis shrimp with garlic and black pepper is also recommended.
10. Plaa Raa (ปลาร้า/ Fermented fish)
source image from food.mthai.com
One of the stinkiest Thai food Thai people love so much. This fermented fish goes really well with Som Tum, but it's not recommended during this super hot weather. There's a high chance to get bad bad Diarrhea though…
11. Yum Goong Ten (ยำกุ้งเต้น /Spicy Dancing Shrimp Salad)
source image from wongnai.com
Another bizarre dish that I would not recommend for this hot weather. Many foreign travelers (or even some locals) are afraid to eat this dish since these tiny shrimps are still alive and leaping in the bowl as if they're trying to dancing. I heard some those who love the dish that it's very crunchy and spicy though…
12. Kruang Nai Ping (เครื่องในปิ้ง/ BBQ Entrails on Skewer)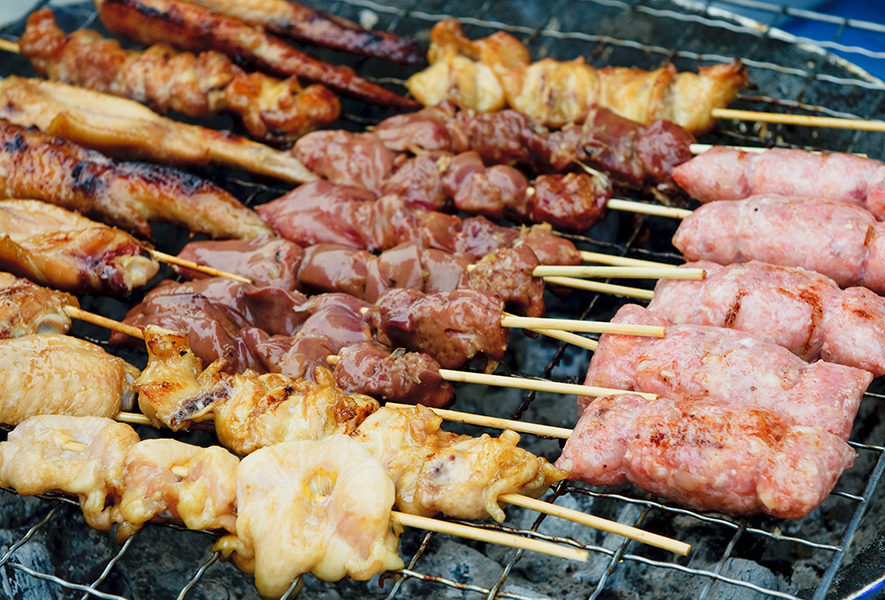 One of the most delicious and cheap things to eat. With only 10 baht for 1 skewer, you can try different (chicken or pig) entails like gizzards, livers, hearts, and many more. Sounds gross, right? I know….but once you have try them… You will absolute love it. It goes really well with sticky rice.
13. Nhoo Na Yang (หนูนาย่าง/ Grilled Rat)
source image from nationtv.tv
A very much like grilled chicken. Grilled rat is a very common food you can find in the rural area of Thailand. Don't misunderstand though…these rats are different from the ones you saw on the street. They are found in rice field. Local folks used to eat it as a substitute of chicken.
14. Pad Sataw (ผัดสะตอ /Spicy stir-fried Stinky Bean)
source image from wongnai.com
Stir-fried shrimp with stinky bean are one of the popular dishes in Thailand and it can be found almost anywhere. It smells even worse when you let it sit on a table. When cooked, the smell is lessen and become tasty and crunchy. Beside its smell, Stinky beans are actually full with nutritious.
15. Larb Leuat (ลาบเลือด/ Spicy Blood Salad)
source image from xvideosya.com
Only its look can creep you out because this dish is simply a spicy salad with raw meat (pork, beef, duck, etc) and its blood. The very last dish to have during this hot weather. The dish, itself, is filled with lots of harbs such as, mints, basil, cilantro, red onion, chilli, etc.
What is the weirdest Thai dish you've ever had? Share us a comment and let us know your food experience in Thailand.
Have a great weekend
Comments
comments