Too exhausted from your work? Need a quick getaway and a change of a mood? Despite your travel spirit's call, your body need some relaxations for a day. How about leaving a cityscape to explore a fun and non-urban vibe place like a local floating market? No need to go anywhere far, but right in the city of Bangkok. There is one place that is a perfect fit, Lat Mayom floating market.
Lat Mayom Floating Market and its background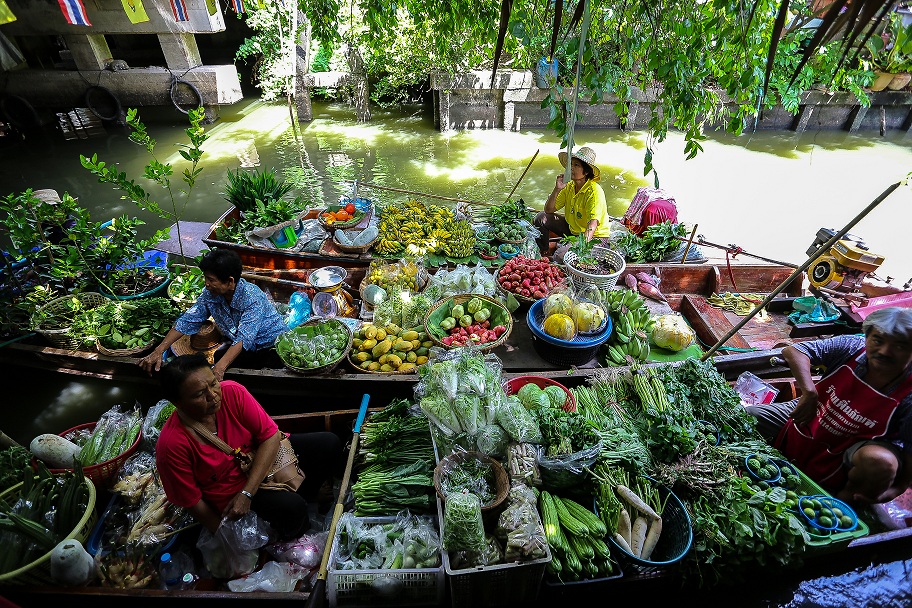 To travel to the market, it requires no superhuman skill. Lat Mayom floating market is located on Bang Ramat road in Taling Chan district. You can either take BTS sky train to Bangwa station, then, continue by a cab, or hop on with Chao Praya express and a local red truck. It's always a marvelous idea to visit such local place with the locals, as it's more fun to learn and discover local stories along with your local pals than just by yourself.
Lat Mayom floating market is one of the most authentic and the oldest floating market in Bangkok. It started off as a community market to support the local neighborhood. Its demand, however, decayed in contrast of the growing city. To respond to the changing era, the neighborhood renovated the market and preserved the traditional culture and merchandises for younger generations.
Absorbing the local atmosphere in depth – Feeling of the locals
Arriving at Lat Mayom floating market, divided into two parts with the road, the first things you definitely will encounter are beautiful smiles and friendly greetings of the local merchants. Don't be afraid to return the favor and smile, just enjoy the vibe. Many stalls and stores are decorated with styles which will completely pull you out of surrounding chaotic urban. You can further dive into the mood by riding a boat along canals. Let the native atmosphere caresses your feeling. The boats come with two variations for you to choose from: the motorized boat for faster travel and the traditional one with a steersman. There are many fun activities that awaits such as batik-painting on your new tee, feeding canal fish with bread, learning to cook the famous Pad Thai dish, exploring the local-signature dishes, and shopping for unique souvenirs.
credit from loveandroad.com
In the heart of the market – Soothing your soul
The highlight of Lat Mayom floating market cannot be anything, but delicious street food. Many Thai dishes are expecting you to taste their surpassing flavors. The smell of perfectly grilled fish, Pla Pao (ปลาเผา) will subdue your conscious which you have to try one. Sai Krok Isan (ไส้กรอกอีสาน) is another good one with its flawless sour and rich flavor. Or else, you can pick Hoi Tod (หอยทอด), the Thai mussel pancake fried on a flat hot plate, crispy on the outside yet savory in the core serving with flavorful hot sauce. There are many others that can surely leave their deliciousness at the tip of your tongue leaving you beg for some more. The meals can be enjoyed on a bamboo or wooden table in a normal manner, or brought down close to the floor by a short desk leaving you with simple, yet unforgettable experience like a Thai local.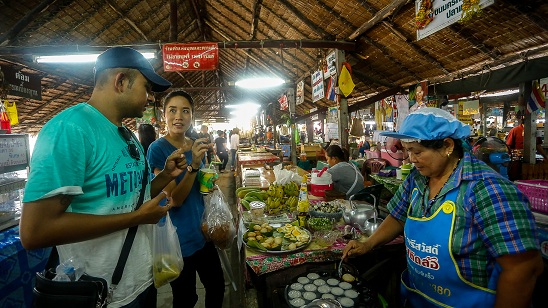 With scrumptious food and sense of native tradition, Lat Mayom floating market makes an ideal destination for everyone. People can enjoy their weekends here with different activities it has to offer. Once you go there for the first time, it is irresistible to travel back every now and then.
Looking for some awesome day tours like this? Check out this link click
Comments
comments